Pengaruh Kekerasan Verbal dan Pola Asuh terhadap Kreativitas Anak Usia Dini
Siti Fadillah

Universitas Lancang Kuning

Heleni Filtri

Universitas Lancang Kuning

Sean Marta Efastri

Universitas Lancang Kuning
Abstract
Kreativitas merupakan kemampuan anak dalam  memecahkan masalah, kemampuan untuk memikirkan sesuatu dengan cara-cara yang baru, serta melahirkan suatu solusi yang unik terhadap masalah-masalah yang dihadapi. Penelitian ini bertujuan untuk mengetahui pengaruh kekerasan verbal dan pola asuh terhadap  kreativitas  anak  usia  dini  se  Kecamatan  Rumbai  Pesisir  kota  Pekanbaru. Variabel yang digunakan dalam penelitian ini adalah Kekerasan Verbal (X1), pola asuh (X2), kreativitas anak (Y). Penelitian ini menggunakan pendekatan kuantitatif   dengan pendekatan studi kausal. Adapun jumlah sampel dalam penelitian ini adalah berjumlah 63 anak usia yang berada pada PAUD Assakinah dan PAUD Generasi Pilihan. Pengumpulan data dilakakukan melalui Kuesioner dan wawancara. Sampel dipilih dengan teknik Cluster Random Sampling. Adapun hasil penelitian menunjukan bahwa kekerasan verbal dan pola asuh berpengaruh langsung negatif terhadap kreativitas anak usia 5-6 tahun di kecamatan Rumbai Pesisir, dan kekerasan verbal berpengaruh langsung negative terhadap pola asuh orang tua.
Keywords:
Kreativitas, Pola Asuh, Kekerasan Verbal, Anak Usia Dini
Downloads
Download data is not yet available.
References
Armiyanti, Khusnul, A. (2017). Pengalaman Verbal Abuse oleh Keluarga pada Anak Usia Sekolah di Kota Semarang. 12(1).
Craft, A. (Ed). (2005). Creativity in Schools Tensions and Dilemmas. Routledge.
Dadvar, Rahmatollah, M., & Fathabadi, M. H. (2012). The Relationship between Emotional Intelligence and Creativity of Female High School Students in Baft City. Journal of Basic and Applied Scientific Research, 2(4), 4174–4183.
Desmita. (2010). Psikologi Perkembangan (Cet. Ke-IV). PT. Remaja Rosdakarya Offset.
Fasko, J. D. (2001). Education and Creativity. Bowling Green State University: Creativity Research Journal Copyright. Lawrence Erlbaum Associates, Inc., 13(3 & 4), 317–327.
Islami, C. C., & Gustiana, E. (2020). Layanan Bimbingan dan Konseling AUD Berbasis Tugas Perkembangan untuk Meningkatkan Perilaku Prososial. Jambura Early Childhood Education Journal, 2(2), 70–78.
Janitra, P. A., & Prasanti, D. (2017). Komunikasi Keluarga Dalam Pencegahan Perilaku Bullying Bagi Anak. Jurnal Ilmu Sosial Mamangan, 6(1), 23. https://doi.org/10.22202/mamangan.1878
Kochar, R., Ittyerah, M., & Babu, N. (2015). Verbal Abuse and Cognition in the Developing Mind. Journal of Agression, Maltreatment and Trauma. https://doi.org/10.1080/10926771.2015.982236
Lee, K.-H. (2005). The Relationship Between Creative Thinking Ability and Creative Personality of Preschoolers. International Education Journal Shannon Research Press, 6(2), 1994–199.
Marie, C. J. (2016). Bullying: A performance piece addressingemotional and verbal abuse between children. University of Wyoming.
Palaniappan, A. K. (2006). Academic Achievement of Groups Formed Based on Creativity and Intelligence. Journal. Universty of Malaya.
Rachmawati, Yeni, & Kurniati, E. (2010). Strategi Pengembangan Kreativitas pada Anak Usia Taman Kanak-kanak. Kencana.
Sari, P. S. (2018). Hubungan Verbal Bullying dengan Kecerdasan Interpersonal Siswa SD. 3(1), 19–28.
Sriyanti, L. (2015). Model Bimbingan dan Konseling Kolaboratif untuk Meningkatkan Pengendalian Diri Anak Usia Dini PAUD Kota Salatiga tahun 2015. Jurnal.
Yuni Sri Utami, C. C. I. (2021). Analisis Pola Asuh Orang Tua dalam Membentuk Kepribadian Introvert pada Anak Usia Dini. Jambura Early Childhood Education Journal, 3(1).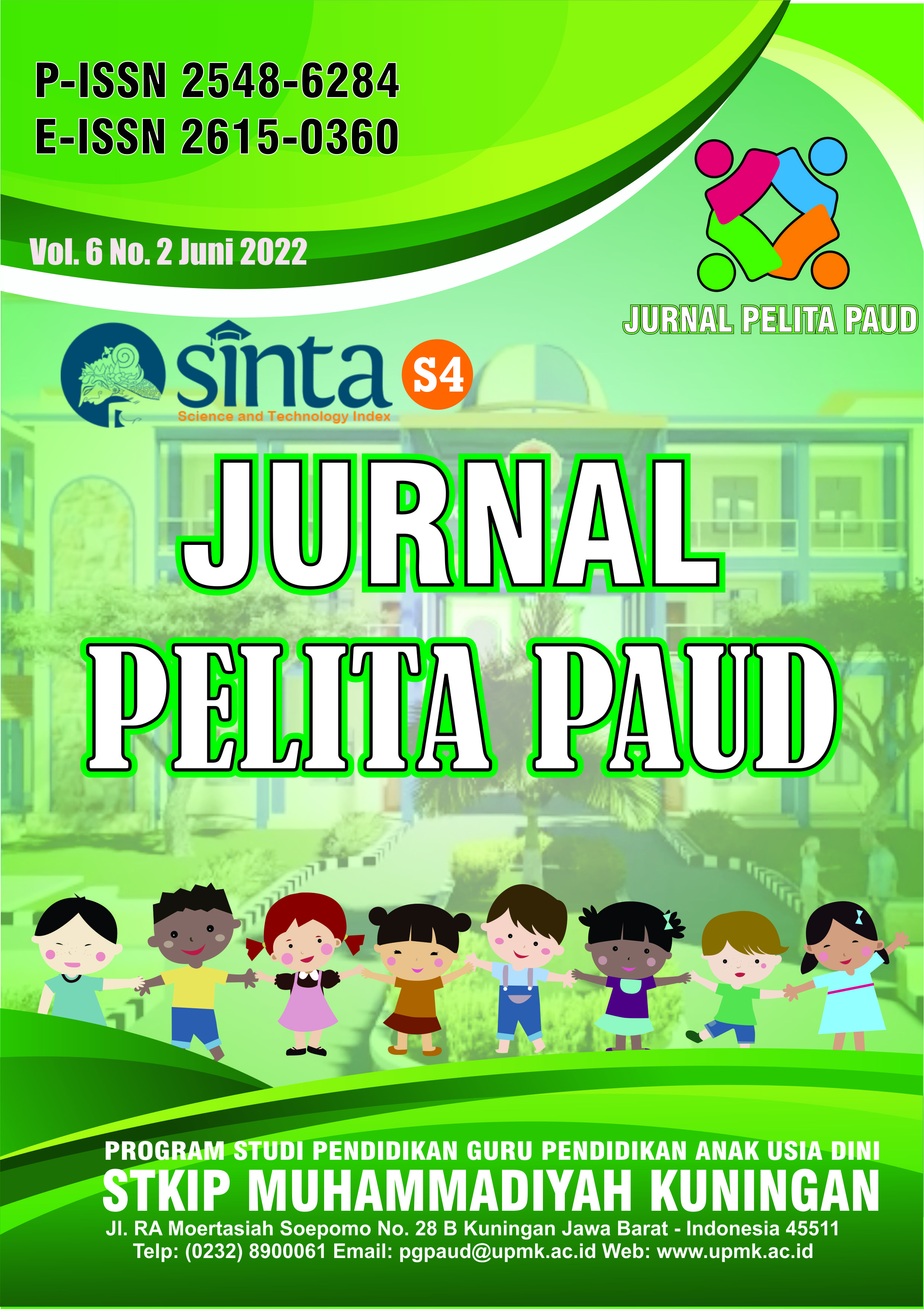 Copyright (c) 2022 Siti Fadillah, Heleni Filtri, Sean Marta Efastri
This work is licensed under a Creative Commons Attribution-ShareAlike 4.0 International License.

Abstract viewed = 493 times pdf downloaded = 306 times