Correlation Between Agility and Athletes Topspin of Table Tennis in Kendari City
Abstract
This research aims to determine the relationship between agility and the increase of athletes' topspin ability of table tennis in Kendari City. This research used a quantitative approach and correlational technique. The population in this research were all athletes of Kendari City, amounting to 62 people from 2 clubs, namely PTM Maleo and PTM UHO, where PTM Maleo numbered 32 people consisting of 20 male athletes and 12 female athletes. While UHO PTM numbered 30 people consisting of 16 male and 14 female athletes. The sample in this research was taken using a purposive sampling technique that is with consideration of male, so the sample in this research amounted to 36 male athletes. To assess the results of the analysis using the correlation test. The results show that there is a strong correlation between agility in increasing table tennis topspin. That is, the more agile an athlete, the higher the ability of topspin. Therefore, the relationship between agility and increasing the ability of topspin athletes in Kendari City table tennis is very closely related.
Downloads
Download data is not yet available.
References
Akbar, A. (2015). Evaluasi unsur kelincahan dan kecepatan reaksi otot tangan atlet tarung derajat binaan satlat unsyiah tahun 2013. Jurnal Ilmiah Mahasiswa Pendidikan Jasmani, Kesehatan Dan Rekreasi, 1(1).
Fajar Hidayatullah. (2018). Hubungan kelincahan dengan keterampilan menggiring bola basket mahasiswa baru program studi pendidikan olahraga stkip pgri bangkalan. Sport Area, 3(1), 28–35. Retrieved from http://journal.uir.ac.id/index.php/JSP/article/download/1555/1075
Gross & Schlager. (2011). Table tennis. Maidenhead: Meyer & Meyer Sport.
Henry, G., Dawson, B., Lay, B., & Young, W. (2012). Effects of a feint on reactive agility performance. Journal of Sports Sciences, 30(8), 787–795. https://doi.org/10.1080/02640414.2012.671527
Horníková, H., Doležajová, L., & Zemková, E. (2018). Playing table tennis contributes to better agility performance in middle-aged and older subjects. Acta Gymnica, 48(1), 15–20. https://doi.org/10.5507/ag.2018.004
Liefeith, A., Kiely, J., Collins, D., & Richards, J. (2018). Back to the Future–in support of a renewed emphasis on generic agility training within sports-specific developmental pathways. Journal of Sports Sciences, 36(19), 2250–2255. https://doi.org/10.1080/02640414.2018.1449088
Lubis, J. (2013). Panduan praktis penyusunan program latihan (1st ed.). Jakarta: PT Raja Grafindo Persada.
Mylsidayu, A., & Kurniawan, F. (2015). Ilmu Kepelatihan Dasar. Bandung: Alfabeta.
Paul, D. J., Gabbett, T. J., & Nassis, G. P. (2016). Agility in Team Sports: Testing, Training and Factors Affecting Performance. Sports Medicine, 46(3), 421–442. https://doi.org/10.1007/s40279-015-0428-2
Rahmani, M. (2014). Buku super lengkap olahraga. Jakarta: Dunia Cerdas Jaya.
Safaringga, E., & Herpandika, R. P. (2018). Hubungan antara Kebugaran Jasmani dengan Kualitas Tidur. Jurnal SPORTIF : Jurnal Penelitian Pembelajaran, 4(2), 235. https://doi.org/10.29407/js_unpgri.v4i2.12467
Saleh, M. S. (2012). Hubungan antara kekuatan lengan, kelincahan, dan kecepatan reaksi tangan dengan kemampuan bermain tenis meja pada siswa smp negeri 23 makassar. Jurnal Pendidikan Kepelatihan Olahraga, 4(2).
Santosa, T. (2016). Pengembangan alat bantu return board untuk forehand topspin tenis teja. Jurnal Pedagogik Olahraga, 2(2), 30–48.
Sari, H. P. (2019). Hubungan kelincahandengan keterampilan dribbling bola pada siswa ekstrakurikuler bola basket smp negeri 16 palembang tahun ajaran 2017/2018. In SEMINAR NASIONAL OLAHRAGA, 1(1).
Sheppard, J., & Young, W. (2006). Agility literature review: Classifications, training and testing. Journal of Sports Sciences, 24(9), 919–932. https://doi.org/10.1080/02640410500457109
Siswanto, Rahayu, T., & Fakhruddin. (2017). Hubungan Kelincahan, Kelentukan Togok dan Daya Ledak Otot Tungkai terhadap Kemampuan Smash Kedeng Sepaktakraw pada Siswa Ekstrakurikuler SD Negeri Margomulyo Pegandon Kendal. Journal of Physical Education and Sports, 6(1), 88–94.
Sonoda, T., Tashiro, Y., Suzuki, Y., Kajiwara, Y., Zeidan, H., Yokota, Y., … Aoyama, T. (2018). Relationship between agility and lower limb muscle strength, targeting university badminton players. Journal of Physical Therapy Science, 30(2), 320–323. https://doi.org/10.1589/jpts.30.320
Suwo, R. (2019). Pengaruh kecepatan reaksi tangan terhadap kemampuan forehand topspin (Path analysis pada atlet tenis meja UNSIKA karawang 2016). Riyadhoh: Jurnal Pendidikan Olahraga, 1(1), 21–25.
Syamsuddin, N. (2012). Hubungan antara kekuatan lengan, kelincahan, dan kecepatan reaksi tangan dengan kemampuan bermain tenis meja pada siswa sma negeri sungguminasa. Jurnal Pendidikan Kepelatihan, 4(3).
Widiastuti. (2011). Tes dan Pengukuran Olahraga. Jakarta: PT Bumi Timur Jaya.
Zagatto, A. M., Kondric, M., Knechtle, B., Nikolaidis, P. T., & Sperlich, B. (2018). Energetic demand and physical conditioning of table tennis players. A study review. Journal of Sports Sciences, 36(7), 724–731. https://doi.org/10.1080/02640414.2017.1335957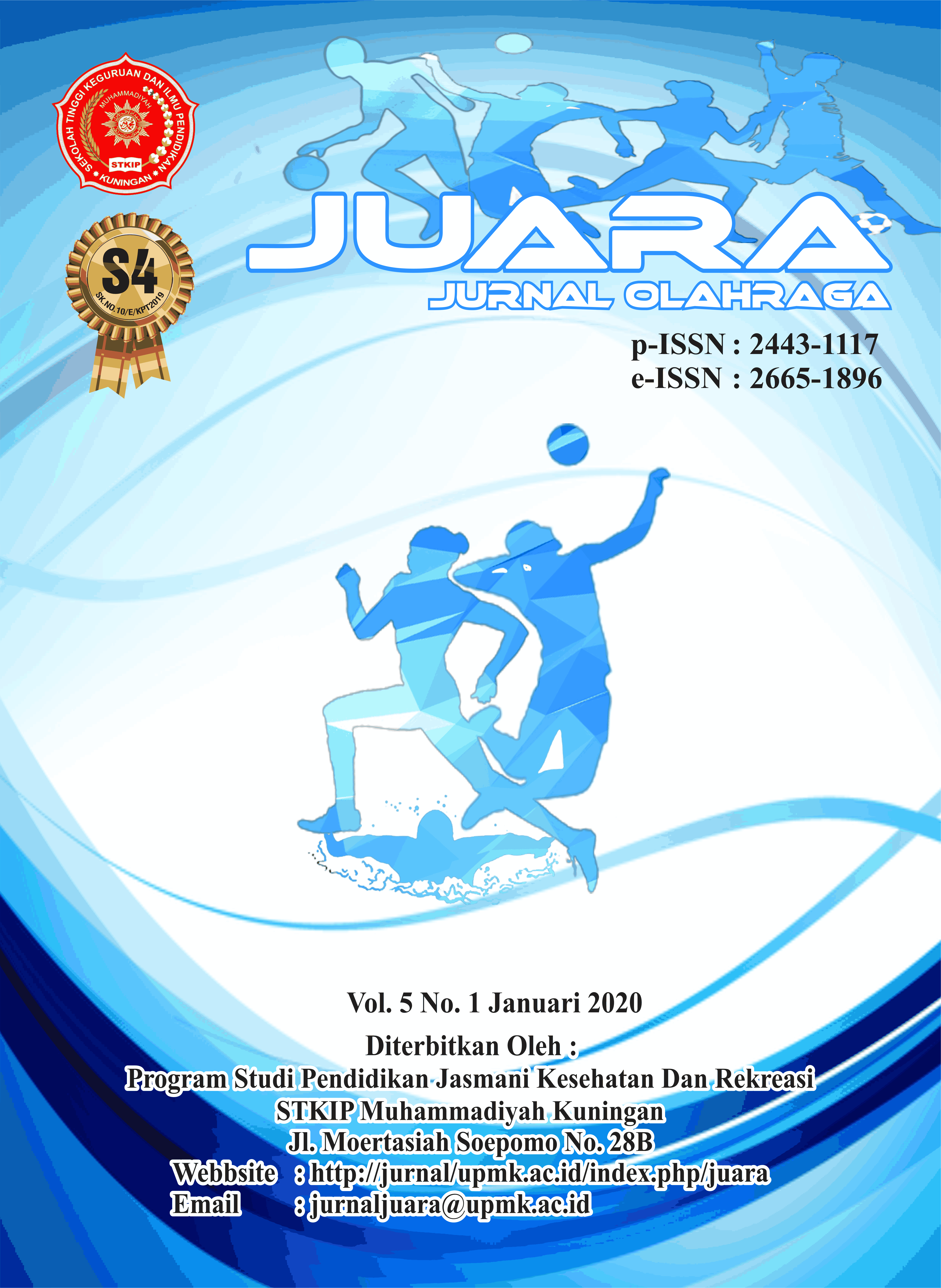 How to Cite
Suwo, R. (2019). Correlation Between Agility and Athletes Topspin of Table Tennis in Kendari City. JUARA : Jurnal Olahraga, 5(1), 55-65. https://doi.org/10.33222/juara.v5i1.770
Copyright (c) 2019 Rahedin Suwo
This work is licensed under a Creative Commons Attribution-ShareAlike 4.0 International License.

Abstract viewed = 1409 times PDF downloaded = 0 times