The Analysis of Primary School Student Knowledge and Participation towards Traditional Games
Gustiana Mega Anggita

Universitas Negeri Semarang

https://orcid.org/0000-0002-8958-2355

Mohammad Arif Ali

Universitas Negeri Semarang

Sugiarto Sugiarto

Universitas Negeri Semarang

Siti Baitul Mukarromah

Universitas Negeri Semarang
Abstract
This study aims to analysis elementary students' understanding and participation in traditional game. This is a descrivtive research using survey method. Sample in this study was upper class students of MI Nurul Yaqien. The research instrument used was a questionnaire. Data analysis technique used is percentage or procentage correction. The results showed that 94.44% of students know traditional games. 71.43% of students understand traditional games. 91.67% of students are involved in traditional games. Conclusion of this research is the knowledge and participation of MI Nurul Yaqien students in traditional games is excellent. While their understanding of traditional games is in the sufficient category.
Downloads
Download data is not yet available.
References
Akbari, H., Abdoli, B., Shafizadeh, M., Khalaji, H., Hajihosseini, S., & Ziaee, V. (2009). The Effect of Traditional Games in Fundamental Motor Skill Development in 7-9 Year-Old Boys. Iranian Journal of Pediatrics, 19(2), 123–129. https://doi.org/10.1002/2017GL073681
Arikunto, S. (2005). Manajemen Penelitian. Jakarta: Rineka Cipta.
Aypay, A. (2016). Investigating The Role of Traditional Children ' s Games in Teaching Ten Universal Values in Turkey, (62), 283–300.
Boro, J., Daimary, R., & Narzaree, B. (2015). Impact of Globalisation to Traditional Games and Recreation of the Bodos, 20(3), 87–91. https://doi.org/10.9790/0837-20338791
Charles, A. G., Abdullah, M. R., & Musa, R. M. (2017). THE EFFECT OF TRADITIONAL GAMES INTERVENTION PROGRAMME IN THE ENHANCEMENT SCHOOL- AGE CHILDREN ' S MOTOR SKILLS : A PRELIMINARY STUDY, 6(2), 157–169.
Effendi, A., & Prihanto, J. B. (2014). PENGARUH PENGGUNAAN TEKNOLOGI INFORMASI TERHADAP AKTIVITAS FISIK SISWA ( Studi pada SMK Negeri 8 Surabaya Kelas X ) Ahmad Effendi Junaidi Budi Prihanto Abstrak. Jurnal Pendidikan Jasmani, 2(3), 605–608.
Hayati, S., CH, M., & Asmawi, M. (2017). Effect Of Traditional Games, Learning Motivation and Learning Style on Childhoods Gross Motor Skill, 5(7), 53–66.
Hikmah Prisia Yudiwinata, H. P., & Handoyo, P. (2014). Permainan Tradisional dalam Budaya dan Perkembangan Anak. Paradigma, 2, 1–5. https://doi.org/S0025-326X(05)00576-X [pii]r10.1016/j.marpolbul.2005.12.009
Irfansyah, U. Q. A. P. (2015). IDENTIFIKASI FAKTOR-FAKTOR PERMAINAN TRADISIONAL BEBENTENGAN SEBAGAI BASIS PERANCANGAN GAME PEMICU PENINGKATAN SISTEM MOTORIK ANAK, 124–140.
Kovacevic, T., & Opic, S. (2014). Contribution of Traditional Games to the Quality of Students' Relations and Frequency of Students' Socialization in Primary Education. Croatian Journal of Education-Hrvatski Casopis Za Odgoj I Obrazovanje, 16(1), 95–112.
Mega Anggita, G. (Universitas N. S., & Amirullah Rachman, H. (Universitas N. Y. (2014). Jurnal Keolahragaan, Volume 2 – Nomor 2, 2014. Jurnal Keolahragaan, 2(1), 130–144.
Mega, G., Baitul, S., & Arif, M. (2018). Eksistensi Permainan Tradisional Sebagai Warisan Budaya Bangsa.
Ngafifi, M. (2014). Advances in Technology and Patterns of Human Life in Socio-Cultural Perspective. Kemajuan Teknologi Dan Pola Hidup Manusia, 2(1), 33–47. https://doi.org/10.21831/JPPFA.V2I1.2616
Nurohman, M., & Widiyatmoko, F. A. (2019). Implementasi Permainan Tradisional Untuk Meningkatkan Keaktifan Gerak Siswa, 4(November 2018), 61–65. https://doi.org/10.26877/jo.v4i1.3028
Ode, L., Basri, A., Momo, A. H., Marhadi, A., Rahman, A., Ode, L., & Jers, T. (2018). The Unsustainability of Kalego Traditional Game among Muna Community of Watopute District, 14(2), 12–17. https://doi.org/10.5539/ass.v14n2p12
Tedi, W. (2015). Perubahan Jenis Permainan Tradisional Menjadi Permainan Modern Pada Anak-Anak Di Desa Ijuk Kecamatan Belitang Hulu Kabupaten Sekadau the Traditional Games Changed in To Modern Games To the Children in Village Ijuk Belitang District of Hulu Sekadau. S-1 Sosiologi, 3(4), 1–17.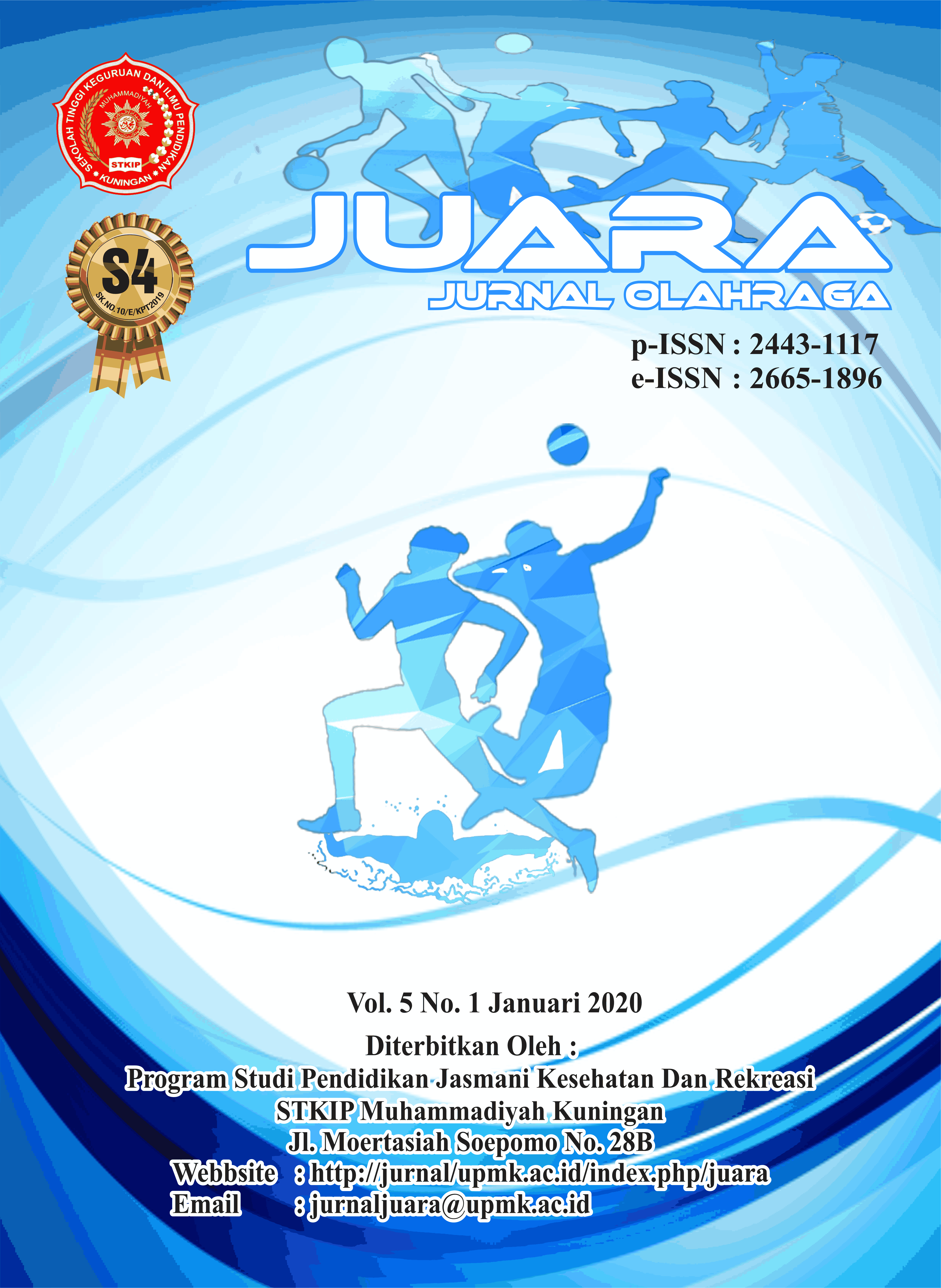 How to Cite
Anggita, G. M., Ali, M. A., Sugiarto, S., & Mukarromah, S. B. (2019). The Analysis of Primary School Student Knowledge and Participation towards Traditional Games. JUARA : Jurnal Olahraga, 5(1), 48-54. https://doi.org/10.33222/juara.v5i1.769
Copyright (c) 2019 Gustiana Mega Anggita, Mohammad Arif Ali, Sugiarto Sugiarto, Siti Baitul Mukarromah
This work is licensed under a Creative Commons Attribution-ShareAlike 4.0 International License.

Abstract viewed = 312 times PDF downloaded = 0 times