Sepaktakraw Players Injuries Event
Astry Khairunnisa

Universitas Pendidikan Indonesia

Pipit Pitriani

Universitas Pendidikan Indonesia
Abstract
Sepaktakraw basically requires acrobatic skills (ex: backflip, sunback spike, split, etc) that has high difficulty in playing it. The aim of this study was to look the incident of injuries (injury body parts, type of injury, and mechanism of injury). This study used descriptive research methods. 40 male and female athletes participated in the pre-season for Indonesian national competition (PON) 2020. The instruments used were questionnaires and interviews regarding the injury body parts, types of injuries and mechanisms injury. The results showed that the most damage experienced by sepaktakraw players occurred at the ankle (27%) with the type of sprained injury (47.5%) and was most widely known by server-positioned players and killer/spiker compilation when they did serve movements (27%) and spike (30%).
Keywords:
injury, sepaktakraw, players, acrobatic
Downloads
Download data is not yet available.
References
Adam, N. (2014). Experimental Analysis of Mechanical Properties of Selected Takraw Balls in Malaysia, 1–21.
Alonso, J. M., Jacobsson, J., Timpka, T., Ronsen, O., Kajenienne, A., Dahlström, Ö., … Edouard, P. (2015). Preparticipation injury complaint is a risk factor for injury: A prospective study of the Moscow 2013 IAAF Championships. British Journal of Sports Medicine, 49(17), 1118–1124. https://doi.org/10.1136/bjsports-2014-094359
Angel, R. (2010). Dasar-Dasar Sepak Takraw (First). Canada: Pakan Raya, Bandung.
Barber Foss, K. D., Myer, G. D., & Hewett, T. E. (2014). Epidemiology of basketball, soccer, and volleyball injuries in middle-school female athletes. Physician and Sportsmedicine, 42(2), 146–153. https://doi.org/10.3810/psm.2014.05.2066
Engebretsen, A. H., Myklebust, G., Holme, I., Engebretsen, L., & Bahr, R. (2010). Intrinsic Risk Factors for Hamstring Injuries Among Male Soccer Players. The American Journal of Sports Medicine, 38(6), 1147–1153. https://doi.org/10.1177/0363546509358381
Hamid, N. A., Babjan, A. M., Abdullah, M. N., & Ismail, S. (2015). Anthropometric and physiological profiles of sepak takraw players. British Journal of Sports Medicine, 39(11), 825–829; https://doi.org/10.1136/bjsm.2004.016915
Henderson, G., Barnes, C. A., & Portas, M. D. (2010). Factors associated with increased propensity for hamstring injury in English Premier League soccer players. Journal of Science and Medicine in Sport, 13(4), 397–402. https://doi.org/10.1016/j.jsams.2009.08.003
International Sepaktakraw Federation (ISTAF). (2016). Law 0f The Game.
Junge, A., Engebretsen, L., Mountjoy, M. L., Alonso, J. M., Renström, P. A. F. H., Aubry, M. J., & Dvorak, J. (2009). Sports injuries during the Summer Olympic Games 2008. American Journal of Sports Medicine, 37(11), 2165–2172. https://doi.org/10.1177/0363546509339357
Kubo, Y., Nakazato, K., Koyama, K., Tahara, Y., Funaki, A., & Hiranuma, K. (2016). The Relation between Hamstring Strain Injury and Physical Characteristics of Japanese Collegiate Sepak Takraw Players. International Journal of Sports Medicine, 37(12), 986–991. https://doi.org/10.1055/s-0042-114700
Liu, H., Garrett, W. E., Moorman, C. T., & Yu, B. (2012). Injury rate, mechanism, and risk factors of hamstring strain injuries in sports: A review of the literature. Journal of Sport and Health Science, 1(2), 92–101. https://doi.org/10.1016/j.jshs.2012.07.003
Sole, C., Kavanaugh, A., & Stone, M. (2017). Injuries in Collegiate Women's Volleyball: A Four-Year Retrospective Analysis. Sports, 5(2), 26. https://doi.org/10.3390/sports5020026
Sujae, I. H., & Koh, M. (2008a). Technique analysis of the kuda and sila serves in sepaktakraw. Sports Biomechanics. https://doi.org/10.1080/14763140701687552
Sujae, I. H., & Koh, M. (2008b). Technique analysis of the kuda and sila serves in sepaktakraw. Sports Biomechanics, 7(1), 72–87. https://doi.org/10.1080/14763140701687552
Xiao, X., Hao, W., Li, X., Wan, B., & Shan, G. (2017). The influence of landing mat composition on ankle injury risk during a gymnastic landing: A biomechanical quantification. Acta of Bioengineering and Biomechanics, 19(1), 105–113. https://doi.org/10.5277/ABB-00583-2016-02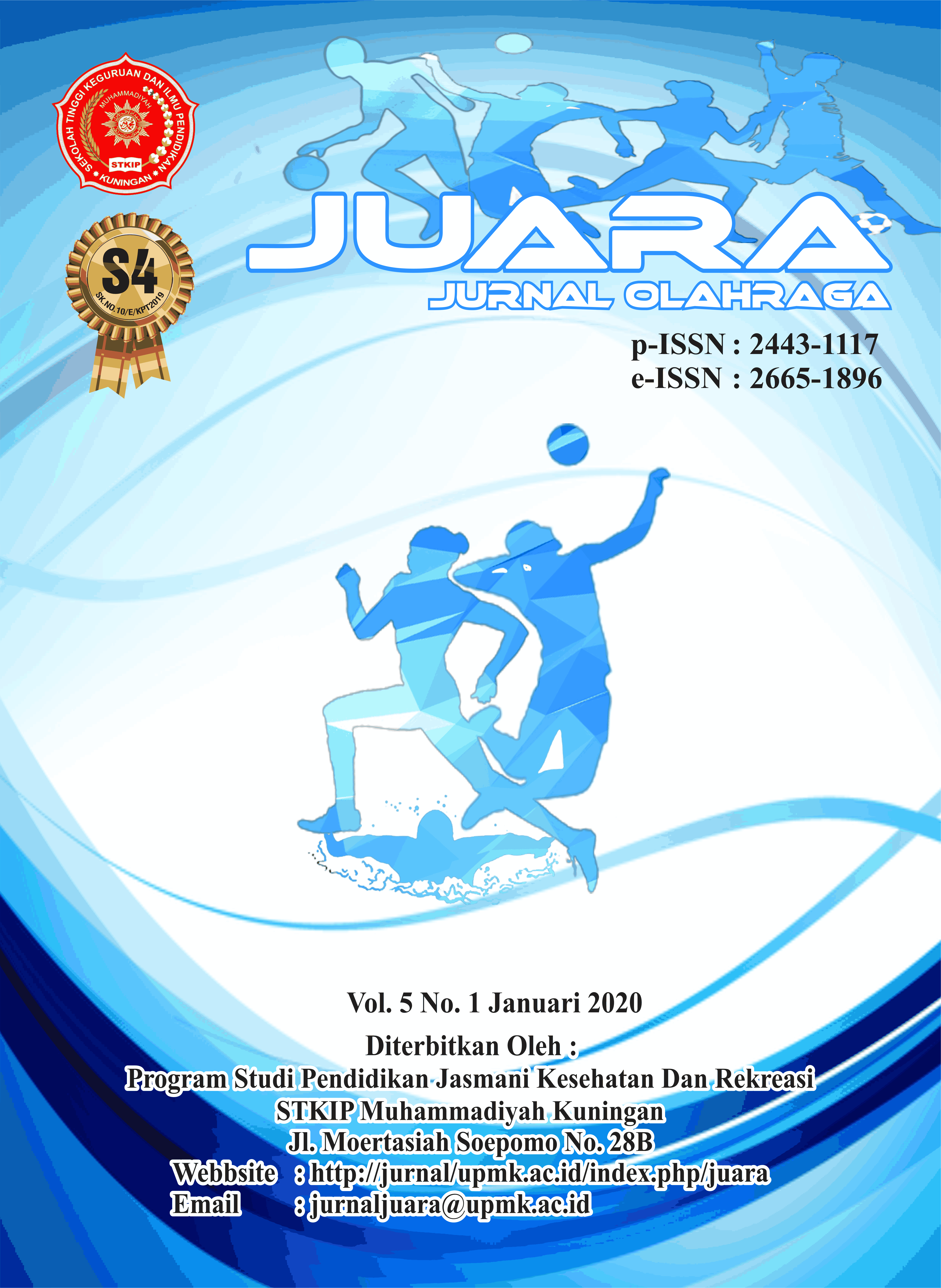 How to Cite
Khairunnisa, A., & Pitriani, P. (2019). Sepaktakraw Players Injuries Event. JUARA : Jurnal Olahraga, 5(1), 1-7. https://doi.org/10.33222/juara.v5i1.624
Copyright (c) 2019 Astry Khairunnisa, Pipit Pitriani
This work is licensed under a Creative Commons Attribution-ShareAlike 4.0 International License.

Abstract viewed = 893 times PDF downloaded = 0 times