Relationship of Energy Intake, Macro and Micro Nutrients to Physical Fitness of Athletes of Dyva Taekwondo Centre Cibinong
Mury Kuswari

Universitas Esa unggul

Fitri Handayani

Universitas Esa Unggul

Nazhif Gifari

Universitas Esa Unggul

Rachmanida Nuzrina

Universitas Esa Unggul
Abstract
Physical Fitness is the ability to do daily activities easily, without getting tired excessive, and has a power reserve to rest. VO2max is a main factor for athletes in order to get a good performance. This study aims to determine the relationship of energy intake, macro and micro nutrients to physical fitness of athletes of Dyva Taekwondo Centre Cibinong. This study used cross sectional design research. The number of respondents was 30 athletes determined by total sampling. The consumption energy and macronutrients were measured by 3x24 hour recall method, whereas intake of micronutrients data was obtained using semy FFQ. Variable relationships were tasted using Pearson Correlation. The result showed that the average age of respondents was 14±1 years, energy intake 2259±571 kkal, protein 73±15 g, fat 51,7±8,9 g, carbohydrate 259±57 g, vitamin B1 1,15±0,4 mg, vitamin C 230±81,7 mg, fe 21±4,5 mg and fitness level 35,69±7,2 kg/ml/minute. There was relationship of energy intake (p= 0,0001), carbohydrate (p=0,0001), vitamin C (p=0,0001), fe (p=0,007 and fitness level. There was no correlation between fat intake, protein, vitamin B1 and fitness level (p=0,081, p=0,497, p=0,383).  Intake of energy, carbohydrate, vitamin C, and fe does relate to physical fitness of athletes of Dyva Taekwondo Centre Cibinong. Athletes are advised to consume food according to their daily needs in order to maintain their fitness therefore, they can achieve optimal performance.
Keywords:
fitness, nutrient intake, makro, mikro
Downloads
Download data is not yet available.
References
Afriani, Y., Hadjam, N. R., & Farmawati, A. (2017). Pemberian minuman kombinasi maltodekstrin dan vitamin C terhadap mood negatif dan VO2 maks atlet sepak bola. Jurnal Gizi Klinik Indonesia, 13(4), 196. https://doi.org/10.22146/ijcn.22838
Braun B., & B. F. (2008). Introductions to Sport Nutrition: Energy Metabolism in Sport Nutrition, Edited by Ira wolinsky, Judy A Driskell. New York: CRK Press.
Dewi, E. K. (2013). Hubungan Asupan Zat Gizi Makro terhadap Kebugaran pada Atlet Bulutangkis Jaya Raya pada Atlet Laki-Laki dan Perempuan di Asrama Atlet Ragunan Tahun 2013. Universitas Esa Unggul.
Ervira, Desty., Sudargo, Toto., Farmawati, A. (2015). Efek Minuman Maltrodekstrin dan Vitamin C terhadap VO2Max Atlet Sepakbola. Universitas Gajah Mada. Jurnal Gizi Klinik Indonesia, 12(1).
Indaswari, Kadek., W. (2017). Hubungan Kecukupan Vitamin C dan Zat Besi dengan Kebugaran Jasmani Atlet Pencak IPSI Lamongan. Media Gizi Indonesia, 12(2).
Irawan, M. A. (2007). Metabolisme Energi Tubuh & Olahraga. Journal of Sports Science Brief, 01(07).
Kemenkes RI. (2014). Pedoman Gizi Olahraga Prestasi. Jakarta: Kementerian Kesehatan RI.
Kusumawati M., Wara Kushartanti., N. M. (2005). Hubungan antara Pola Konsumsi Protein dan Fe dengan Daya Tahan Jantung Paru pada Atlet. The Indonesian Journal of Clinical Nutrition, 2(1).
Kuswari, M., Setiawan, B., Rimbawan, R. (2015). Frekuensi Senam Aerobik Intensitas Sedang Berpengaruh Terhadap Lemak Tubuh Pada Mahasiswi Ipb. Jurnal Gizi Dan Pangan, 10(1).
Kuswari, M. (2017). The Indonesian Journal of Clinical Nutrition. Jakarta.
Lan, L. (2013). A Research on Influences of Nutrition Intervention on Taekwondo Athletes Physical Capacity Recovery. Jiangsu University. Journal of Food Science and Technology, 8(3).
Mahastuti, Rahfiludin, S. (2018). Hubungan Tingkat Kecukupan Gizi, Aktivitas Fisik dan Kadar Hemoglobin dengan Kebugaran Jasmani pada Atlet Basket di Universitas Negeri Semarang. Jurnal Kesehatan Masyarakat, 6(1).
Nieman, D. C. (2011). Exercising Testing and Prescription (4th ed.).
Nuraini, Reisya., I. H. (2010). Hubungan Tingkat Konsumsi Zat Besi Dan Vitamin C Dengan Kesegaran Jasmani Anak Sekolah Dasar. Jurnal Kesehatan, 3(1). Retrieved from http://hdl.handle.net/11617/2311
Nurhalimah, Rosidi., Noor, Y. (2014). Hubungan Konsumsi Vitamin C Dengan Kesegaran Jasmani Pada Atlet Sepakbola di Pusat Pendidikan dan Latihan Olahraga Pelajar Jawa Tengah. Jurnal Gizi, 3(2).
Pertiwi, A. B. (2012). Pengaruh Asupan Makan (Energi, Karnohidrat, Protein dan Lemak) Terhadap Daya Tahan Jantung Paru (VO2max) Atlet Sepak Bola.
Pitriani, A. (2012). Hubungan Konsumsi Pangan dan Status Gizi dengan Tingkat Kebugaran Atlet Taekwondo Remaja di Pemusatan Latihan Cipayung Bogor. Jurnal Kesehatan Masyrakat Mulawarman, 8(3).
Sukmajati, R. P. (2015). Hubungan Asupan Zat Gizi Makro dan Mikro dan Komposisi Lemak Tubuh dengan Tingkat Kebugaran Mahasiswa di UKM Sepakbola UNY.
Taufiq, M. (2003). Gambaran Konsumsi Gizi Atlet Sepakbola Yang Disediakan Oleh Pengelolah PSM Makassar Pada Liga Indonesia IX.
Vaz, M., Pauline, M., Unni, U. S., Parikh, P., Thomas, T., Bharathi, A. V., … Kurpad, A. V. (2011). Micronutrient Supplementation Improves Physical Performance Measures in Asian Indian School-Age Children. The Journal of Nutrition, 141(11), 2017–2023. https://doi.org/10.3945/jn.110.135012
Williams, M.H., Anderson, D.E., Rawson, E. S. (2013). Nutrition for Health, Fitness, and Sport (10th Ed)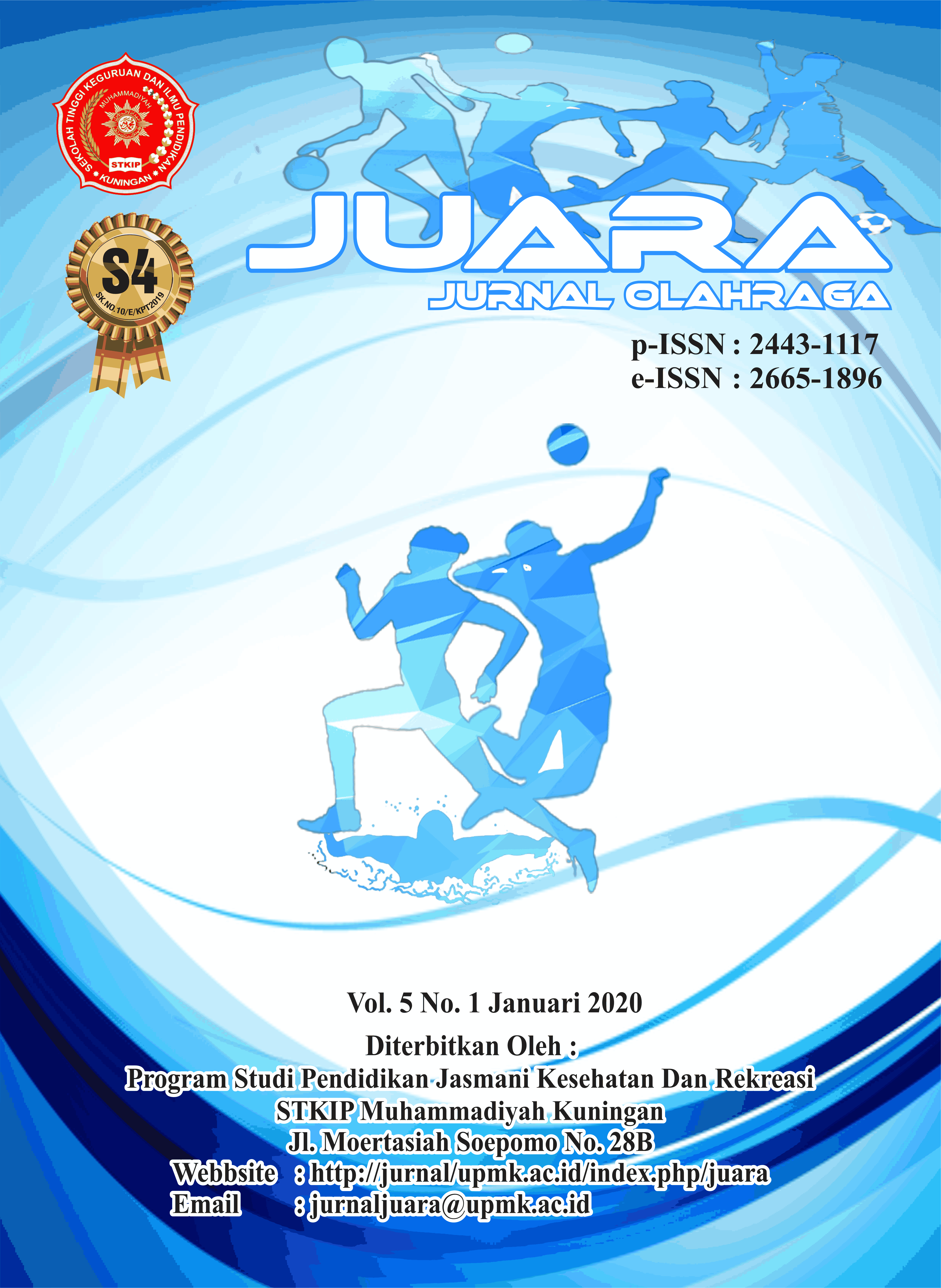 How to Cite
Kuswari, M., Handayani, F., Gifari, N., & Nuzrina, R. (2019). Relationship of Energy Intake, Macro and Micro Nutrients to Physical Fitness of Athletes of Dyva Taekwondo Centre Cibinong. JUARA : Jurnal Olahraga, 5(1), 19-30. https://doi.org/10.33222/juara.v5i1.572
Copyright (c) 2019 Mury Kuswari, Fitri Handayani, Nazhif Gifari, Rachmanida Nuzrina
This work is licensed under a Creative Commons Attribution-ShareAlike 4.0 International License.

Abstract viewed = 3329 times PDF downloaded = 0 times