Analysis of Arm Muscle Strength on Chestpass Ability in Basketball Games for Students of SMP Negeri 7 Makassar
Nurliani Nurliani

Universitas Negeri Makassar

Hasyim Hasyim

Universitas Negeri Makassar
Abstract
Analysis of Arm Muscle Strength on Chest Pass Ability in Basketball Games for Students at SMP Negeri 7 Makassar. Department of Physical Education, Health and Recreation, Faculty of Sports Science, Makassar State University. This quantitative descriptive study aims to analyse arm muscle strength on chest pass ability in basketball games for students at SMP Negeri 7 Makassar. The research variable in this study is the independent variable (arm muscle strength) and the dependent variable (chest pass ability). The population in this study were male students in grade VIII in SMP Negeri 7 Makassar, while the sample was 30 students. The data collected in this study included an arm muscle strength test and a chest pass ability test. The data analysis shows a contribution of arm muscle strength to chest pass ability in basketball games for students of SMP Negeri 7 Makassar by 71.3%.
Keywords:
Arm Muscle Strength, Chest Pass, Basketball
Downloads
Download data is not yet available.
References
Abdullah Ma'ruf. 2015. Metodologi Penelitian Kuantitatif. Yogyakarta: Aswaja Pressindo
Ahmadi Nuril. 2007. Permainan Bolabasket. Solo: Era Intermedia.
Adriana. 2012. Teknik Passing dalam Bola Basket. Diambil darihttps://el1ardiani.wordpress.com/2012/09/05/teknik-passing-dalam-bolabasket/.pada tanggal 25 Oktober 2015 jam 09.07
Brittenham, Greg. 2002. Bola basket Panduan Lengkap Latihan Khusus Pemantapan. Jakarta: PT Raja Grafindo.
Fox, E.L. 1993. The Physiological Basis of Exercise and Sport (ed).USA: Wim. C. Brown Publisher.
Harsono, 1988. Coaching Dan Aspek-Aspek Psikologi Dalam Coaching. Jakarta : Depdikbud Dirjen Dikti.
https://endoproteza.info/staw-barkowy/anatomia-i-chorobazwyrodnieniowa-barku
https://artikel-kesehatan/atasi-doms-nyeri-otot-setelah-berolahraga
https:// hakim-2-sore-otot-lengan-bawah-dan-tangan
https:// daftar-otot-berdasarkan-fungsi-area_28.html
Kementrian Pemuda dan Pendidikan. 2013. Pendidikan Jasmani Olahraga danKesehatan. Jakarta: Kementrian Pendidikan dan Kebudayaan
Kravitz Len, 2001. Panduan Lengkap Bugar Total. Divisi Buku Sport PT. Rajagrafindo Persaja Jakarta
M. Muhyi Faruq. 2009. Meningkatkan Kebugaran Jasmani Melalui Bola Basket.Surabaya: Gramedia Widiasarana Indonesia
Muhajir. 2004. Pendidikan Jasmani Olahraga & Kesehatan. Bandung: Yudhi Tira.
Mylsidayu Apta,2005. Ilmu Kepelatihan Dasar Bandung.
Oliver, Jon. 2003. Dasar-Dasar Bola Basket. Human Kinetics.
Permana, Asepta Yoga. 2008. Bola Basket. Surabaya: Insan Cendekia.
Prusak Keven A. 2005. Permainan Bola Basket. Citra Hasil Paraman.
Sajoto, Mochamad. 1988. Pembinaan Kondisi Fisik Dalam Bidang Olahraga. Jakarta:Depdikbud Dirjen Dikti.
Sudaryono, Gaguk Margono, Wardani Rahayu. 2013. Pengembangan Instrumen Penelitian Pendidikan. Jakarta : Graha Ilmu.
Sugiyono. 2015. Metode Penelitian Pendidikan. Bandung: Alfanbeta
Sukmadinata. 2011. Metode Penelitian Pendidikan. Bandung: PT. Remaja Rosdakarya.
Wissel Hal. 2012. Basketball Steps to Success Third Edition. United States: HumanKinetics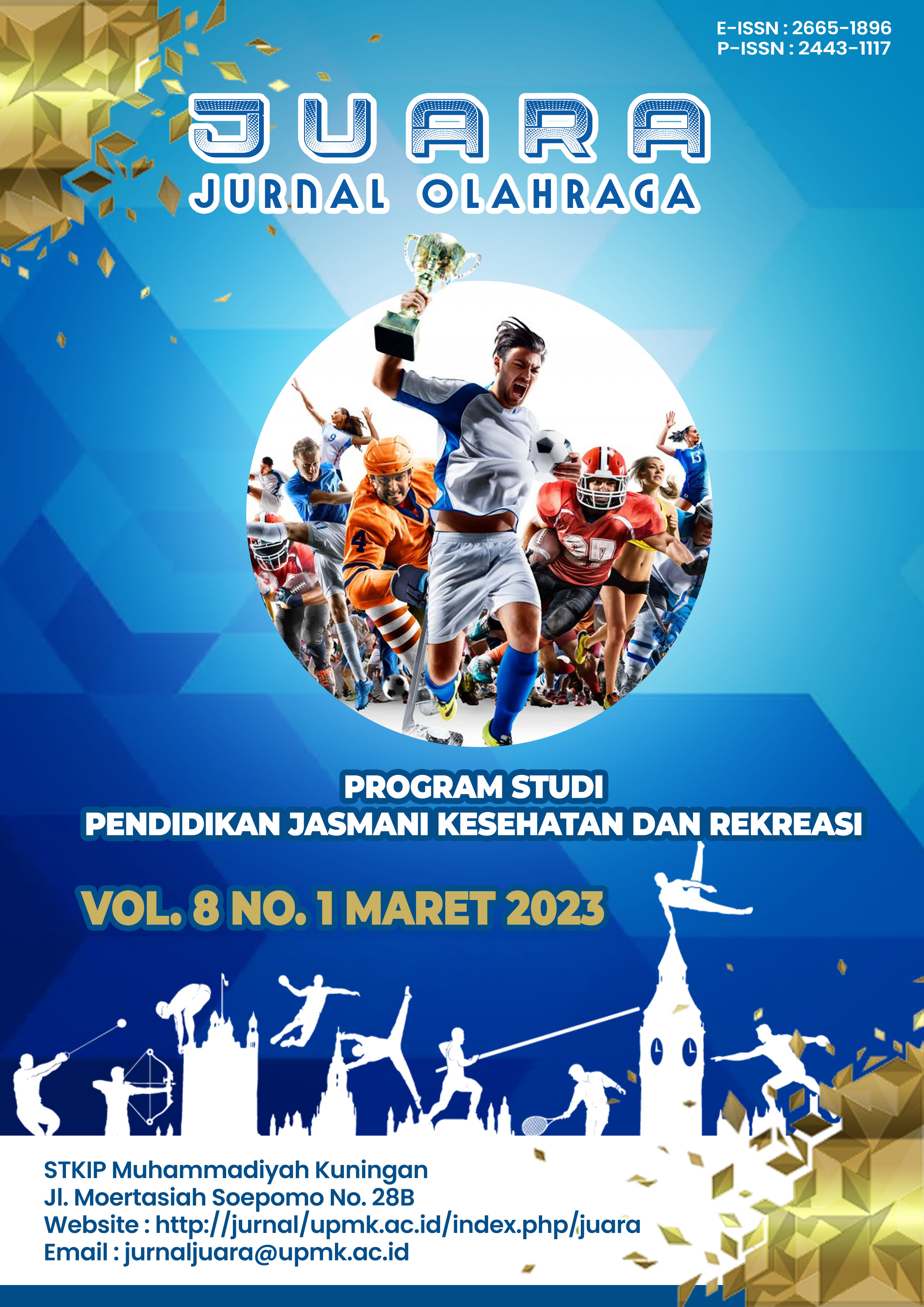 How to Cite
Nurliani, N., & Hasyim, H. (2023). Analysis of Arm Muscle Strength on Chestpass Ability in Basketball Games for Students of SMP Negeri 7 Makassar. JUARA : Jurnal Olahraga, 8(1), 485-489. https://doi.org/10.33222/juara.v8i1.2802
Copyright (c) 2023 Nurliani Nurliani, Hasyim Hasyim
This work is licensed under a Creative Commons Attribution-ShareAlike 4.0 International License.

Abstract viewed = 95 times PDF downloaded = 0 times