Mental Toughness West Java Pencak Silat Athletes
Dedi Supriadi

STKIP Pasundan
Abstract
Mental toughness controls a person's emotional aspects, which becomes essential for athletes, especially martial athletes, especially pencak silat. This research aims to know the situation of the mental toughness of martial arts athletes. The research subjects used all pencak silat athletes who were members of PPLP West Java, as many as 17 people, consisting of 9 men and eight women. The research method uses a quantitative descriptive survey approach. The research instrument uses a questionnaire about mental toughness and data analysis using a quantitative analysis approach through statistics in the form of percentages. Of 17 research subjects, three people, or 17.7% of situation mental toughness, are in a low category. Ten people, or 58.8%, have mental toughness in the medium category and four with mental toughness in the wide variety. Female athletes own the low class; the medium type is owned by at least five men and five women, while four male athletes hold the high course. It is hoped that coaches must be able to understand the importance of the mental aspect in athletes because it will significantly affect their performance when competing
Keywords:
Mental Toughness, Athlete, Pencak Silat
Downloads
Download data is not yet available.
References
BBC News. (2018). Perolehan Medali Asian Games 2018: Tujuh Hal Menarik dibalik "Sapu Bersih" Pencak Silat. BBC.Com. https://www.bbc.com/indonesia/trensosial-45327648
Beheshti, A., Gharayagh, H., & Zahra, Z. (2021). Mental toughness and performance strategies of martial artists in practice and competition. EQOL Journal, 13(1), 13–21. https://doi.org/10.31382/eqol.210602
Birrer, D., & Morgan, G. (2010). Psychological skills training is a way to enhance an athlete's performance in high-intensity sports. Scandinavian Journal of Medicine & Science in Sports, 20, 78–87. https://doi.org/10.1111/j.1600-0838.2010.01188.x
Bisri, M., Saputri, M. A., & Chusniyah, T. (2022). Mental Toughness and Its Relationship on Sport Performance Outcomes : When Things Get Tough Enough. Jurnal Sains Psikologi, 11(2), 172–180. https://doi.org/http://dx.doi.org/10.17977/um023v11i22022p172-180
Candra, A. R. D., Setiawan, A., Hermawan, & Sohibin. (2023). Pemahaman Pelatih Kota Semarang tentang Teknik dan Keterampilan Mental Olahraga sebagai Proses Pencapaian Prestasi Olahraga. JOSSAE (Journal of Sports Science and Education), 7(2), 83–91. https://doi.org/http://dx.doi.org/10.26740/jossae.v7n2.p83-91
Coulter, T. J., Mallett, C. J., & Singer, J. A. (2016). A subculture of mental toughness in an Australian Football League club. Psychology of Sport & Exercise, 22, 98–113. https://doi.org/10.1016/j.psychsport.2015.06.007
Cowden, R. G. (2017). Mental Toughness and Success in Sport : A Review and Prospect. The Open Sports Sciences Journal, 10(1), 1–14. https://doi.org/10.2174/1875399X01710010001
Crust, L. (2012). Mental toughness in sport : A review. International Journal of Sport and Exercise Psychology, 5(3), 37–41. https://doi.org/http://dx.doi.org/10.1080/1612197X.2007.9671836
Dimyati, Irianto, D. P., & Lumintuarso, R. (2020). Exploring the Psychological Skills of Indonesian Pencak Silat Athletes at the 18th Asian Games. Journal of Martial Arts Anthropology, 20(2), 10–16. https://doi.org/10.14589/ido.20.2.2
Dongoran, M. F., Nopiyanto, Y. E., & Saputro, D. P. (2019). Comparison of Psychological Skills of Pencak Silat and Boxing Athletes (Study on Indonesian Training Camp athletes). 2nd International Conference on Social Science (ICSS 2019), 383, 124–128. https://doi.org/https://doi.org/10.2991/icss-19.2019.210
Gerber, M., Kalak, N., Lemola, S., Clough, P. J., Perry, J. L., Pühse, U., Elliot, C., Holsboer-trachsler, E., & Brand, S. (2012). Are Adolescents With High Mental Toughness Levels More Resilient Against Stress ? Stress Health, 29(2), 164–171. https://doi.org/10.1002/smi.2447
Giandra, S. N., & Setyawan, I. (2014). HUBUNGAN ANTARA EFEKTIVITAS KOMUNIKASI INTERPERSONAL PELATIH DENGAN KETANGGUHAN MENTAL. Jurnal EMPATI, 3(4). https://doi.org/https://doi.org/10.14710/empati.2014.7617
Gucciardi, D. F., Gordon, S., & Dimmock, J. A. (2008). Towards an Understanding of Mental Toughness in Australian Football. Journal of Applied Sport Psychology, 20(3), 261–281. https://doi.org/10.1080/10413200801998556
Hunt, M. Q., Novak, C. E., Madrigal, L. A., Tiffanye, M., Hunt, B. M. Q., & Novak, C. E. (2020). Strategies for Developing Mental Toughness in High School Athletes. Strategies: A Journal for Physical and Sport Educators, 4562(33), 1. https://doi.org/10.1080/08924562.2019.1680330
Ihsan, N., Sepriadi, S., & Suwirman, S. (2018). Hubungan Status Gizi Dan Motivasi Berprestasi Dengan Tingkat Kondisi Fisik Siswa Pplp Cabang Pencak Silat Sumatera Barat. Sporta Saintika, 3(1), 410–422. https://doi.org/10.24036/sporta.v3i1.61
Ikhram, A., Jufri, Muh., & Ridfah, A. (2020). Mental Toughness dan Competitive Anxiety Pada Atlet Karate UNM Mental. Jurnal Psikologi Perseptual, 5(2), 100–109. https://doi.org/10.24176/perseptual.v5i2.5206
Jack R. Fraenkel, Norman E. Wallen, & Hyun, H. H. (2012). How to Design and Evaluate Research in Education (Eight Edit). McGraw-Hill, Inc.
Kartomi, M. (2011). Traditional and modern forms of pencak silat in Indonesia: The suku mamak in Riau. Musicology Australia, 33(1), 47–68. https://doi.org/10.1080/08145857.2011.580716
Kuan, G., & Roy, J. (2007). Goal profiles , mental toughness and its influence on performance outcomes among Wushu athletes. Journal of Sports Science and Medicine, 6(CSSI2), 28–33.
Madrigal, L. (2019). Developing mental toughness : Perspectives from NCAA Division I team sport coaches. Journal for the Study of Sports and Athletes in Education, 13(3), 235–252. https://doi.org/10.1080/19357397.2019.1669366
Maulidya, N., & Jannah, M. (2021). HUBUNGAN PSYCHOLOGICAL CAPITAL DENGAN MENTAL TOUGHNESS PADA ATLET BELADIRI. Character: Jurnal Penelitian Psikologi, 8(6).
Mccarthy, P. J., Jones, M. V, Harwood, C. G., & Olivier, S. (2010). What Do Young Athletes Implicitly Understand About Psychological Skills ? Journal of Clinical Sport Psychology, 158–172. https://doi.org/https://doi.org/10.1123/jcsp.4.2.158
Mujika, I., Halson, S., Burke, L. M., Balagué, G., & Farrow, D. (2018). An integrated, multifactorial approach to periodization for optimal performance in individual and team sports. International Journal of Sports Physiology and Performance, 13(5), 538–561. https://doi.org/10.1123/ijspp.2018-0093
Nissa, E. C., & Soenyoto, T. (2021). Hubungan Ketangguhan Mental dengan Kecemasan Bertanding pada Atlet Beladiri PPLP Jawa Tengah. Indonesian Journal for Physical Education and Sport, 2(1), 267–277.
Nurnadhira Nazri, & Norlena Salamuddin. (2019). Mental toughness and emotional intelligence among team and individual athletes. Jurnal Sains Sukan Dan Pendidikan Jasmani, 8(2), 8–18. https://doi.org/https://doi.org/10.37134/jsspj.vol8.2.2.2019
Patah, I. A., Jumareng, H., Setiawan, E., Aryani, M., & Gani, R. A. (2021). The importance of physical fitness for pencak silat athletes : Home-based weight training tabata and circuit can it work ? Journal Sport Area, 6(1), 86–97. https://doi.org/https://doi.org/10.25299/sportarea.2021.vol6(1).6172
Pelupessy, M. K. R., & Dimyati. (2019). Kecemasan sebagai Prediktor Prestasi pada Atlet Bulu Tangkis Remaja. PSIKOLOGIKA: Jurnal Pemikiran Dan Penelitian Psikologi, 24(1), 93–104. https://doi.org/10.20885/psikologi.vol24.iss1.art7
Periyadi, A. (2016). PENGARUH LATIHAN MENTAL IMAGERY TERHADAP KEMAMPUAN POOMSAE PADA ATLET POOMSAE CABANG OLAHRAGA BELADIRI TAEKWONDO. Wahana Didaktika: Jurnal Ilmiah Kependidikan, 15(2), 35–41. https://doi.org/https://doi.org/10.31851/wahanadidaktika.v15i2.1235
Pluhar, E., McCracken, C., Griffith, K. L., Christino, M. A., Sugimoto, D., & Meehan, W. P. (2019). Team sport athletes may be less likely to suffer anxiety or depression than individual sport athletes. Journal of Sports Science and Medicine, 18(3), 490–496.
Raynadi, F. B., Rachmah, D. N., & Akbar, S. N. (2016). RELATIONSHIP BETWEEN MENTAL TOUGHNESS AND COMPETITIVE ANXIETY IN PENCAK. Jurnal Ecopsy, 3(3), 149–154. https://doi.org/http://dx.doi.org/10.20527/ecopsy.v3i3.2665
Rohman, U., & Effendi, M. Y. (2019). Profil Kondisi Fisik Atlet PPLP Pencak Silat Jawa Timur. Journal Physical Education, Health and Recreation, 3(2), 112–121.
Roncone, B. J., Kornspan, A. S., Hayden, E. W., & Fay, M. (2020). The relationship of physical activity and mental toughness in collegiate esports varsity student-athletes. Ohio Journal of Health, Physical Education, Recreation and Dance, 41(1), 31–39.
Sethi, P. K. (2019). A study of mental toughness among elite female taekwondo and Olympic weightlifting athletes. International Journal of Physiology, Nutrition, and Physical Education, 4(1), 2428–2430.
Sheard, M., Golby, J., & Wersch, A. Van. (2009). Progress Toward Construct Validation of the SportsMental Toughness Questionnaire (SMTQ). European Journal OfPsychological Assessment, 25(3), 186–193. https://doi.org/10.1027/1015-5759.25.3.186
Slingerland, K. J. Van, Durand-bush, N., Bradley, L., Goldfield, G., Archambault, R., Smith, D., Edwards, C., Delenardo, S., Taylor, S., & Werthner, P. (2019). Canadian Centre for Mental Health and Sport ( CCMHS ) Position Statement : Principles of Mental Health in Competitive and High-Performance Sport. Clinical Journal of Sports Medicine, 29(3), 173–180. https://doi.org/http://dx.doi.org/10.1097/JSM.0000000000000665
Soltan, A., Zamani, A., & Nazerian, I. (2011). The comparison of Trait anxiety , State anxiety , and Self-confidence among Male Athletes of Team sports and Individual sports in the Country.
Sundara, C., Meirizal, Y., & Hambali, S. (2020). KONDISI FISIK ATLET PENCAK SILAT PPLP JAWA BARAT. Jurnal Pendidikan Jasmani Dan Olahraga, 19(1), 74–82. https://doi.org/10.20527/multilateral.v19i1.8217
Tang, A. (2014). GAMBARAN TINGKAT KESEIMBANGAN ATLET SEPAKBOLA PUSAT PENDIDIKAN DAN LATIHAN OLAHRAGA PELAJAR SULAWESI SELATAN. Jurnal Ilmiah Kesehatan Diagnosis, 5(1), 122–128.
Valey, R. S. (2007). Mental Skills Training in Sport. In Handbook of Sport Psychology (Third Edit, pp. 287–309). John Wiley & Sons, Inc.
Yates, D. (2020). HUBUNGAN ANTARA MENTAL TOUGHNESS DENGAN KECEMASAN DALAM PERTANDINGAN PADA ATLET ANGKAT BESI PROVINSI JAWA TENGAH. UNiversitas Negeri Semarang.
Yohanes, R., Aminudin, R., & Nurwansyah, R. (2020). Aspek mental siswa yang mengikuti kegiatan latihan pencak silat raksa budhi di kabupaten karawang. Jurnal Literasi Olahraga, 2(1), 68–75. https://doi.org/https://doi.org/10.35706/jlo.v2i1.3952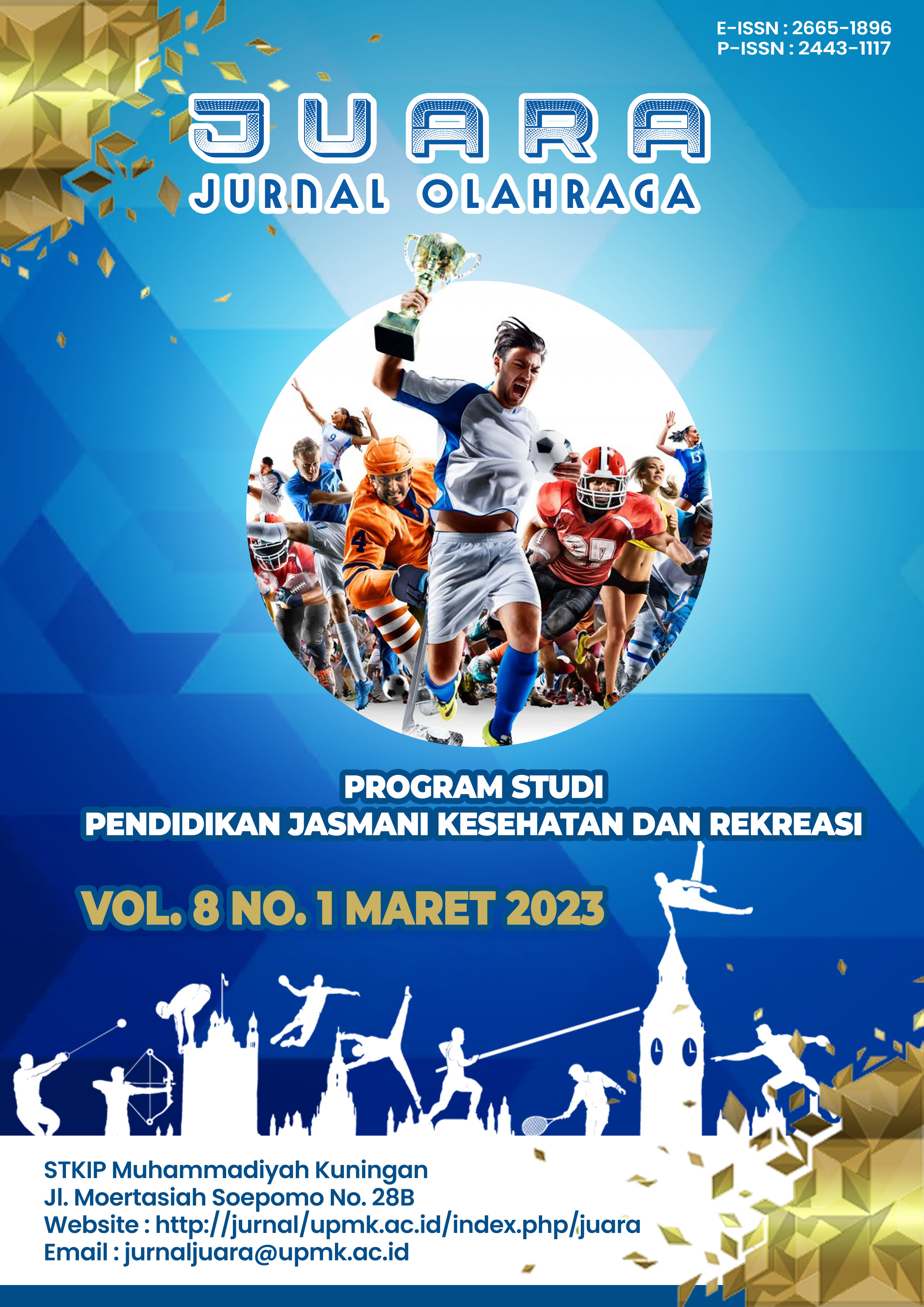 How to Cite
Supriadi, D. (2023). Mental Toughness West Java Pencak Silat Athletes. JUARA : Jurnal Olahraga, 8(1), 538-546. https://doi.org/10.33222/juara.v8i1.2749
Copyright (c) 2023 Dedi Supriadi
This work is licensed under a Creative Commons Attribution-ShareAlike 4.0 International License.

Abstract viewed = 94 times PDF downloaded = 0 times