The Influence Hand Eye Coordination and Student Learning Dicipline on the Basic Vollyball Technique Skills of Students Of SMP
Yona Evasari

Universitas Negeri Padang

Kamal Firdaus

Universitas Negeri Padang

Syafruddin Syafruddin

Universitas Negeri Padang

Hastria Efendi

Universitas Negeri Padang
Abstract
This study aimed to see the effect of aerobic endurance, hand-eye coordination, and learning discipline on essential volleyball skill items for SMP N 2 North Lintau Buo. This type of research is path analysis (fat analysis) with the variables of aerobic endurance, eye-hand coordination, and learning discipline. The population of this study was 20 grade VIII students of SMP N 2 Lintau Buo Utara. The sampling technique in this study was purposive, so 20 students were randomly selected as the sample at SMP N 2 Lintau Buo Utara. The grouping of samples is random. Data collection was carried out by testing basic volleyball skills, namely passing over, under, serve and serve over. The data was then analyzed by t-test. The study results can be concluded that there is a significant influence between hand-eye coordination and learning discipline in students playing volleyball. This is seen from the results of the data analysis sig value <0.05. So, hand-eye coordination and learning discipline are essential in volleyball.
Keywords:
Hand eye Coordination, Study discipline, Vollyball skills
Downloads
Download data is not yet available.
References
Anggara, F. (2021). Evaluasi Tingkat Pembelajaran Pendidikan Pandemi Covid-19. Jurnal Ilmiah Bina Edukasi, 1(1), 37–45.
Ariantesa, B., Wahyuri, A. S., & Hb, B. (2022). International Journal of Education and Literature ( IJEL ) E- ISSN : 2829-6249 P -ISSN : 2829-6656 E-Module Development of Physical Education Subjects for Sports and Health on Physical Fitness Materials for Class VII Junior High School Students Internatio.
Arief, N. A., Kuntjoro, B. F. T., & Suroto, S. (2020). Gambaran Aktifitas Fisik Dan Perilaku Pasif Mahasiswa Pendidikan Olahraga Selama Pandemi Covid-19. Multilateral Jurnal Pendidikan Jasmani Dan Olahraga, 19(2), 175. https://doi.org/10.20527/multilateral.v19i2.9564
Atak, V., Yaşar, H., & Purzer, S. (2022). Seeing the Invisible: A Retrospective Examination of Education during COVID-19. International Journal on Social and Education Sciences, 4(2), 178–189. https://doi.org/10.46328/ijonses.345
Broto, D. P. (2015). Pengaruh Latihan Plyometics Terhdap Power Otot Tungkai Atlet Remaja Bola Voli. Motion, 6(2), 174–185. https://jurnal.unismabekasi.ac.id/index.php/motion/article/download/506/403
Candra Dewi, N. K. A. T., Astra, I. K. B., & Suwiwa, I. G. (2020). Motivasi Mahasiswa Prodi Pendidikan Jasmani Kesehatan Dan Rekreasi Fakultas Olahraga Dan Kesehatan Menjaga Kebugaran Jasmani Pada Masa Pandemi Covid-19. Jurnal Ilmu Keolahragaan Undiksha, 8(1). https://doi.org/10.23887/jiku.v8i1.29573
Ekin, C. Ç. (2022). A Mapping Global Research Trends on COVID-19 in Education: A Bibliometric Analysis. International Journal of Technology in Education and Science, 6(3), 508–523. https://doi.org/10.46328/ijtes.405
Firdaus, K. (2015). THE IMPLEMENTATION OF PHYSICAL AND HEALTH EDUCATION IN SCHOOL Council for Innovative Research. Peer Review Research Publishing System Journal: International Journal of Research in Education Methodology, 7(3), 1203–1207. www.ijrem.com
Firdaus, K. (2016). The Learning Process of Physical and Health Education Subject in Class Viii of Smp N 4 Kota Payakumbuh. Journal of Social Science Research, 10(4), 2173–2177. https://doi.org/10.24297/jssr.v10i4.4713
Gumara, O. H., & Wahyuri, A. S. (2022). Pengembangan E-Modul Mata Pembelajaran Pendidikan Jasmani Olahraga dan Kesehatan pada Materi Pokok Pola Hidup Sehat untuk Siswa Sekolah Menengah Pertama. Edukatif : Jurnal Ilmu Pendidikan, 4(4), 6185–6192. https://doi.org/10.31004/edukatif.v4i4.3066
Herlina, H., & Suherman, M. (2020). Potensi Pembelajaran Pendidikan Jasmani Olahraga Dan Kesehatan (Pjok) Di Tengah Pandemi Corona Virus Disease (Covid)-19 Di Sekolah Dasar. Tadulako Journal Sport Sciences And Physical Education, 8(1), 1–7. http://jurnal.untad.ac.id/jurnal/index.php/PJKR/article/view/16186
Isabella, A. P., & Bakti, A. P. (2021). Hubungan Daya Ledak Otot Tungkai Dan Kekuatan Otot Lengan Terhadap Accuracy Smash Bolavoli. Jurnal Kesehatan Olahraga, 151–160. https://ejournal.unesa.ac.id/index.php/jurnal-kesehatan-olahraga/article/view/40957
Kastrena, E., Setiawan, E., Patah, I. A., & Nur, L. (2020). Pembelajaran Peer Teaching Berbasis Zoom Video sebagai Solusi untuk Meningkatkan Hasil Belajar Passing Bawah Bola Voli saat Situasi Covid 19. Indonesian Journal of Primary Education, 4(1), 69–75. https://doi.org/10.17509/ijpe.v4i1.25133
Kelentukan, H., & Dan, P. (2022). Tangan Dengan Kemampuan Servis Atas Pada Peserta. 3(2), 122–134.
Kılıç, T., & Hınçal, S. (2021). The Effects of Pilates Mat Exercises on self-rated health Levels, Body Mass Index and Flexibility in Middle Age Sedentary Women. Education Quarterly Reviews, 4(2), 166–179. https://doi.org/10.31014/aior.1993.04.02.208
Komarudin, K., & Prabowo, M. (2020). Persepsi siswa terhadap pembelajaran daring mata pelajaran pendidikan jasmani olahraga dan kesehatan pada masa pandemi Covid-19. MAJORA: Majalah Ilmiah Olahraga, 26(2), 56–66. https://doi.org/10.21831/majora.v26i2.34589
Mendoza, F. (2021). Pendidikan Jasmani, Olahraga dan Kesehatan (PJOK) Masa Pandemi Covid-19 di Indonesia. Edukatif : Jurnal Ilmu Pendidikan, 3(4), 2125–2131. https://doi.org/10.31004/edukatif.v3i4.1124
Niemczyk, E. K. (2021). The Impact of COVID-19 on Higher Education Institutions: Focus on Research and Teaching Practice. New Challenges to Education: Lessons from Around the World, 19, 253–259.
Oktariana, D., & Hardiyono, B. (2020). Pengaruh Daya Ledak Otot Lengan , Daya Ledak Otot Tungkai Dan Kekuatan Otot Perut Terhadap Hasil Smash Bola Voli Pada Siswa SMK Negeri 3 Palembang The Influence of Arm Muscles Explosive Power , Limb Muscles Explosive Power and Abdominal Muscle Strength on. Journal Coaching Education Sports, 1(1), 13–26. https://doi.org/10.31599/jces.v1i1.82
Pratomo, C., & Gumantan, A. (2021). Analisis Efektifitas Pembelajaran Daring Terhadap Hasil Belajar Pendidikan Olahraga Pada Masa Pandemi Covid-19 SMK SMTI Bandarlampung. Journal Of Physical Education, 2(1), 26–31. https://doi.org/10.33365/joupe.v2i1.964
Putri, K. Y. S., Fathurahman, H., Safitri, D., & Sugiyanta, L. (2019). Journal of Social Studies Education Research Sosyal Bilgiler Eğitimi Araştırmaları Dergisi. Journal of Social Studies Education Research, 10(3), 364–386. https://jsser.org/index.php/jsser/article/view/3043
Ressa, T. W. (2021). The COVID-19 Pandemic, its Consequences, and the Recovery: Implementation of Disaster Education and Management is Key to the Schooling of Children with Disabilities. International Journal of Modern Education Studies, 5(1), 22. https://doi.org/10.51383/ijonmes.2021.62
Smadi, O. Y. (2022). The Satisfaction Level of Students with Disabilities with Library and Information Services. International Journal of Education in Mathematics, Science and Technology, 10(2), 436–457. https://doi.org/10.46328/IJEMST.2246
Soytürk, M. (2019). Analysis of Self and Peer Evaluation in Basic Volleyball Skills of Physical Education Teacher Candidates. Journal of Education and Learning, 8(2), 256. https://doi.org/10.5539/jel.v8n2p256
Sunardi, J., & Kriswanto, E. S. (2020). Perilaku hidup bersih dan sehat mahasiswa pendidikan olahraga Universitas Negeri Yogyakarta saat pandemi Covid-19. Jurnal Pendidikan Jasmani Indonesia, 16(2), 156–167. https://doi.org/10.21831/jpji.v16i2.35082
Supriyadi, A., & Dupri. (2020). Peningkatan hasil belajar bolavoli dengan menggunakan sistem daring. Edu Sportivo: Indonesian Journal of Physical Education, 1(2), 112–119. https://doi.org/10.25299/es:ijope.2020.vol1(2).5609
Syafruddin, & Hasanah, U. (2020). Review on the Implementation of Physical Education Learning. 460(Icpe 2019), 276–279. https://doi.org/10.2991/assehr.k.200805.075
Tumaloto, E. H. (2022). Pembelajaran Pendidikan Jasmani, Olahraga Dan Kesehatan Selama Pandemi Covid 19. Jambura Health and Sport Journal, 4(1), 60–68. https://doi.org/10.37311/jhsj.v4i1.13602
Yulianingsih, I., & Parlindungan, D. P. (2020). Persepsi Mahasiswa Pendidikan Olahraga terhadap Perkuliahan Daring Selama Pandemi Covid-19. Gelanggang Olahraga: Jurnal Pendidikan Jasmani Dan Olahraga (JPJO), 4(1), 31–46. https://doi.org/10.31539/jpjo.v4i1.1467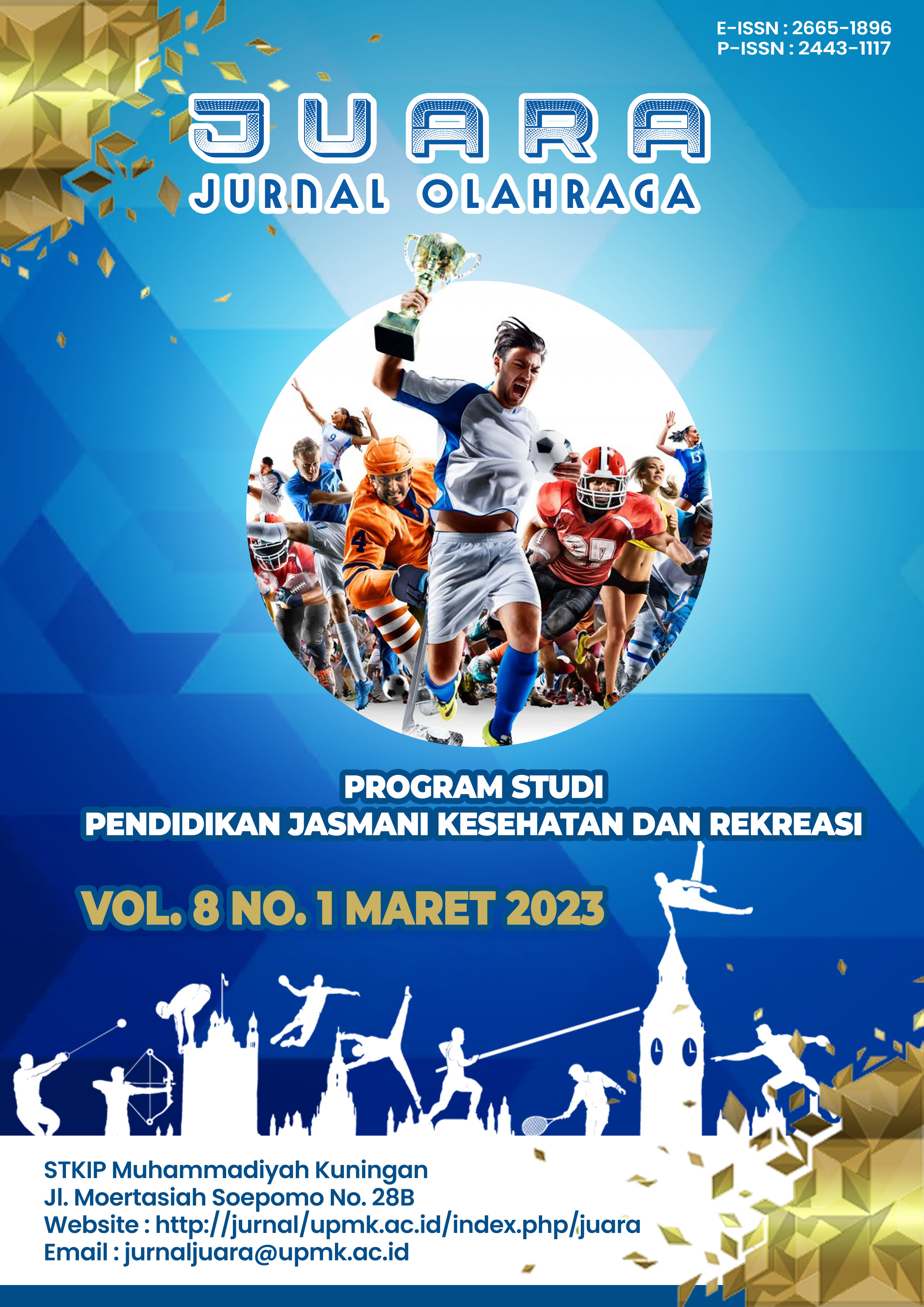 How to Cite
Evasari , Y., Firdaus, K., Syafruddin, S., & Efendi, H. (2023). The Influence Hand Eye Coordination and Student Learning Dicipline on the Basic Vollyball Technique Skills of Students Of SMP. JUARA : Jurnal Olahraga, 8(1), 357-364. https://doi.org/10.33222/juara.v8i1.2721
Copyright (c) 2023 Author(s)Yona Evasari , Kamal Firdaus, Syafruddin Syafruddin, Hastria Efendi
This work is licensed under a Creative Commons Attribution-ShareAlike 4.0 International License.

Abstract viewed = 105 times PDF downloaded = 0 times