Promotion of Paragliding Sports Tourism Wayu Sigi Regency In Terms of Aspects of Community Welfare and Visitor Satisfaction
Abstract
This study aims to analyze the promotion of Wayu paragliding sports attractions in terms of the welfare of the people who work at the attraction and visitor satisfaction. The design of this study uses methods (Mixed Methods) combining quantitative and qualitative research with the Convergent Parallel Design design. Research data collection techniques using observations in the field with media (observation, interviews, questionnaires, and documentation). Qualitative research data analysis techniques use the help of NVivo 12 software to find out the results of interviews with four respondents. Meanwhile, quantitative research data from filling out questionnaires from 15 workers at tourist attractions and 387 tourist visitors, then analyzed descriptive percentages with the help of Microsoft Excel and SPSS 22 software. The results of qualitative research data show that (a) the lack of use of social media, (b) not promoting in detail tourist attractions, (c) the strategic location of tourist attractions that show the scenery of Palu City, Wayu paragliding sports attractions as training grounds, championship events, camping grounds, and places for national day commemoration ceremonies (c) create jobs for the community, access to poor locations, the facilities, and infrastructure in the Wayu paragliding sports attraction is quite good. Meanwhile, the results of quantitative research data on community welfare and visitor satisfaction are in the moderate category. Based on the results of the study, it can be concluded that the Wayu paragliding sports attraction has potential that can be promoted through social media judging from the supporting facilities and infrastructure than its strategic location as a paragliding sports venue and camping ground as well as support from other uniqueness in the Wayu paragliding sports attraction. It can significantly contribute to the improvement of community welfare and the satisfaction and comfort of visitors.
Keywords:
Promotion, Tourism, Sports, Community Welfare, Visitor Satisfaction
Downloads
Download data is not yet available.
References
Achilleos, A., Makrominas, M., Markides, C., Alexandrou, R., Konstantinidis, A., Papacosta, E., Constantinides, P., Zikouli, E., & Tselepos, L. (2021). Promoting active sports tourism through technology and evaluating its economic impact: experiences from Cyprus. Journal of Sport & Tourism, 25(4), 297–315. https://doi.org/10.1080/14775085.2021.1965009
Chang, M. X., Choong, Y. O., & Ng, L. P. (2020). Local residents' support for sport tourism development: the moderating effect of tourism dependency. Journal of Sport and Tourism, 24(3), 215–234. https://doi.org/10.1080/14775085.2020.1833747
Chang, M.-X., Choong, Y.-O., Ng, L.-P., & Seow, A.-N. (2022). The importance of support for sport tourism development among local residents: the mediating role of the perceived impacts of sport tourism. Leisure Studies, 41(3), 420–436. https://doi.org/10.1080/02614367.2021.2011950
Darabi, M., Keshtidar, M., Alizaei-Yousef-Abadi, O., Heydari, R., & Nazari-Torshizi, A. (2020). Scenario Planning of the Future of Sports Tourism Industry in Mashhad. Annals of Applied Sport Science, 8(4), 1–13. https://doi.org/10.29252/aassjournal.788
Demirbas, E. (2018). An Overview on Traditional and Electronic Word of Mouth Communication (WOM). Lectio Socialis, 2(1), 16–26.
Filo, K., Lock, D., & Karg, A. (2015). Sport and social media research: A review. Sport Management Review, 18(2), 166–181. https://doi.org/10.1016/j.smr.2014.11.001
Fitriantono, M. R., Kristiyanto, A., & Siswandari, S. (2018). Potensi Alam untuk Olahraga Rekreasi. Prosiding Seminar Nasional IPTEK Olahraga, 1(1), 9–11.
Fianto, A, Y, A, Erstiawan, S, M & Rudi Santoso. (2021). Strategi Pengembangan Wisata Paralayang Di Kota Batu. Majalah Ekonomi , 26 (1), 71–78. https://doi.org/10.36456/majeko.vol26.no1.a3955
Ghani, Y. A. (2017). Pengembangan Sarana Prasarana Destinasi Pariwisata Berbasis Budaya di Jawa Barat. Jurnal Pariwisata, 1. http://ejournal.bsi.ac.id/ejurnal/index.php/jp22
Hemmonsbey, J., & Tichaawa, T. M. (2020). Brand messages that influence the sport tourism experience: the case of South Africa. Journal of Sport and Tourism, 24(3), 177–194. https://doi.org/10.1080/14775085.2020.1822200
Hudah, M. (2017). Sport Tourism Sebagai Strategi Dan Tantangan Perkembangan Social Olahraga Dalam Kehidupan Masyarakat. Seminar Nasional KeIndonesiaan II Tahun 2017, 598–706.
Kastenholz, E., João, M., Peixeira, C., & Lima, J. (2012). Understanding and managing the rural tourism experience — The case of a historical village in Portugal . TMP, 4, 207–214. https://doi.org/10.1016/j.tmp.2012.08.009
Kurnianto, M., & Dhewi, T. S. (2022). Social Media Marketing On Brand Equity Of L'sima Tourism, Intermediating Role : Electronic Word Of Mouth. Journal of Business and Management Review, 3(1), 031–044. https://doi.org/10.47153/jbmr31.2712022
Putra, P. K., Sulaiman, & Hartono, M. (2020). Government Policy on Provision of Facilities and Infrastructure Public Sports in Pati Regency Article Info. Journal of Physical Education and Sports, 9(1), 63–68. https://journal.unnes.ac.id/sju/index.php/jpes
Martens, H. M., & Reiser, D. (2019). Analyzing the image of Abu Dhabi and Dubai as tourism destinations – The perception of first-time visitors from Germany. Tourism and Hospitality Research, 19(1), 54–64. https://doi.org/10.1177/1467358417690436
Moekahar, F., & Daherman, Y. (2020). Marketing Communication of Parkour Sport. 452(Aicosh), 128–130. https://doi.org/10.2991/assehr.k.200728.028
Mushtaq, M., & Shahzad, M. (2019). Economic and Social Benefits Exploration through Tourism Industry : An e-Marketing Perspective. IV(I), 449–455.
Nasrulloh, A., Sumaryanto, M., Nugroho, S., & Sumarjo, M. (2019). The strategy of Sport Industry Development is Supporting Tourism in DIY. May 2020. https://doi.org/10.2991/yishpess-cois-18.2018.62
Nikolskaya, E. Y., Blinova, E. A., Lepeshkin, V. A., Kulgachev, I. P., & Shadskaja, I. G. evna. (2020). Strategy for the promotion of a tourism product in the international market. International Journal of Advanced Research in Engineering and Technology, 11(2), 238–245. https://doi.org/10.34218/IJARET.11.2.2020.024
Nofiyanti, F., Zulyanti Nasution, D., Octarina, D., & Agie Pradhipta, R. M. W. (2021). Local Wisdom for Sustainable Rural Tourism: The Case Study of North Tugu Village, West Java Indonesia. E3S Web of Conferences, 232. https://doi.org/10.1051/e3sconf/202123202031
Oladeji, S. (2021). Heritage Sports Tourism For Sustainable Development In Nigeria. Journal of Tourism & Sport Management (JTSM), 4(July), 365–374.
Plunkett, D., & Brooks, T. J. (2018). Examining the relationship between satisfaction, intentions, and post-trip communication behavior of active event sport tourists. Journal of Sport and Tourism, 22(4), 303–313. https://doi.org/10.1080/14775085.2018.1532806
Pudia M. Indika, Hijriyantomi Suyuthie, A. K. E. S. (2019). Management Of Sports Tourism Management In Mentawai Islands. International Journal of Tourism, Heritage and Recreation Sport, 1(2), 16–19. https://doi.org/10.24036/ijthrs.v1i2.26
Rahman, Y., Asbi, M, A., Putri, T, H. (2020). Analisis Perubahan Perilaku Ekonomi Masyarakat Sebagai Dampak Pengembangan Pariwisata Berbasis Masyarakat (Studi Kasus Penggerak Wisata Desa Wisata Pesisir Pagar Jaya Kabupaten Pesawaran). Jurnal Nasional Pariwisata, 12(April), 38–50. https://doi.org/https://doi.org/10.22146/jnp.52569
Ramkissoon, H. (2022). COVID-19 Adaptive Interventions: Implications for Wellbeing and Quality-of-Life. Frontiers in Psychology, 13(March), 1–9. https://doi.org/10.3389/fpsyg.2022.810951
Rini, R, P, O & Wibowo, A, E. (2022). Analisis Sarana Prasarana Terhadap Kepuasan Wisatawan Berdampak Kepada Minat Berkunjung Kembali Ke Jembatan Barelang. Jurnal Mata Pariwisata , 1 (1), 23–29. Diambil dari https://jurnal.btp.ac.id/index.php/mata-btp/article/view/15
Skivalou, M., & Filippidi, E. (2017). Chinese tourism: Development and prospects for Greece. Tourism and Hospitality Research, 17(3), 325–335. https://doi.org/10.1177/1467358415610372
Sushchenko, O., & Ekouaghe, M. (2019). Trends in the development of marketing technologies in the tourism market. Economics of Development, 18(1), 9–22. https://doi.org/10.21511/ed.18(1).2019.02
Tavakolmia, J. (2020). Strategic Planning of Sports Tourism Development (Case Study : Sarein City ). Journal of Culture and Tourism, 18(1).
Usman. (2019). Efektivitas Web Sebagi Media Promosi. Deepublish, Pariwisata.Yogyakarta:
Utomo, A. W. (2018). Perkembangan industri olahraga obyek wisata dan rekreasi di Kabupaten Magetan. Prosiding SNIKU (Seminar Nasional Ilmu Keolahragaan UNIPMA), 1(9), 116–126.
Yamashita, R., & Takata, K. (2020). Relationship between prior knowledge , destination reputation , and loyalty among sport tourists. Journal of Sport & Tourism, 0(0), 1–11. https://doi.org/10.1080/14775085.2020.1763192
Zhu, M., Yan, R., Wu, L., & Zhang, X. (2021). Research on the Development Path of Sports Tourism Industry from the Perspective of Experience Economy. Advanced in Educational Technology and Psychology, 119–126. https://doi.org/10.23977/aetp.2021.530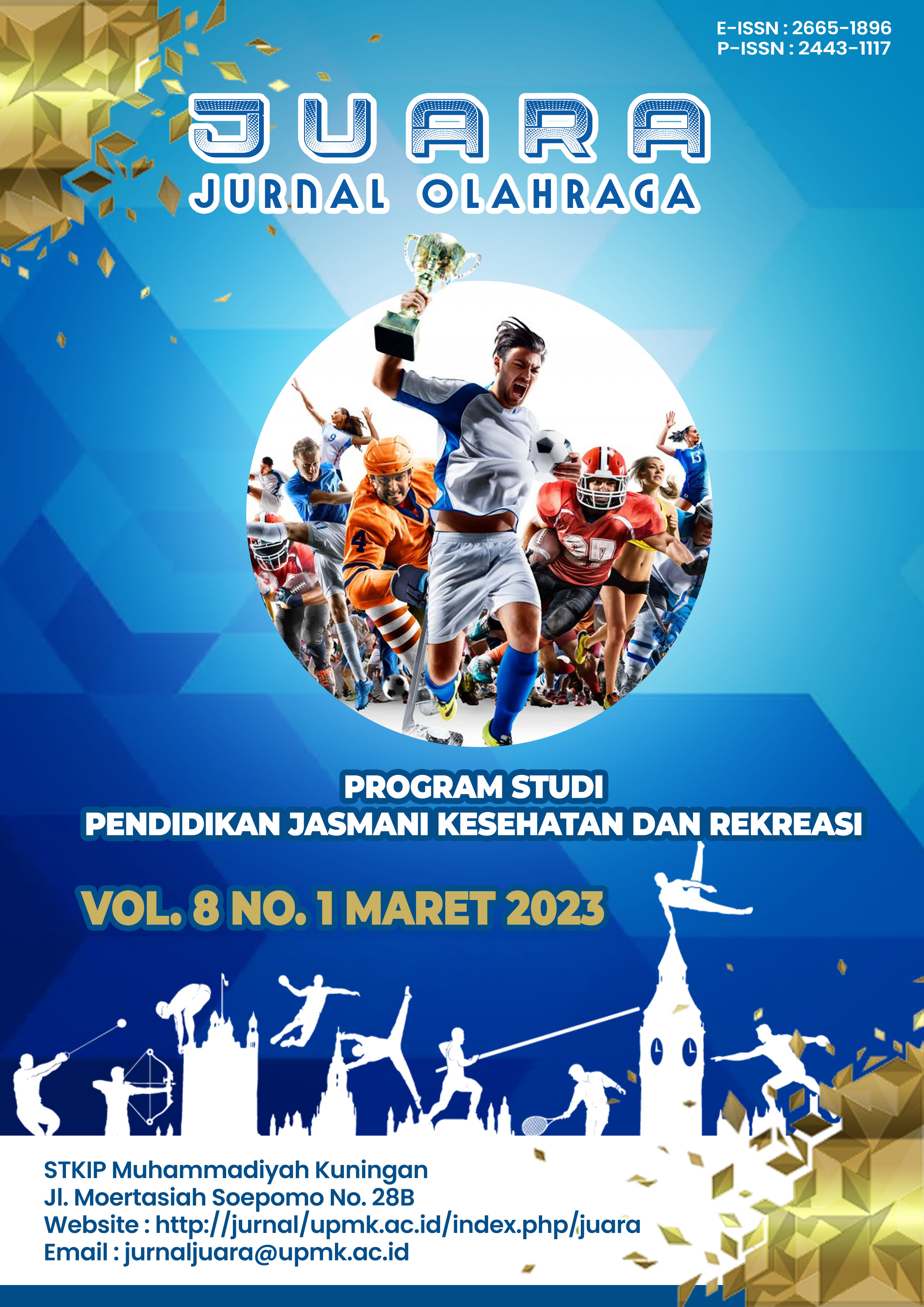 How to Cite
Rifki , M., Raharjo , B. B., & Sulaiman, S. (2023). Promotion of Paragliding Sports Tourism Wayu Sigi Regency In Terms of Aspects of Community Welfare and Visitor Satisfaction. JUARA : Jurnal Olahraga, 8(1), 330-343. https://doi.org/10.33222/juara.v8i1.2712
Copyright (c) 2023 Moh. Rifki , Bambang Budi Raharjo , Sulaiman Sulaiman
This work is licensed under a Creative Commons Attribution-ShareAlike 4.0 International License.

Abstract viewed = 111 times PDF downloaded = 0 times