Analysis Of Anthropometric Factors and Physical Conditions Determinants of Back Service Ability in Sepaktakraw Game
Tony Azhar

Universitas Negeri Semarang

Sulaiman Sulaiman

Universitas Negeri Semarang

Taufiq Hidayah

Universitas Negeri Semarang
Abstract
Anthropometric measurements and physical condition of the ability to serve back sepaktakraw will be carried out on male sepaktakraw athletes in Central Java. Research objectives for analyzing Anthropometric factors and physical disorders that dominate the ability to serve the back in the game of sepaktakraw. This type of research is quantitative; the data obtained were analyzed using the confirmatory method using the SPSS 23 computerized statistical program. The sampling technique used purposive random sampling with a total of 15 athletes and data collection using test and measurement sheets. The results of this study indicate that the anthropometric factor of height has a dominant effect, and the physical condition of balance has a dominant impact on the back-serving skill of sepak takraw. The conclusion is that anthropometric factors have a dominant effect on the backs of sepaktakraw service skills. At the same time, physical condition factors also dominate the talents of the backs of sepaktakraw services. For Sepaktakraw, coaches in Central Java pay attention to the anthropometric components and physical conditions that influence increasing sports achievement.
Keywords:
Anthropometry, Physical Condition, Sepaktakraw
Downloads
Download data is not yet available.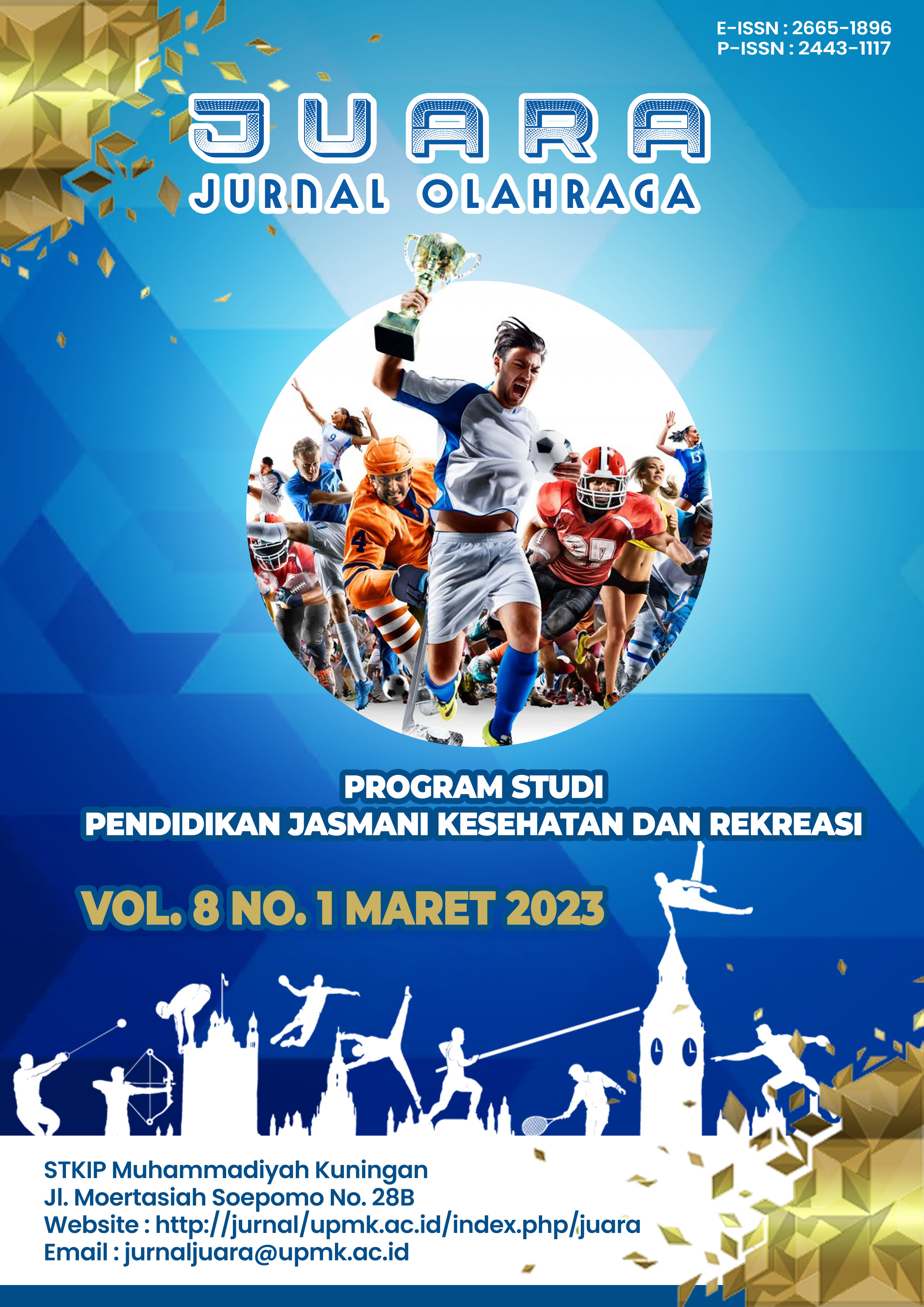 How to Cite

Azhar , T., Sulaiman, S., & Hidayah , T. (2023). Analysis Of Anthropometric Factors and Physical Conditions Determinants of Back Service Ability in Sepaktakraw Game. JUARA : Jurnal Olahraga, 8(1). Retrieved from http://jurnal.upmk.ac.id/index.php/juara/article/view/2620

Abstract viewed = 29 times