Revitalization of Riau Community Resources Through Petanque Sports
Jumadi Jumadi

Universitas Negeri Padang

Eri Barlian

Universitas Negeri Padang

Padli Padli

Universitas Negeri Padang
Abstract
This research reviews the picture of the  Riau community in revitalizing the resources of the Riau community through petanque sports. This study aims to find out what factors can affect the people of Riau through petanque sports. The subjects of this study were several stakeholders related to (the general public, students, and students) of Riau province. The research method used is the descriptive method. Data collection techniques with observation, interviews, documentation, and data triangulation. The data obtained are analyzed qualitatively by 1) data reduction, 2) data presentation, and 3) conclusion. Based on the results of the study, it was found that the average Riau community is 1). Society tends to be individualist. Therefore it is necessary to hold movements such as revitalization, which is communication, to reduce the individualist impact in the community. 2). One of the rights means to revitalize the communication of the people of Riau is to carry out sports activities because everyone needs to do sports activities. 3). Petanque sports are one of the effective media in revitalizing community communication due to their common characteristics and can also be used as a routine activity. The revitalization of Riau community resources through petanque sports is significant and affects people's interest in exercising and getting to know petanque sports.
Keywords:
Revitalizing, Community, Resources, Petanque Sports
Downloads
Download data is not yet available.
References
Aditya Gumantan, & Fahrizqi, E. B. (2020). Jurnal Sport-Mu Pendidikan Olahraga UM Jember. (2015), 1–9.
Agustini, D. K., Nugraheni, W., & Maulana, F. (2018). Hubungan Kekuatan Otot Lengan Dan Koordinasi Mata Tangan Terhadap Ketepatan Shooting Dalam Olahraga Petanque Di Klub Kota Sukabumi Tahun 2018. UMMI ke-1 Tahun 2018, 163–167.
Aini, K., & Kemala, A. (2021). JUARA : Jurnal Olahraga Development Of Physical Fitness Teaching Materials E-Book Using Flipbook Maker. (2).
Akbar, M. F., Priambodo, A., & Jannah, M. (2019). PENGARUH LATIHAN IMAGERY DAN TINGKAT KONSENTRASI TERHADAP PENINGKATAN KETERAMPILAN LAY UP SHOOT BOLA BASKET SMAN 1. Jp.jok (Jurnal Pendidikan. Jasmani , Olahraga dan Kesehatan), 2, 1–13. https://doi.org/https://doi.org/10.33503/jpjok.v2i2.445
Ardiyanto, H. (2019). Prinsip-Prinsip Biomekanika Kualitatif: Upaya Menjembatani Teori dan Aplikasi dalam Sport Science. Media Ilmu Keolahragaan Indonesia, 9(2), 54–62. https://doi.org/10.15294/miki.v9i2.17757
Buick, A., Mulligan, H., & Smith, C. (2015). Implementation of physical activity for individuals with severe neurological disability. New Zealand Journal of Physiotherapy, 43(3), 98–104. https://doi.org/10.15619/nzjp/43.3.09
Chandra Triadi, N. (2021). Contribution Of Power And Strength Of Arm Muscles To Petanque Shooting Ability In Sport Education Students At Muhammadiyah University Of Surakarta. Ijersc.Org, 648–656.
Dimyati, D. (2006). Peranan Psikologi Olahraga dalam Mengembangkan Olahraga Prestasi di Indonesia. Psikologika : Jurnal Pemikiran dan Penelitian Psikologi, 12(22), 149–155. https://doi.org/10.20885/psikologika.vol12.iss22.art7
Fayogi, N. 'Urizka. (2022). Study of the Correlation between Arm Muscle Power, Arm Length, Hand-Eye Coordination, and Concentration on Gate-In Results in Woodball. International Journal of Multidisciplinary Research and Analysis, 05(03), 606–615. https://doi.org/10.47191/ijmra/v5-i3-04
Gracia Sinaga, F. S., & Ibrahim. (2019). Analysis Biomechanics Pointing dan Shooting Petanque Pada Atlet TC PON XX PAPUA. Sains Olahraga : Jurnal Ilmiah Ilmu Keolahragaan, 3(2), 66. https://doi.org/10.24114/so.v3i2.15196
Hanansyah, A., & Ginanjar, A. (2020). Erratum: Upaya Peningkatan Hasil Belajar Bola Basket Menggunakan Model Pembelajaran Group Investigation. JUARA : Jurnal Olahraga, 5(1), 111. https://doi.org/10.33222/juara.v5i1.922
Hervi, A., & Qoriah, A. (2021). Survei Manajemen Olahraga Petanque Pada UKM Petanque Unnes Kota Semarang. Indonesian Journal for Physical Education and Sport, 2(1), 230–234. https://doi.org/10.15294/INAPES.V2I1.44213
Irhas, S. (2022). Latihan Pergelangan Tangan, Power Lengan, Konsentrasi dan Shooting pada Petanque. JUARA : Jurnal Olahraga, 07.
Iskandar, T., & Rahman, F. (2019). PENGARUH METODE LATIHAN HAND GRIP TERHADAP KEKUATAN GENGGAMAN TANGAN PADA ATLET PUTRA PELATCAB PETANQUE KOTA BEKASI. Motion: Jurnal Riset Physical Education, 9(2), 140–145. https://doi.org/10.33558/motion.v9i2.1539
Juhanis, B, B., & Nur, M. (2017). Pelatihan Teknik Dasar dan Sosialisasi Peraturan Permaian Olahraga Petanque pada Mahasiswa FIK UNM Makassar. Pengabdian Kepada Masyarakat Universitas Negeri Makassar, 1(1), 137–141.
Kurniawan, R., Junaidi, S., & Hidayah, T. (2022). Jurnal Olahraga The Effect of Flexibility Exercises, Static Balance, Eye-Hand Coordination on Petanque Shooting Results BY-SA 4.0. JUARA: Jurnal Olahraga, 7(2). https://doi.org/10.33222/juara.v7i2.2015 The
Lara, A. A. (2020). Kontribusi kekuatan otot lengan terhadap ketepatan shooting petanque jarak 6 meter pada atlet riau.
Lubis, M. R., & Permadi, A. G. (2021). Perbedaan Pengaruh Latihan Konsentrasi Dan Latihan Koordinasi Terhadap Peningkatan Kemampuan Shooting Game Atlet Petanque Undikma. JISIP (Jurnal Ilmu Sosial dan Pendidikan), 5(2), 632–637. https://doi.org/10.36312/jisip.v5i2.2005
Pelana, R. (2016). Hubungan Kekuatan Otot Tungkai Dan Keseimbangan Statis Dengan Hasil Shooting Pada Atlet Klub Petanque. Prosiding Seminar Nasional Peran Pendidikan Jasmani dalam Menyangga Interdisipliner Ilmu Keolahragaan, 12, 116–127. Berreskuratua -(e)tik http://pasca.um.ac.id/conferences/index.php/SNPJ/article/download/996/667
Purnomo, A., & Sujarwo. (2021). JUARA : Jurnal Olahraga Dampak pandemi COVID-19 terhadap Aktivitas Fisik dan Prestasi Siswa.
Raharjo, D. B. (2017). Tingkat Pemahaman Peraturan Permainan Sepakbola (Laws of The Game) Wasit C-1 dan C-2 Pengcab PSSI Sleman. Yogyakarta.
Rauhe, E. V. (2022). PENGARUH LATIHAN POWER LENGAN TERHADAP KEMAMPUAN MELEMPAR DALAM PERMAINAN SOFTBALL PADA MAHASISWA JURUSAN PKL FIK UNIMA. Jurnal Pendidikan Kesehatan dan Rekreasi UNIMA, 03(01), 96–101.
Saputro, W. A., Maliki, O., & Widiyatmoko, F. A. (2021). Pengaruh Latihan Kekuatan Otot Tangan, Daya Tahan Otot dan Keseimbangan Terhadap Ketepatan Shooting Game Petanque di UKM Petanque Upgris. 2, 274–279.
Sartika, R. A. D. (2010). Analisis Pemanfaatan Program Pelayanan Kesehatan Status Gizi Balita. Jurnal Kesehatan Masyarakat Nasional, 5(2), 1–8.
SN, D. A. A., & Setiawan, I. (2020). Pengaruh Latihan Koordinasi Mata Tangan dan Kekuatan Otot Lengan Terhadap Akurasi Lemparan Bola Petanque. Indonesian Journal for Physical Education and Sport, 1(2), 496–501. Berreskuratua -(e)tik https://journal.unnes.ac.id/sju/index.php/inapes%0APengaruh
Soemari, & Budianti, Y. (2020). Hubungan Kelentukan Pergelangangan Tangan Terhadap Ketepatan Shooting Bola Petanque Pada Atlit Ukm Petanque Stkip Bina Bangsa Getsempena. Journal of Chemical Information and Modeling, 2(1), 5–7.
Solihin, Setyawati, H., & Hidayah, T. (2022). The Effect of Balance and Concentration Exercises on the Shooting Results of Petanque Riau Athletes. JUARA: Jurnal Olahraga, 7, 3. https://doi.org/https://doi.org/10.33222/juara.v7i3.2219
Souef, G. (2015). the Winning. Copy Media.
Sugiyanto. (2018). Pengembangan Olahraga Dan Iptek Keolahragaan Di Era Millennium. In Pengembangan Iptek Keolahragaan Untuk Memajukan Generasi Milenial Yang Bugar Dan Berprestasi.
Sugiyono. (2015). Metode Penelitian Bisnis (Pendekatan Kuantitatif, Kualitatif dan R&D). Penerbit Alfabeta.
Suharsimi, A. (2013). Prosedur Penelitian Suatu Pendekatan Praktik. jakarta: PT Asdi Mahastya.
Suherman, A., Suherman, A., Juliantine, T., & Mahendra, A. (2018). Thematic Learning Based On Physical Literacy for Early Children. JUARA : Jurnal Olahraga, 3(1).
Supandri, Tuti Sarwita, M. (2020). Hubungan Kelentukan Pergelangan Tangan Terhadap Ketepan Shooting Bola Petanque Pada Atlit Ukm Petanq Stkip Bbg. Jurnal Ilmiah Mahasiswa Pendidikan, 1(1).
Suratman, & Mesiyani, P. (2016). Hubungan Kelentukan Pergelangan Tangan, Power dan Panjang Lengan dengan Ketepatan Servis Panjang. Journal of Sport Coaching and Physical Education, 1(1), 42–45.
Syamsudin, F., Syaifullah, R., Subardi, M. B., & Fariz, S. (2021). JUARA : Jurnal Olahraga Interval Training and Endurance Training to Increase VO2max: Article Review Fajar. Journal of Physical Activity and Sports. https://doi.org/https://doi.org/10.53869/jpas.v3i1.175
Tri Widhiyanti, K. A., Rusitayanti, N. W. A., & Ariawati, N. W. (2022). The Impact of Covid-19 on Online Learning Motivation in Sports Massage Learning. JUARA : Jurnal Olahraga, 7(1), 159–168. https://doi.org/10.33222/juara.v7i1.1555
TURKMEN, M. (2013). The Relationship Between Motivation Orientations and Competitive Anxiety in Bocce Players: Does Gender Make a Difference. Psychology and Behavioral Sciences, 2(4), 162. https://doi.org/10.11648/j.pbs.20130204.12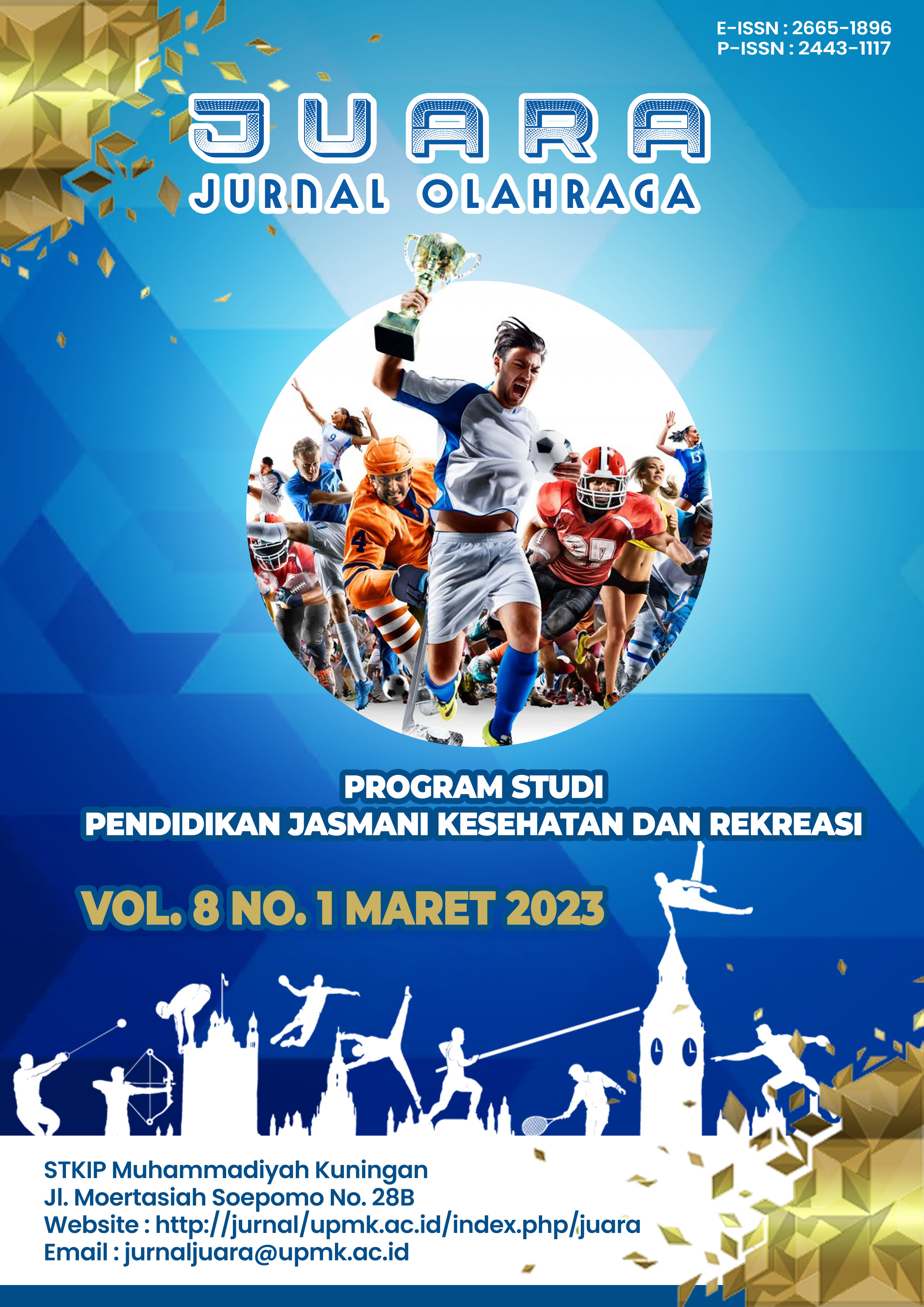 How to Cite
Jumadi, J., Barlian, E., & Padli, P. (2023). Revitalization of Riau Community Resources Through Petanque Sports. JUARA : Jurnal Olahraga, 8(1), 118-1128. https://doi.org/10.33222/juara.v8i1.2619
Copyright (c) 2023 Jumadi Jumadi, Eri Barlian, Padli Padli
This work is licensed under a Creative Commons Attribution-ShareAlike 4.0 International License.

Abstract viewed = 81 times PDF downloaded = 0 times