Revitalization of Sumbe Daya Maysarakt Riau Through Petanque Sports
Jumadi Jumadi

Universitas Negeri Padang

Eri Barlian

Universitas Negeri Padang

Fadli Fadli

Universitas Negeri Padang
Abstract
This research reviews the picture of the  Riau community in revitalizing the resources of the Riau community through petanque sports. This study aims to find out what factors can affect the people of Riau through petanque sports. The subjects of this study were several stakeholders related to (the general public, students, and students) of Riau province. The research method used is the descriptive method. Data collection techniques with observation, interviews, documentation, and data triangulation. The data obtained are analyzed qualitatively by 1) data reduction, 2) data presentation, and 3) conclusion. Based on the results of the study, it was found that the average Riau community is 1). Society tends to be individualist. Therefore it is necessary to hold movements such as revitalization, which is communication, to reduce the individualist impact in the community. 2). One of the rights means to revitalize the communication of the people of Riau is to carry out sports activities because everyone needs to do sports activities. 3). Petanque sports are one of the effective media in revitalizing community communication due to their common characteristics and can also be used as a routine activity. The revitalization of Riau community resources through petanque sports is significant and affects people's interest in exercising and getting to know petanque sports.
Keywords:
Revitalizing, Community, Resources, Petanque Sports
Downloads
Download data is not yet available.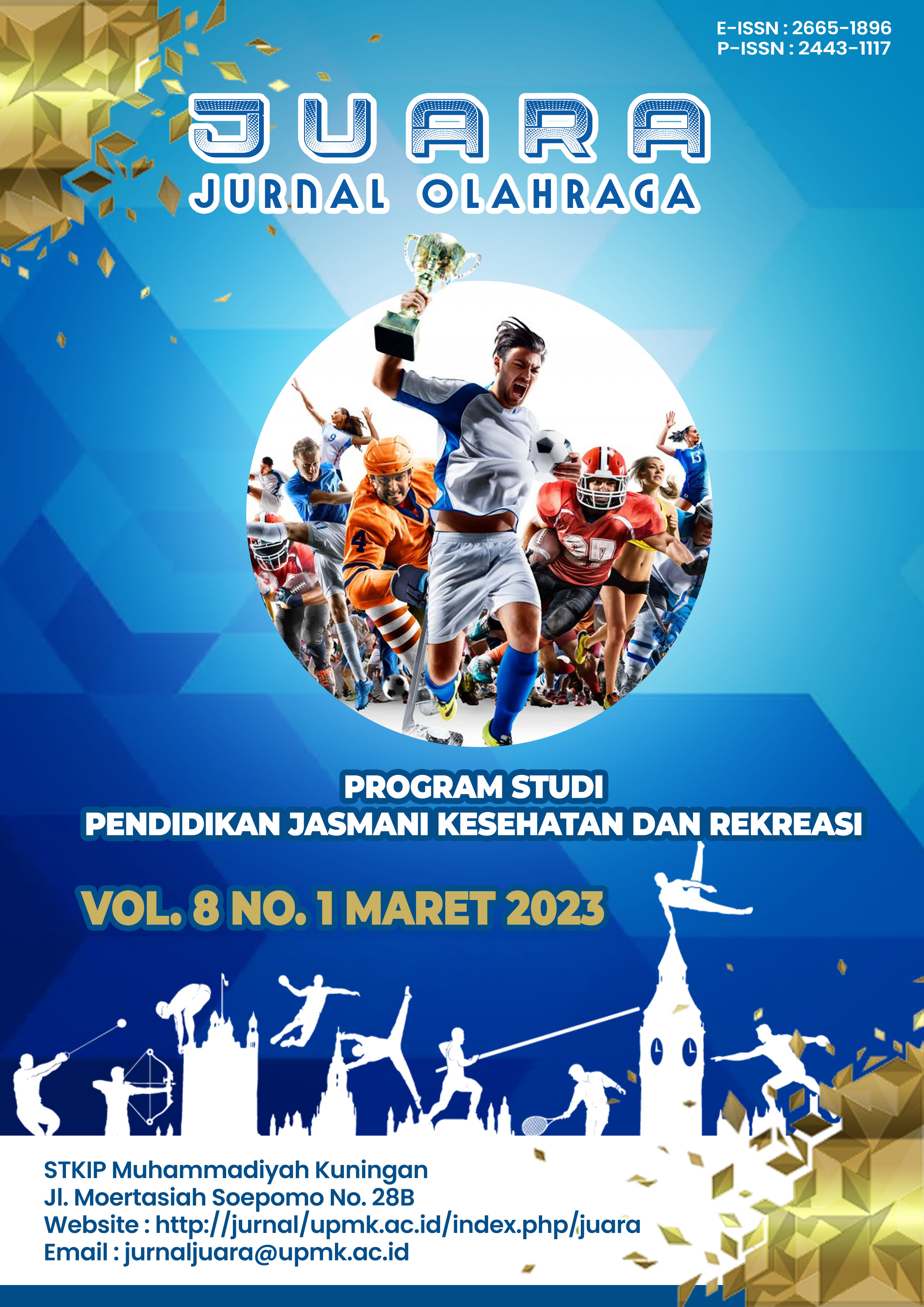 How to Cite

Jumadi, J., Barlian, E., & Fadli, F. (2023). Revitalization of Sumbe Daya Maysarakt Riau Through Petanque Sports. JUARA : Jurnal Olahraga, 8(1). Retrieved from http://jurnal.upmk.ac.id/index.php/juara/article/view/2619

Abstract viewed = 26 times