The Urgency Of Motivation For Pergatsi's Athletes In Palopo
Andres Andres

Universitas Muhammadiyah Palopo

Rachmat Hidayat

Universitas Muhammadiyah Palopo

A. Heri Riswanto

Universitas Muhammadiyah Palopo
Abstract
Motivation plays a vital role in training to achieve a goal, which is an achievement. Motivation to practice is beneficial for measuring the level of motivation of gateball athletes in Palopo. The population in this study consist of 19 gateball athletes in Palopo, ten males and nine females. The number sample is 19 gateball athletes from Palopo. Data collection in this study used a questionnaire (questionnaire) via Google form. Quantitative descriptive research methods and data analysis techniques use a Likert scale. The study's results provide an overview of the coach as a factor that influences the training program and seeks to maintain the athlete's training motivation. The training motivation of Gateball athletes is in the reasonably good category of 43%. Based on the classification of training motivation per indicator of the athletes themselves by 37%, type of performance results by 37%, classification of competition atmosphere by 47%, and task or performance classification by 37%. This study concludes that the training motivation of gateball athletes in Palopo is in the Fairly Good category.
Keywords:
Motivation, Exercise, Gateball
Downloads
Download data is not yet available.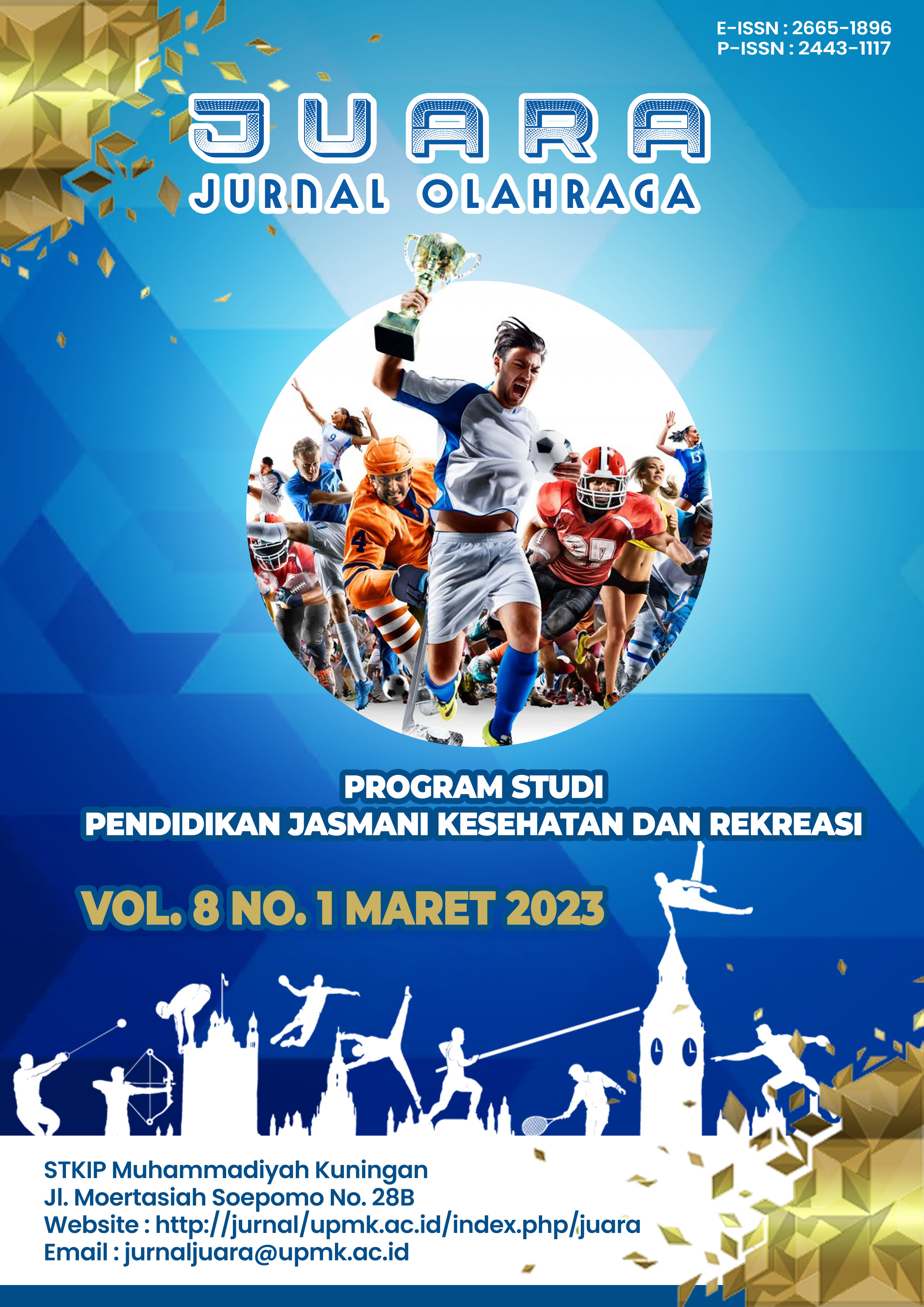 How to Cite

Andres, A., Hidayat, R., & Riswanto, A. H. (2023). The Urgency Of Motivation For Pergatsi's Athletes In Palopo. JUARA : Jurnal Olahraga, 8(1). Retrieved from http://jurnal.upmk.ac.id/index.php/juara/article/view/2594

Abstract viewed = 21 times