The Effect Of Right And Left Side Dribble Lay Up On The Students' Lay Up Ability Of Basketball Extracurricular Program
Rachmat Hidayat

Universitas Muhammadiyah Palopo

Achmad Fahmi

Universitas Muhammadiyah Palopo

Rasyidah Jalil

Universitas Muhammadiyah Palopo
Abstract
Dribble is the most fundamental technique in basketball to improve the students' lay-up ability in the basketball extracurricular program at SMPN 8 Palopo. The mistakes occur when doing lay-ups, such as the first step, which needs to be longer, travelling and double. The study aims to determine the effect of right and left dribble lay-ups on the students' lay-up ability in basketball extracurricular programs. The method is experimental (Pretest-Posttest Design). The population is 20 students. The sampling technique is purposive sampling. The result of this research shows that there is a significant relationship between the right and left-side lay-ups of extracurricular basketball students. This research concludes that there is a substantial increase in students' lay-up ability at SMP 8 Palopo by applying right-side and left-side lay-up dribbles. Right-side lay-up dribble is more effective in increasing the extracurricular basketball students lay up capacity at SMPN 8 Palopo.
Keywords:
Dribble Lay-Up, Lay-Up ability, Basketball
Downloads
Download data is not yet available.
References
Agustiawan, A. (2020). The Effect of Strength, Eye-Hand Coordination and Confidence on the Results of Shooting Free Throw Palembang Basketball Athletes. Binadarma Journal, 5994(2), 17–26.
Akbar, Aldiansyah, Boihaqi. 2020. "Analysis of Basketball Lay-up Ability for Class 4 SMA Negeri 4 Banda Aceh Students for the 2019/2020 Academic Year." Constructivist Porch 21(1): 1–9.
Ardiansyah, E, Yuda, S, Danil, F, Fadilah, R, Abdul, R. (2021). Profile of the Basic Ability Level of Extracurricular Student Basketball. Holistic Journal of Sport Education (HJSE), 1(1), 13–18.
Fadli, M. (2022). The Effect of Lay Up Training on the Outcomes of Junior High School Boys Players in Basketball Schools. Your Education.Org, 2(4), 1–9.
Fajar Faturahman, Beny Iskandar, Eneng Fitri Amalia. 2019. "Improving Basketball Lay Up Learning Outcomes Through Part Teaching Methods." Maenpo 9(1): 8.
Fatmawati, Desi, Siti Nurrochmah, & Febrita Paulina Heynoek. 2020. "The Effect of Zig-Zag Dribble Practice on Improving Basketball Dribble Skills for Participants in High School Basketball Extracurricular Activities." Sport Science and Health 2(11): 521–33.
Hidayat, Rachmat., A. Heri Riswanto, A Hasanuddin, M. . (2021). The Effect of Shuttle Run and Zig-Zag Run Training On Dribbling Skills. Jp.Jok (Journal of Physical Education, Sports, and Health), 5(1), 113–125. https://doi.org/10.33503/jp.jok.v5i1.1694.
Irham, M. 2015. "The Effect of One-Ring Mini Basketball Game Training to Improve Students' Playing Skills in Basketball Games." : 19–20. file:///C:/Users/Ahmad Khoiri/Downloads/1326-121-3322-1-10-20190123.pdf.
Kerru, A., Saparia, A., & Brilin, USA (2015). The Effect of Shuttle Run and Zig-Zag Running Exercises on Dribbling Skills in Basketball Games in SMP Negeri 1 Biromaru Students. E-Journal Tadulako Physical Education, Health And Recreation, 3(12), 1–14.
Khairat, NI (2020). Analysis of the Lay Up Shoot Basic Skill Level of Men's Basketball Players at SMA Negeri 6 Soppeng. 1, 1–8.
Malasari, Citra Azhariat. 2019. "The Effect of Shuttle-Run and Zig-Zag Run Training on the Agility of Taekwondo Athletes." Sports Arena: Journal of Physical Education and Sports (JPJO) 3(1): 81–88. https://doi.org/10.31539/jpjo.v3i1.828.
Norpangaji, Adin Jatiyo. 2015. "The Effect of Lay Up Shot Training From the Right Side Using Staged And Non-Gradual Training Methods on Lay Up Shots in Exiton Ku-15 Men's Basketball Participants in 2015." Thesis published. Semarang. Semarang State University.
Nurba as, T., James, T., Nofi, MS, & Widiastuti. (2019). Improving Basketball Dribbling Skills Through Playing Methods. Journal of Penjaskesrek, 6(1), 37–46.
Pardini, GC (2021). Survey of Dribbling, Passing, and Shooting Abilities in Basketball Games in the Men's Basketball Team at SMA Negeri 1 Pabuaran, Serang Regency, 2017/2018 Academic Year. 3(March), 6.
Pradika, Lace. 2017. "Efforts to Improve Lay Up Learning Outcomes in Basketball Games through the Use of Aids for Students of Class Xi Mipa 2 SMA Negeri 1 Banyudono 2016/2017 Academic Year." (April): 111.
Prayuda, AY, & Firmansyah, G. 2017. "The Effect of 12 Minute Running and Back and forth Running Exercises on Increasing Vo2 Max Endurance." Jp.Jok (Journal of Physical Education, Sports and Health) 1(1): 13–22. https://doi.org/10.33503/jpjok.v1i1.247.
Putra, Winda Tria. 2019. "The Contribution of Arm Muscle Power to the Lay-up Shooting Ability of the Boys Extracurricular Boys at MAN 1 Pekanbaru." Riau Islamic University.
Rahmat, A., Arini, I., Aryadi, D., Suharto, TH, & Sudirman, R. (2022). The Effect of Footwork Technique Training with 2 Footsteps on Lay Up in Basketball Games for Physical Education Study Program Students STKIP Setiabudhi Rangkasbitung. Journal RESPECS (Research Physical Education and Sport), 2(2), 165–171. https://doi.org/https://doi.org/10.31949/respecs.v4i2.3323
Rizhardi, Rury. 2020. "The Influence of Ballhandling Practice on Basketball Dribbling Results for Extracurricular Students at SMAYADIKA LUBUK LINGGAU." Didactic Vehicles 18(1): 7–14.
Sahabuddin. (2020). The Relationship of Hand Eye Coordination, Agility and Balance to Basketball Dribble Ability. Journal Coaching Education Sport, 1(2), 133–144.
Saputra, Wendy Irwan. 2020. "Game-Based Basketball Lay-up Shoot Skill Training Model For Ages 16-18 Years." Published thesis. Teaching and Education Faculty. Brawijaya University.
Septiono, Y. (2016). Comparison of the Ability of Lay-up Shoot on the Right Side and Lay-up Shoot on the leftLeft Side of Students Participating in the Basketball Extracurricular at SMA Negeri 3 Yogyakarta in 2015/2016. Thesis is published. Yogyakarta. Yogyakarta State University.
Setyawan, RJ, Widodo, Suryo., Pratama, BA, Harmono, Setyo., Himawanto, W. (2021). The Effectiveness of Slalom Model Basketball Dribble Exercise on Beginner Students of Basketball Extracurricular at SMPN 1 Ngunut. Journal of Recreational Health Education, 7(2), 279–286. https://doi.org/10.5281/zenodo.4896203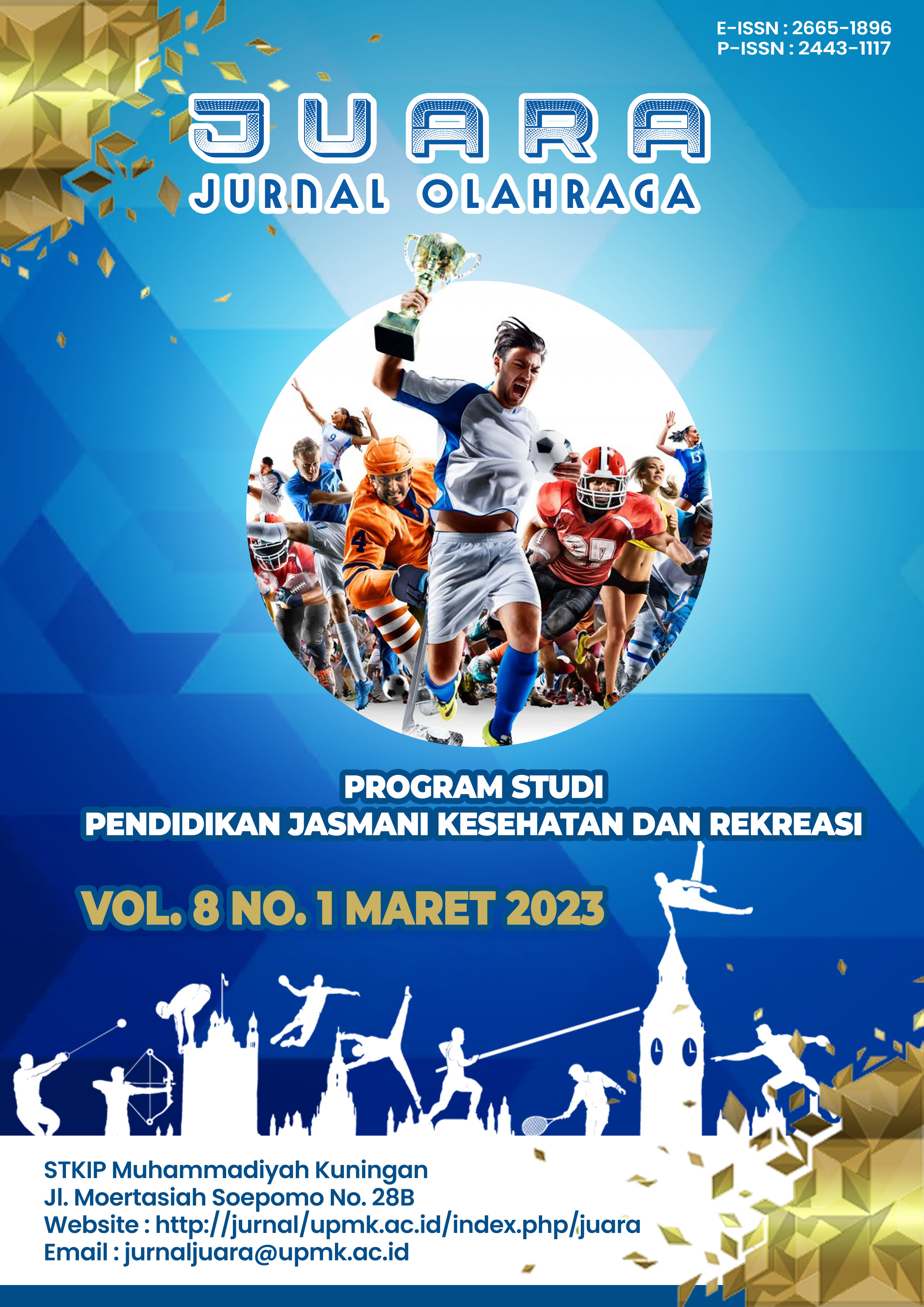 How to Cite
Hidayat, R., Fahmi, A., & Jalil, R. (2023). The Effect Of Right And Left Side Dribble Lay Up On The Students' Lay Up Ability Of Basketball Extracurricular Program. JUARA : Jurnal Olahraga, 8(1), 44-51. https://doi.org/10.33222/juara.v8i1.2585
Copyright (c) 2023 Rachmat Hidayat, Achmad Fahmi, Rasyidah Jalil
This work is licensed under a Creative Commons Attribution-ShareAlike 4.0 International License.

Abstract viewed = 130 times PDF downloaded = 0 times