The Effect Of Right And Left Side Dribble Lay Up On The Students' Lay Up Ability Of Basketball Extracurricular Program
Rachmat Hidayat

Universitas Muhammadiyah Palopo

Achmad Fahmi

Universitas Muhammadiyah Palopo

Rasyidah Jalil

Universitas Muhammadiyah Palopo
Abstract
Dribble is the most fundamental technique in basketball to improve the students' lay-up ability in the basketball extracurricular program at SMPN 8 Palopo. The mistakes occur when doing lay-ups, such as the first step, which needs to be longer, travelling and double. The study aims to determine the effect of right and left dribble lay-ups on the students' lay-up ability in basketball extracurricular programs. The method is experimental (Pretest-Posttest Design). The population is 20 students. The sampling technique is purposive sampling. The result of this research shows that there is a significant relationship between the right and left-side lay-ups of extracurricular basketball students. This research concludes that there is a substantial increase in students' lay-up ability at SMP 8 Palopo by applying right-side and left-side lay-up dribbles. Right-side lay-up dribble is more effective in increasing the extracurricular basketball students lay up capacity at SMPN 8 Palopo.
Keywords:
Dribble Lay-Up, Lay-Up ability, Basketball
Downloads
Download data is not yet available.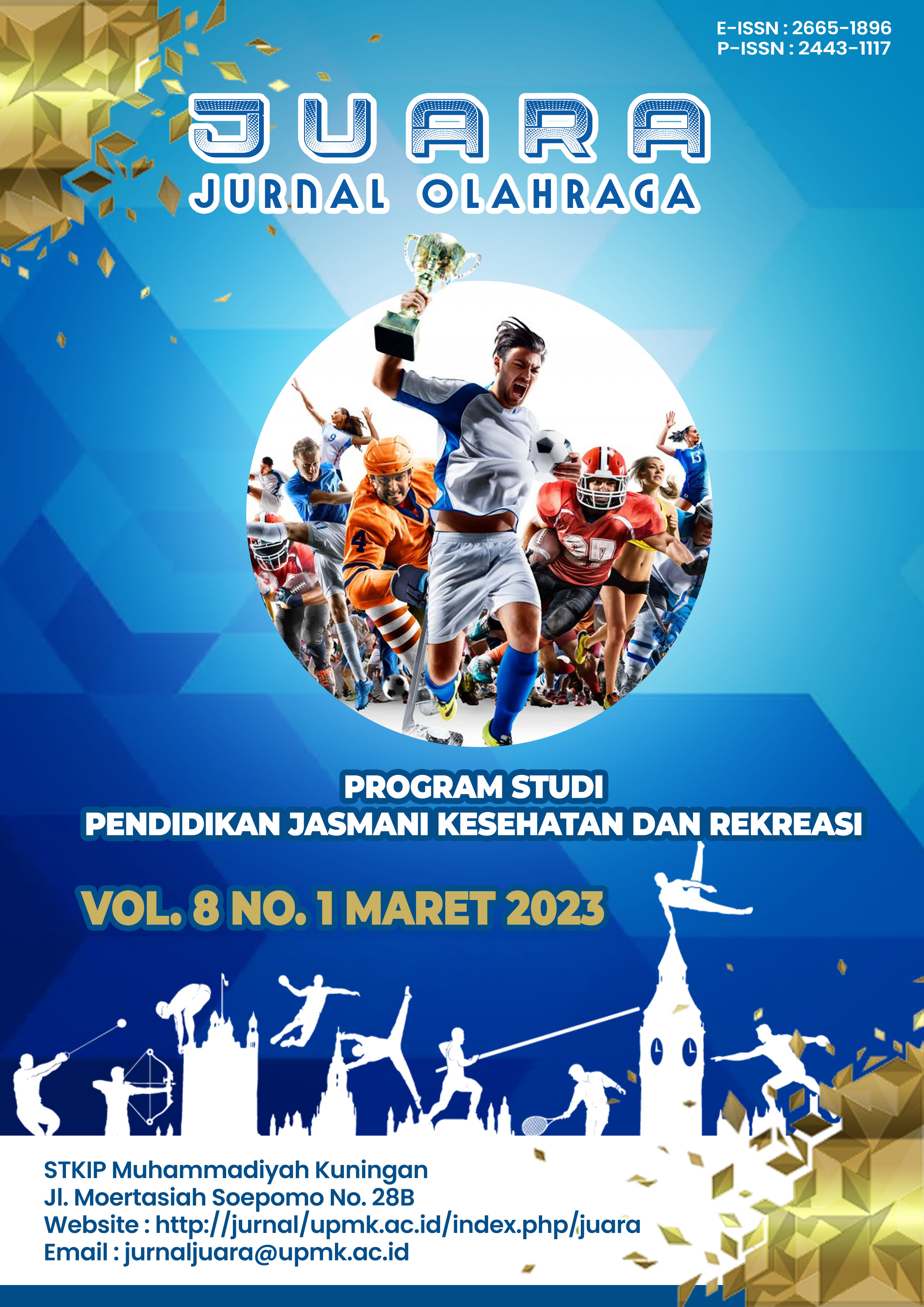 How to Cite

Hidayat, R., Fahmi, A., & Jalil, R. (2023). The Effect Of Right And Left Side Dribble Lay Up On The Students' Lay Up Ability Of Basketball Extracurricular Program. JUARA : Jurnal Olahraga, 8(1). Retrieved from http://jurnal.upmk.ac.id/index.php/juara/article/view/2585

Abstract viewed = 34 times