Resistance Band Training To Increase The Arm Muscles Strength In Swimming Athletes
Rusmi Rusmi

Universitas Muhammadiyah Palopo

Andi Heri Riswanto

Universitas Muhammadiyah Palopo

Rachmat Hidayat

Universitas Muhammadiyah Palopo

Ahmad Ahmad

Universitas Muhammadiyah Palopo
Abstract
This study aims to determine the effect of resistance band training on arm muscle strength in freestyle swimming athletes at Palopo city swimmers. The method used in this study is an experimental one-group pretest-posttest design with a quantitative approach from the research that has been carried out on the effect of resistance band training on the arm muscle strength of swimming athletes in Palopo. And The result of this research shows an increase in arm muscle power by applying resistance band training on Palopo swimming athletes. Thus, there is a significant relation between Resistance band training towards the arm muscle power of Palopo freestyle swimming athletes.
Keywords:
Resistance band training, strength, swimming
Downloads
Download data is not yet available.
References
Aditia, L., Badruzaman, B., Paramitha, ST, & Jajat, J. (2018). Comparison of Vo2max Test Results for Swimming Athletes Using the Williams Swimming Beep Test and Bleep Test. Journal of Applied Sports Science, 3(1), 53. https://doi.org/10.17509/jtikor.v3i1.8933
Amicta, BS, & Maidarman. (2019). Overview of Physical Conditions for Deeper Swimming FIK UNP Students. Journal of Education and Sport, 2(1), 203–208.
Azis, N. (2019). The effect of 8 weeks of exercise with resistance bands in a special period on the leg power of taekwondo athletes.
D, FD (2022). the effect of strength and power training on the muscles of the arms and legs on the Speed of freestyle swimming. 11(2), 141–146.
Elinopita, T., & Setiana, I. (2021). Can Resistance Band Exercise Increase Arm Strength of Volleyball Extracurricular Students at Aletheia Christian Middle School Malang. Journal of Equatorial Physical Education, 2(1), 9. https://doi.org/10.26418/jpjk.v2i1.47109
Julioe, R. (2017). CASE STUDY INTEREST OF MTS STUDENTS HADIL ISHLAH BILEBANTE IN SWIMMING _____. Ekp, 13(3), 1576–1580.
Lahinda, J. (2020). THE INFLUENCE OF BASIC ENGINEERING TRAINING ON FREESTYLE SWIMMING ABILITY ON STUDENTS OF HEALTH AND HEALTH CARE STUDENTS, MASAMUS UNIVERSITY. Science of Sport and Healthy, 1(1), 85–90.
Lestari, A., & Nasrulloh, A. (2018). Effectiveness of Body Weight Training Training With and Without Using the Resistance Band Towards Weight Reduction and Percentage of Fat. Medikora, XVII(2), 91–101.
Lestari, US, Asnar, E., & Suhartati, S. (2022). Effect of Differences in Intensity of Resistance Elastic Band Exercises on Body Mass Index (BMI). Biomedical Journal:JBM.https://ejournal.unsrat.ac.id/index.php/biomedik/article/view/35337
Mahfud, I., & Fahrizqi, EB (2020). Development of Motor Skills Training Models Through Traditional Sports For Elementary School Students. Sport Science and Education Journal, 1(1), 31–37. https://doi.org/10.33365/.v1i1.622
Nasution, juvianti, muh faisal ansari as sembiring. (2022). effect of resistance band training on arm muscle strength in male swimming athletes aged 12-13 years sailfish swimming club Medan 2021. 21(1), 65–73.
Persadanta, P., Sukendro, S., & Rasyono, R. (2020). THE EFFECT OF RESISTANCE BAND EXERCISE ON MUAY THAI ATHLETE MUSCLE POWER. 1, 23–29.
Prastyo, D., & Hananto, R. (2021). The Effect of Rope Pushdown Training Using Resistance Bands and Up and Down Benches on the Speed of 50 Meter Freestyle Swimming Putra Sidoarjo U 15 The Effect of Rope Pushdown Training Using Resistance Bands and Up and Down Benches on the Speed of 5. 7(1), 48– 58.
Ramadan, Gilang & Juniarti, Y. (2020). Metode penelitian : pendekatan kuantitatif, kualitatif dan R & D. CV Sadari Press
Rizkiyansyah, A., & Mulyana, B. (2019). Effect of Skateboard Media and Pull Buoy Drill Method Pattern on Learning Outcomes of Freestyle Swimming Basic Techniques. Journal of Sports Coaching, 11(2), 112–123. https://doi.org/10.17509/jko-upi.v11i2.20311
Rohmah, MQ (2018). The Effect of Chest Press Resistance Band Exercises and Push Ups on the Strength of the Arm Muscles at the State University of Surabaya. Journal of Sports Achievement, 1(4), 1–16. https://jurnalmahasiswa.unesa.ac.id/index.php/jurnal-prestasi-olahraga/article/view/26211
Saputra, GY, & Aguss, RM (2021). Interest of Class VII and VIII Students in Participating in Physical Education Learning in Sports and Health at SMP Negeri 15 Mesuji. Journal Of Physical Education, 2(1), 17–25. https://doi.org/10.33365/joupe.v2i1.797
Sembiring, H., Wiyaka, I., Medan, UN, North, S., Sport, J., & Indonesia, K. (2021). CORRELATION OF ARM AND LIMB MUSCLE STRENGTH WITH SWIMMING ATHLETES SPEED. 1, 75–83.
Shanty, E., Ridwan, M., Argantos, A., & Setiawan, Y. (2021). Contribution of Arm Muscle Strength, Leg Muscle Strength and Back Muscle Strength to 50 Meter Freestyle Swimming Speed. Patriot's Journal, 3(2), 179–191. https://doi.org/10.24036/patriot.v3i2.703
Tahapary, JM, & Syaranamual, J. (2020). Basic Technique Exercises Can Improve Freestyle Swimming Results. JARGARIA SPRINT: Journal of the Science of Sport and Health, 1(1), 30–38. https://doi.org/10.30598/jargariasprintvol1issue1page30-38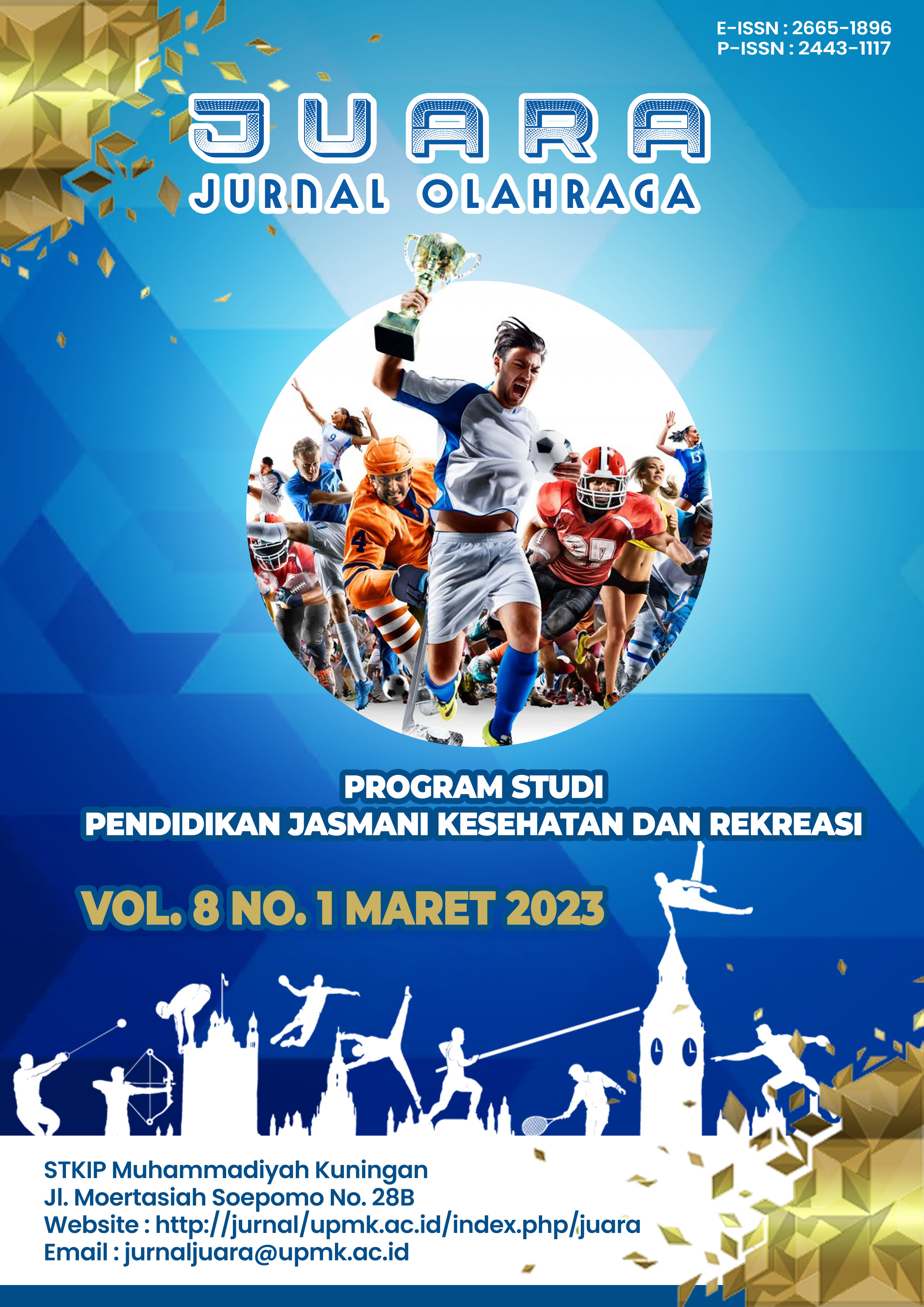 How to Cite
Rusmi, R., Riswanto, A. H., Hidayat, R., & Ahmad, A. (2023). Resistance Band Training To Increase The Arm Muscles Strength In Swimming Athletes . JUARA : Jurnal Olahraga, 8(1), 24-35. https://doi.org/10.33222/juara.v8i1.2583
Copyright (c) 2023 Rusmi Rusmi, Andi Heri Riswanto, Rachmat Hidayat, Ahmad Ahmad
This work is licensed under a Creative Commons Attribution-ShareAlike 4.0 International License.

Abstract viewed = 203 times PDF downloaded = 0 times