The Performance of Futsal Coaches In The Application Of Process Methods And Training In Bandar Lampung City
Mirza Asmara

Universitas Negeri Jogyakarta

https://orcid.org/0000-0002-0930-003X

Ali Munir

Universitas Negeri Jogyakarta

Znzabil Adwa Fitrian

Universitas Negeri Jogyakarta

Surisman Munir

Universitas Lampung

Joan Siswoyo

Universitas Lampung
Abstract
This study aims to determine the performance of futsal coaches in Bandar Lampung City who have many coaching licenses but have no achievements at the regional and national levels and how to apply the coaching method and process of coaches in the city of Bandar Lampung who have coaching license level 1 AFC 9 coaches and level 1 National 16 coaches this research is a type of evaluative descriptive research using the approach method evaluative, The instrument in this study uses nontest techniques described by the data, namely from the answers to the questionnaires that have been filled in by respondents, namely, data analysis techniques in this study using quantitative descriptive analysis. Based on the results of the research, the author can conclude that the reason why futsal in Bandar Lampung city does not perform well at both the provincial and national levels, in this case, in addition to human resources that are still left behind, several things underlie this such as there are still many coaches who do not carry out their duties properly, this happens because coaches in the city of Bandar Lampung do not carry out their responsibilities by the performance standards of coaches who have Was.
Keywords:
Performance, Coach, Futsall
Downloads
Download data is not yet available.
References
Adriyansyah, D. (2014). SISTEM PENDUKUNG KEPUTUSAN PEMILIHAN PEMAIN FUTSAL STMIK PRINGSEWU DENGAN MENGGUNAKAN METODE SIMPLE ADDITIVE WEIGHTING (SAW). Konferensi Mahasiswa Sistem Informasi, 2(1), 16–23.
Al'afgani, M. G., Nasution, N. S., & ... (2021). Analisis Anxiety Pemain Futsal Pada Ekstrakurikuler di SMK Bina Pendidikan 4 Karawang. … Literasi Olahraga, 2(3), 195–201.
Albiro, M., Kurniawan, F., & Rahman, I. (2021). ANALISIS TINGKAT PERCAYA DIRI SISWA SMKN 1 KARAWANG BARAT YANGMENGIKUTI PERTANDINGAN FUTSAL. Jurnal Penjakora, 8(September), 91–97.
Ardi, B. (2018). ANALISIS PENGARUH KEPEMIMPINAN, KOMITMEN ORGANISASIONAL, DAN PEMBERIAN SANKSI TERHADAP DISIPLIN PEMAIN. eprints.undip.ac.id.
Ayuningrum, R., Imansyah, F., & Fahritsani, H. (2021). Evaluasi Prestasi Olahraga Futsal di Kabupaten OKU Selatan. Physical Activity Journal, 2(2), 229. https://doi.org/10.20884/1.paju.2021.2.2.3810
Dio, R. (2018). Gaya Kepemimpinan Pelatih dalam Penerapan Sistem Pengendalian Manajemen Dalam Klub Bintang Timur Surabaya. Jurnal Ilmiah Mahasiswa Universitas Surabaya, Vol.7(No.1), pp.556-569.
Febriansyah Afdol, P. D. A. (2018). ANALISIS PELATIH FUTSAL DALAM MENJALANKAN COACHING PROCESS MURSYID EFFENDI FUTSAL AKADEMI U16 Afdol Febriansyah David Agus Prianto Abstrak. Jurnal Pendidikan Jasmani dan Olahraga.
Fitranto, N., & Hasibuan, M. H. (2021). Edukasi Pemanasan Khusus Futsal Bagi Pemain Dan Pelatih Futsal. Journal Unsika, 1(01), 32–36.
Haddar, A. Al. (2015). Analisis Swot Pembinaan Olahraga Futsal Pada Klub Futsal Al Irsyad Surabaya Analisis Swot pada Klub Futsal Al Irsyad Surabaya. Jurnal Kesehatan Olahraga, Vol 03 No(2), 274–285.
Hadiana, O., Wahidi, R., Sartono, S., Agustan, B., & Ramadan, G. (2020). Efektivitas penerapan video feedback (VFB) terhadap motivasi belajar pada pembelajaran futsal. Jurnal SPORTIF : Jurnal Penelitian Pembelajaran, 6(1), 184–198. https://doi.org/10.29407/js_unpgri.v6i1.13831
Hita, I. putu agus dharma et al. (2020). Analisis Vo2Max Melalui Velocity Critical RunTim Futsal Putra SMA Plus PGRI Cibinong. Jurnal Menssana, 5 No.2, 146–156.
Makhmudi, A., & Prianto, D. A. (2015). Profil Pelatih Ekstrakurikuler Futsal Sekolah Menengah Pertama (Smp) Di Gresik. Jurnal Unnesa, 7(9), 27–44.
Munir, A., Zahed, A., Qurtubi, A., & Wahyudir, A. N. (2022). Peningkatan Hasil Belajar Passing Sepak Bola Pada Siswa Sekolah Dasar Dengan Metode Sport For Develpoment. Jendela Olahraga, 7(2), 119–129.
Nidommudin, M., & Irawan, D. (2018). Analisis Penggunaan Multi Fitness Test Terhadap Kapasitas Oksigen Maksimal Pada Atlet Futsal. BRAVO'S (Jurnal Prodi Pendidikan Jasmani & Kesehatan), 6(3), 101–104.
Putra, I. D. S. (2019). Analisis Manajemen Pembinaan Prestasi Futsal Kabupaten Bangkalan. Jurnal Kesehatan Olahraga, 7(2), 543–550.
Ramadan, Gilang & Juniarti, Y. (2020). Metode penelitian : pendekatan kuantitatif, kualitatif dan R & D. CV Sadari Press.
Ramadan, G. (2017). Pengaruh Metode Pembelajaran Dan Motivasi Belajar Terhadap Hasil Belajar Passing Sepakbola. JUARA : Jurnal Olahraga, 2(1), 1. https://doi.org/10.33222/juara.v2i1.27
Ramadan, G. (2018). Pengembangan Model Latihan Passing Dalam Permainan Bola Tangan. JOSSAE : Journal of Sport Science and Education, 3(1), 1. https://doi.org/10.26740/jossae.v3n1.p1-6
Ridwan, M., Fikri, M. D., Aryanandha, I. D. M., Syafi"i, I., & Bulqini, A. (2021). Development Of Futsal Playing Skills Application Based On Web-Based Futsal Analysis System (FAST). Jp.jok (Jurnal Pendidikan Jasmani, Olahraga dan Kesehatan), 5(1), 53–60. https://doi.org/10.33503/jp.jok.v5i1.1683
Sartono, S., Suryaman, O., Hadiana, O., & Ramadan, G. (2020). Hipnoterapi untuk kecemasan: sebuah uji coba pada pemain sepakbola. Jurnal SPORTIF : Jurnal Penelitian Pembelajaran, 6(1), 216–225. https://doi.org/10.29407/js_unpgri.v6i1.13832
Siswanto, H. (2015). Manajemen Walet Muda Futsal Akademi Kabupaten Kebumen Tahun 2012/2013. E-Jurnal Physical Education, Sport(Health and Recreation), 1613–1620.
Wardana, W. K., & Kusuma, I. D. M. A. W. (2021). Profile Biomekanika Teknik Passing Tim Manyala Surabaya. Jurnal Prestasi Olahraga, 116–125.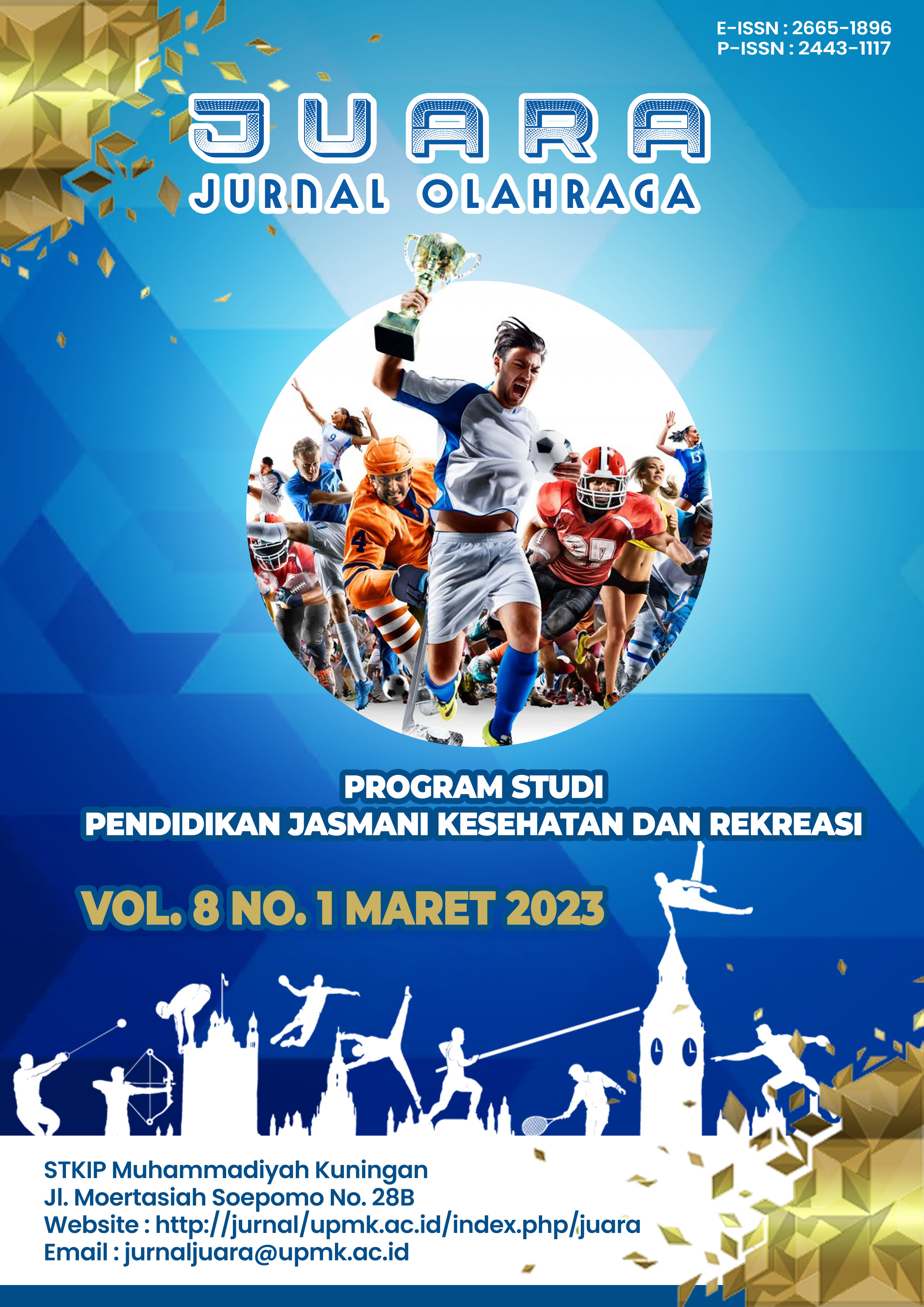 How to Cite
Asmara, M., Munir, A., Fitrian, Z. A., Munir, S., & Siswoyo, J. (2023). The Performance of Futsal Coaches In The Application Of Process Methods And Training In Bandar Lampung City. JUARA : Jurnal Olahraga, 8(1), 1-9. https://doi.org/10.33222/juara.v8i1.2579
Copyright (c) 2023 Mirza Asmara, Ali Munir, Znzabil Adwa Fitrian, Surisman Munir, Joan Siswoyo
This work is licensed under a Creative Commons Attribution-ShareAlike 4.0 International License.

Abstract viewed = 218 times PDF downloaded = 0 times