Implementation Of Physical Literacy Model In Physical Education, Sport And Health (PJOK) Learning In Elementary School
Fifukha Dwi Khory

Universitas Negeri Surabaya

Ali Maksum

Universitas Negeri Surabaya

Rini Ismalasari

Universitas Negeri Surabaya

Testa Adi Nugraha

Universitas Negeri Surabaya

Mohammad Fathur Rohman

Universitas Negeri Surabaya

https://orcid.org/0000-0002-9423-3491
Abstract
The specific objective to be achieved in this study is to apply the physical literacy model in learning physical education, sports, and health in elementary schools (PJOK SD). With the implementation of the physical literacy model in PJOK SD learning, it is hoped that there will be an increase in the quality of physical activity with moderate to high intensity (MVPA/Moderate to Vigorous Physical Activity) with the added value of specific goals from physical literacy. The research method to achieve the research objectives was an experimental pretest-posttest control group design. The research subjects to develop instruments for implementing the physical literacy model for SD PJOK learning were physical education experts, student development experts, sports coaching experts, and Physical Education teachers. While the research subjects to test the instrument's reliability were fifth-grade elementary school students in the Surabaya area. Research data collection used tools developed based on literature studies on physical literacy models, FGD (Focus Group Discussion), and trials. Data analysis based on the nature and descriptive statistical research design, paired sample t-test, and independent sample test t-test. The results of this study showed that there was a significant difference between the pretest and posttest results in the control group. There was a substantial difference between the pretest and posttest results in the experimental group. There was no significant difference between the pretest results of the control group and the experimental group. However, looking at the mean between the control and experimental groups, there tends to be an increase in the experimental group. These results can help parents, trainers, and educators, especially PJOK SD teachers, conduct coaching and movement education for elementary school students. In addition, it is expected to be able to develop the competence of elementary school students as a whole.
Keywords:
Physical education, physical literacy, movement development
Downloads
Download data is not yet available.
References
Brown, James. W. AV Instruction, Technology, Media and Methods. New York: McGraw Hill, 1977.
Coaching Strategy for Ireland 2008-2012, Coaching Ireland, 2008
Crain, William, Teori Perkembangan. Yogjakarta: Celeban Timur, 2007
Delaney, Brian J., Donnelly, Paul, John, Haughey, Tandy J. 2008. IMPROVING PHYSICAL LITERACY. Northern Ireland : Sport
Enung, Fatimah. 2009. Psikologi Perkembangan Peserta Didik, (Bandung: PT Remaja Rosdakarya
E Paul Roetert & Stephen C. Jefferies. 2014. Embracing Physical Literacy. Journal of Physical Education, Recreation & Dance. Volume 85, 2014 - Issue 8
Hadiana, O., Wahidi, R., Sartono, S., Agustan, B., & Ramadan, G. (2020). Efektivitas penerapan video feedback (VFB) terhadap motivasi belajar pada pembelajaran futsal. Jurnal SPORTIF : Jurnal Penelitian Pembelajaran, 6(1), 184–198. https://doi.org/10.29407/js_unpgri.v6i1.13831
Gallahue, David L. and Ozmun John C., Understanding Motor Development: Infants, Children, Adolescents, Adults. New York: McGraw-Hill, 2006
Matthew P. L. Thomas. 2016. Association Of Exergaming With Physical Literacy In Canadian Children. Lethbridge, Alberta, Canada : Kinesiology University of Lethbridge
Margaret, Whitehead. 2010. Physical Literacy: Throughout the Lifecourse. New York: Routledge
Mohammad Ali, mohammad Asrori. 2004. Psikologi Remaja. Jakarta: PT. Bumi Aksara
Pangrazi, Robert P. & Beighle, Aaron, Dynamic Physical Education. Usa, Macmillan Publishing Company : 2001
Ramadan, G. (2022). Physical Activity in School Children in a Pandemic Period?: A Systematic Review. JUARA : Jurnal Olahraga, 7(2), 367–377. https://doi.org/10.33222/juara.v7i2.1982
Ramadan, Gilang & Juniarti, Y. (2020). Metode penelitian : pendekatan kuantitatif, kualitatif dan R & D. CV Sadari Press.
Sheehan, Dwayne; Van Wyk, Nadine; Johnson, Emily; Blanch, Aimee. 2016. Functional Physical Literacy for Child and Youth Recreation Programming: A Community Response to the 2015 Canadian Recreation Framework. Online: http://hdl.handle.net/11205/315
Suzanne Lundvall. 2015. Physical literacy in the field of physical education – A challenge and a possibility. Journal of Sport and Health Science: Volume 4, Issue 2, June 2015, Pages 113-118
Susan Giblin, Dave Collins, Chris Butto, 2014. Physical Literacy: Importance, Assessment and Future Directions. Journal of Sport Medicine: Springer. September 2014, Volume 44, Issue 9, pp 1177–1184.
Whitehead, M. 2013. The history and development of physical literacy. ICSSPE Bulletin, 65. October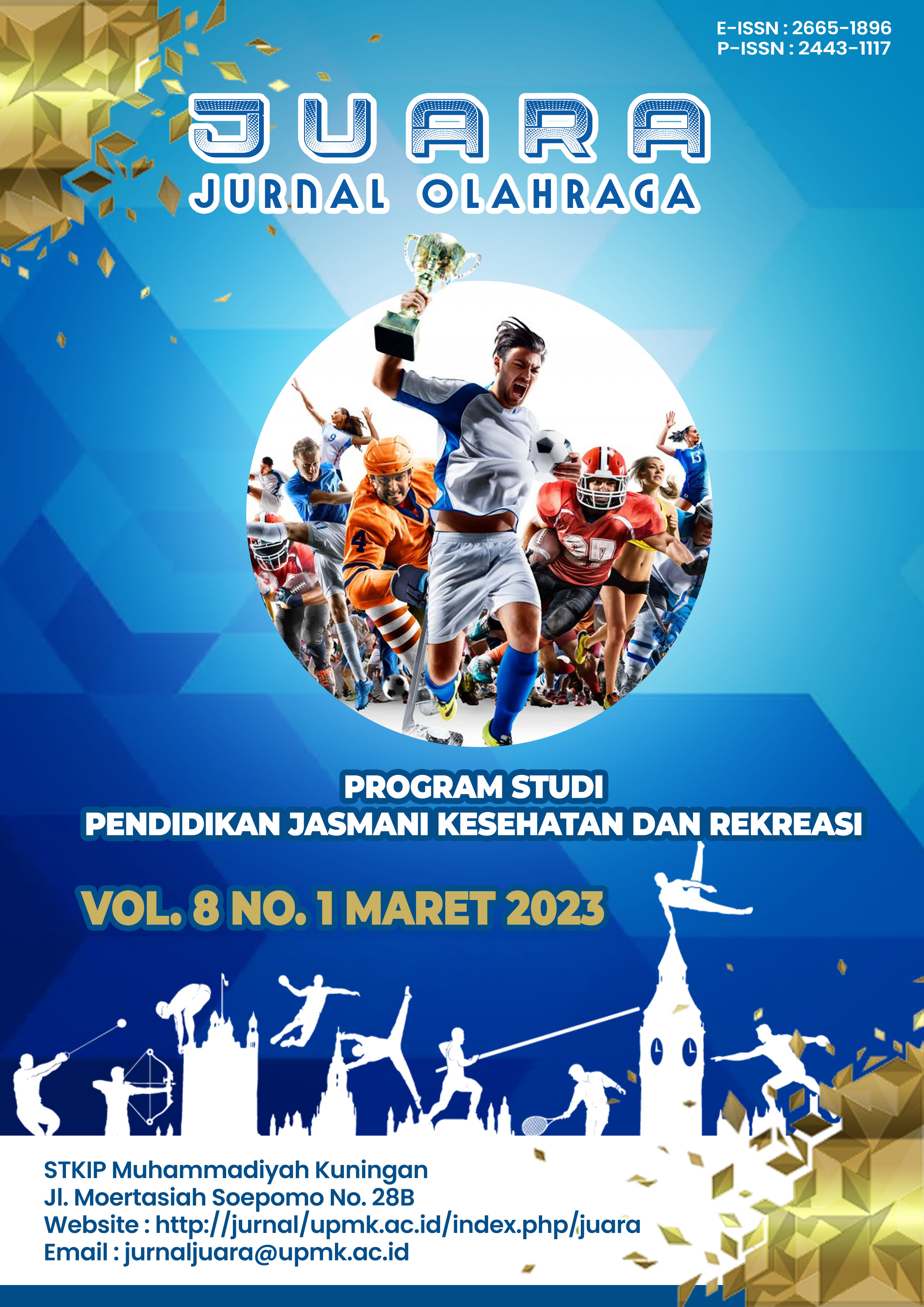 How to Cite
Khory , F. D., Maksum , A., Ismalasari , R., Nugraha, T. A., & Rohman, M. F. (2023). Implementation Of Physical Literacy Model In Physical Education, Sport And Health (PJOK) Learning In Elementary School. JUARA : Jurnal Olahraga, 8(1), 237-245. https://doi.org/10.33222/juara.v8i1.2478
Copyright (c) 2023 Fifukha Dwi Khory , Ali Maksum , Rini Ismalasari , Testa Adi Nugraha, Mohammad Fathur Rohman
This work is licensed under a Creative Commons Attribution-ShareAlike 4.0 International License.

Abstract viewed = 215 times PDF downloaded = 0 times