Local Cultural Wisdom to Maintain The Existence of Traditional Sports Sumpitan in Samarinda City, East Kalimantan Province
Puji Astuti

Universitas Negeri Semarang

Setya Rahayu

Universitas Negeri Semarang

Tommy Soenyoto

Universitas Negeri Semarang

Priagung Priagung

STKIP Modern Ngawi
Abstract
The purposes of this research are to find out how are the conservation efforts, the human resources, the facilities and infrastructure, the process of obtaining the funding and the role of the government/stakeholders in preserving and improving the performance of the traditional sport named Sumpitan. This research is a descriptive qualitative with ethnographic design which using critical ethnography type. The data were collected using interviews, observation and documentation. The subjects of this research include administrators, coaches, athletes and supporting staff, Department of Youth, Sport and Tourism, Department of Education, Indonesian Sport and Recreation Committee (KORMI), Indonesian Traditional Games and Sport Committee (KPOTI) of Samarinda City. The validity of the data was done by implementing some steps including data collection, data reduction, data presentation and draw conclusion. There are several results of the research. Firstly, the Government of the Samarinda City rarely holds Sumpitan traditional sport events, coaching and improvement which have not been included in the local content curriculum of elementary, junior and senior high schools. Next, lack of attention dealing with funding and infrastructure support thus the operational costs use donations from community members. The minimum number of administrators, coaches, and regeneration of new athletes. The last is the lack of public awareness of the improvement and preservation in the implementation of cultural activities or traditional sports Sumpitan. the conclusions of this study are involvement that are not yet optimal, Lack of human resources, there is a change in culture, socio-cultural shift.
Keywords:
Culture, achievement, traditional sport, Sumpitan
Downloads
Download data is not yet available.
References
Azahari, A. R. (2017). Pelestarian Olahraga Tradisional Menyipet Di Kota Palangkara. Mediasosian, 1(1), 83–101.
Bompa, O, T. (1990). Theory and Methodology of training :The Key to Athletic Performance Second edition Dubuque Iowa. Hunt Publishing Company.
Duke, V., & Crolley, L. (2001). Fútbol, politicians and the people: Populism and politics in Argentina. International Journal of the History of Sport, 18(3), 93–116. https://doi.org/10.1080/714001587
Gustiana Mega Anggita, Mohammad Arif Ali, Sugiarto, S. B. M. (2020). Analisis Pengetahuan dan Partisipasi Siswa Sekolah Dasar Terhadap Permainan Tradisional (The Analysis of Primary School Student Knowledge and Participation towards Traditional Games). JUARA: Jurnal Olahraga, 5(1), 48–54.
Harsono. (1988). Coaching dan Aspek-aspek Psikologis dalam Coaching. Derjendikti.
Harsono. (2004). Coaching dan Aspekaspek Psikologis dalam Coaching. Lembaga Pendidikan Tenaga Pendidikan.
Karlina, N. (2020). Implementasi paradiplomasi kalimantan timur dalam sukan borneo. 8(1), 223–237.
Koentjaraningrat, dalam A. A. M. (2012). Kebudayaan Mentalitet dan Pembangunan. Gramedia.
Lunt, D. (2010). port in The Cultures of The Ancient World: New Perpectives(Review). Sport History, 37(3), 480.
Nanang Mulyana. (2018). Peran Disporapar Kabupaten Kuningan Dalam Meningkatkan Olahraga Prestasi di Kabupaten Kuningan. JUARA : Jurnal Olahraga, 3(1), 18–24.
Nash, C. S. J. S. (2009). Career Development of Expert Coaches. International Journal of Sports Science & Coaching, 4(1), 121–138.
Pangesti, R. H. (2015). Game Berburu Suku Dayak Meratus Sebagai Pengenalan Budaya Dan Pelestarian Alam. Visualita, 6(2). https://doi.org/10.33375/vslt.v6i2.1073
Riseth, L., Nøst, T. H., Nilsen, T. I. L., & Steinsbekk, A. (2019). Long-term members' use of fitness centers: A qualitative study. BMC Sports Science, Medicine and Rehabilitation, 11(1), 1–9. https://doi.org/10.1186/s13102-019-0114-z
Setiawan, I., & Faza, R. U. (2019). Pembangunan olahraga ditinjau dari SDI guna peningkatan kualitas pendidikan jasmani berwawasan konservasi. Prosiding Seminar Nasional IPTEK Olahraga, 1–7.
Skinner, J., Zakus, D. H., & Cowell, J. (2008). Development through Sport: Building Social Capital in Disadvantaged Communities. Sport Management Review, 11(3), 253–275. https://doi.org/10.1016/S1441-3523(08)70112-8
Suratman, T. (2016). Strategi Olahraga Nasional Abad ke-21. PT. Raja Grafindo Persada.
Suwarno. (2007). Perubahan sosial masyarakat Bakumpai di Tumbang Samba Kabupaten Katingan. Universitas Merdeka Malang.
Tengan, T. P. K., & Markham, J. M. (2009). Performing Polynesian Masculinities in American Football: From 'Rainbows to Warriors. The International Journal of the History of Sport, 26(16), 2412–2431. https://doi.org/https://doi.org/10.1080/09523360903466768
Tomaszewski, P., Gajewski, J., & Lewandowska, J. (2011). Somatic profile of competitive sport climbers. Journal of Human Kinetics, 29(1), 107–113. https://doi.org/https://doi.org/10.2478/v10078-011-0044-7
Torg J.S., Welsh R.P., S. R. J. (2009). Exercise in Chronic Airway Obstruction. In: Current Therapy In Sport Medicine-2. 32 – 34.
Usman, K. (2019). Peralatan modifikasi olahraga dasar pendidikan jasmani tingkat sekolah dasar. Unimed, 2(1), 175–181.
Wagiran. (2012). Pengembangan Karakter Berbasis Kearifan Lokal Hamemayu Hayuning Bawana. (Identifikasi Nilai-nilai Karakter Berbasis Budaya). Jurnal Pendidikan Karakter, 3, 120801. https://doi.org/10.21831/jpk.v0i3.1249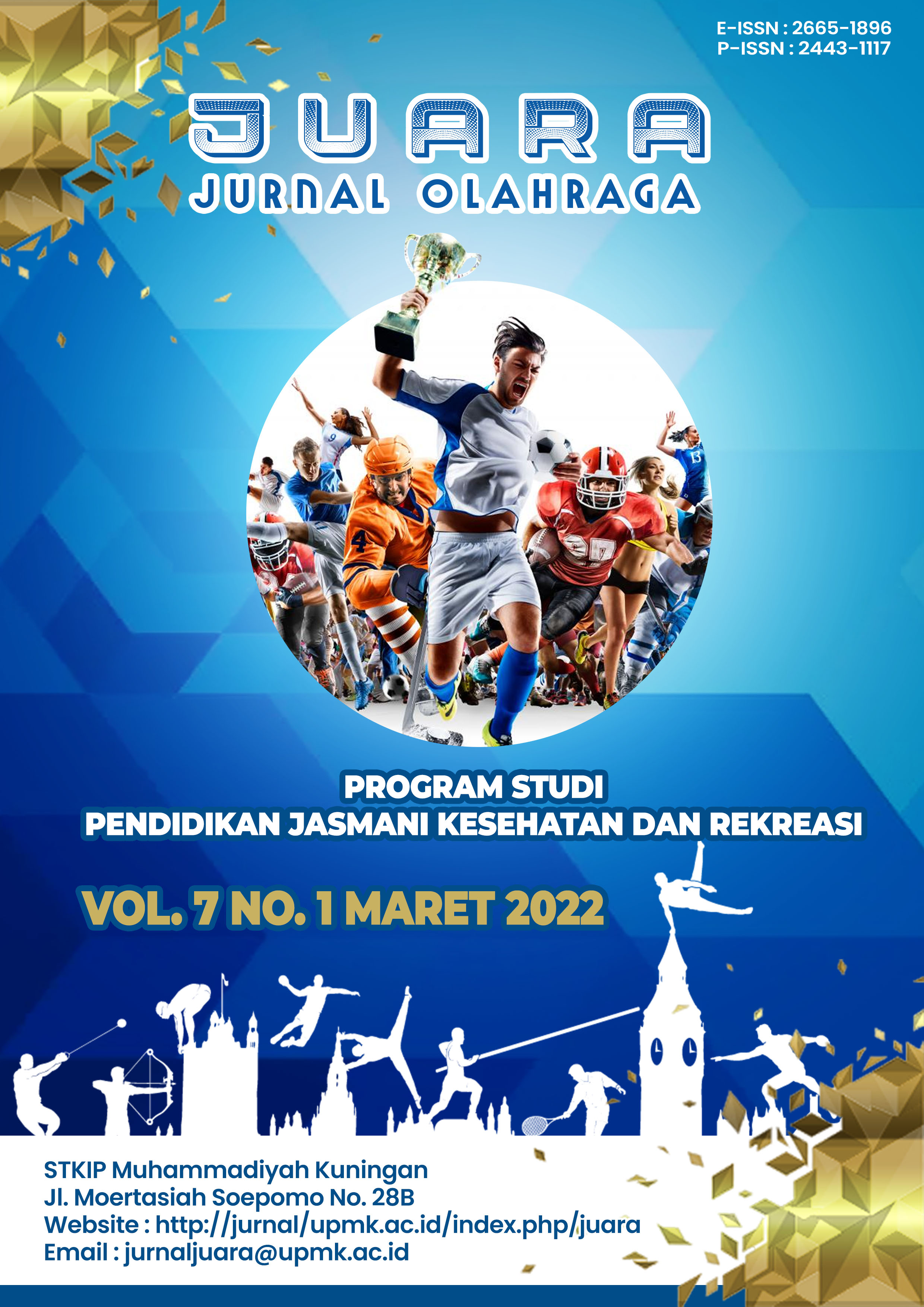 How to Cite
Astuti, P., Rahayu, S., Soenyoto, T., & Priagung, P. (2022). Local Cultural Wisdom to Maintain The Existence of Traditional Sports Sumpitan in Samarinda City, East Kalimantan Province. JUARA : Jurnal Olahraga, 7(1), 188-200. https://doi.org/10.33222/juara.v7i1.1532
Copyright (c) 2022 Puji Astuti, Setya Rahayu, Tommy Soenyoto, Priagung Priagung
This work is licensed under a Creative Commons Attribution-ShareAlike 4.0 International License.

Abstract viewed = 357 times PDF downloaded = 0 times