Development Of Physical Fitness Teaching Materials E-Book Using Flipbook Maker
Abstract
Physical fitness is essential in maintaining body condition during a pandemic. In physical education learning, delivering exciting and media-based technology material increases students' interest in learning activities. This research aims to develop physical fitness teaching materials based on flipbook maker media for junior high school age. The design of this research refers to the 4D development model, namely, the analysis is carried out through four stages: (1) Define, (2) Design, (3) Development, and (4) Disseminate. This research resulted in a flipbook-based physical fitness teaching material product that had been evaluated by three experts and was declared worthy of a trial. This study uses a total of 30 students. The data analysis technique used in this study used quantitative descriptive statistics with the effectiveness test using the t-test. The study results resulted in an e-book product of physical fitness teaching materials using traditional flipbook maker-based games that have been tested and validated by experts with appropriate categories and can increase students' physical fitness levels and develop students' talents and interests in participating in physical education learning activities. So it can be concluded that physical fitness teaching materials through traditional games based on flipbook maker media can improve the physical fitness of junior high school-age students.
Keywords:
Teaching Materials, Physical Fitness, Flipbook
Downloads
Download data is not yet available.
References
Jeong HC, So WY. Difficulties of online physical education classes in middle and high school and an efficient operation plan to address them. Int J Environ Res Public Health. 2020;
Pate RR, O'Neill JR, McIver KL. Physical activity and health: Does physical education matter? Quest. 2011;63(1):19–35.
Sukoco P. Strategi Pembangunan Karakter Melalui Olahraga. J Chem Inf Model [Internet]. 2017;53(9):21–5. Available from: http://www.elsevier.com/locate/scp
Muszkieta R, Napierała M, Cieślicka M, Zukow W, Kozina Z, Iermakov S, et al. The professional attitudes of teachers of physical education. J Phys Educ Sport. 2019;
Mutohir TC, Maksum A. Sport Development Index. Jakarta: Kemenpora. 2007;
Yuliawan D. Pembentukan Karakter Anak Dengan Jiwa Sportif Melalui Pendidikan Jasmani Olahraga dan Kesehatan. J Sport. 2016;2(1):101–12.
Winarno HME. Pengembangan Karakter Bangsa Melalui Pendidikan Jasmani & Olahraga. 2012;1–73. Available from: http://fik.um.ac.id/wp-content/uploads/2018/01/Winarno-Naskah-Pengukuhan-GB-2012.pdf
Aswara AY. pengembangan model pembelajaran kooperatif berbasis play and games materi kebugaran jasmani untuk siswa Sekolah Menengah Pertama. Universitas Negeri Jakarta; 2016.
Tucker E. Man, play, and games. International Journal of Play. 2020.
Setiawahyu MI. JUARA : Jurnal Olahraga. JUARA J Olahraga [Internet]. 2018;3(2):181–92. Available from: http://jurnal.upmk.ac.id/index.php/juara
Farias CFG, Harvey S, Hastie PA, Mesquita IMR. Effects of situational constraints on students' game-play development over three consecutive Sport Education seasons of invasion games. Phys Educ Sport Pedagog. 2019;
Martínez-Santos R, Founaud MP, Aracama A, Oiarbide A. Sports Teaching, Traditional Games, and Understanding in Physical Education: A Tale of Two Stories. Front Psychol. 2020;
Cieśliński I, Chaliburda I. Possibilities of Implementing Traditional Polish Games and Play in the Process of Physical Education According to Pe Teachers. Polish J Sport Tour. 2016;
Laksono Bambang. Kumpulan Permainan Rakyat Olahraga Tradisional. Jakarta: Asisten Deputi Olahraga Rekreasi Deputi Bidang Pembudayaan Olahraga Kementerian Pemuda dan Olahraga; 2012.
Nurdiansyah D. Pengaruh Permainan Tradisional Hadang Terhadap Agility. JUARA J Olahraga. 2018;3(2):77.
Haryanto, Asrial, Ernawati MDW. E-worksheet for science processing skills using kvisoft flipbook. Int J online Biomed Eng. 2020;
Trianto. Model Pembelajaran Terpadu dalam Teori dan Praktik. Surabaya: Pustaka Ilmu; 2007.
Sugiyono. Metode Penelitian Pendidikan: Pendekatan Kuantitatif, Kualitatif, dan R&D. Bandung: Alfabeta; 2017.
Julianto I. JUARA : Jurnal Olahraga. JUARA J Olahraga [Internet]. 2016;3(2):181–92. Available from: http://jurnal.upmk.ac.id/index.php/juara
Saraswati S, Linda R, Herdini H. Development of Interactive E-Module Chemistry Magazine Based on Kvisoft Flipbook Maker for Thermochemistry Materials at Second Grade Senior High School. J Sci Learn. 2019;3(1):1–6.
Prasetyono RN, Hariyono RCS. Development of flipbook using web learning to improve logical thinking ability in logic gate. Int J Adv Comput Sci Appl. 2020;11(1):342–8.
Barrett MG. Upload via internet. 2012;1(19).
Mulyaningsih NN, Saraswati DL. Penerapan Media Pembelajaran Digital Book Dengan Kvisoft Flipbook Maker. JPF J Pendidik Fis. 2017;V(1):25–32.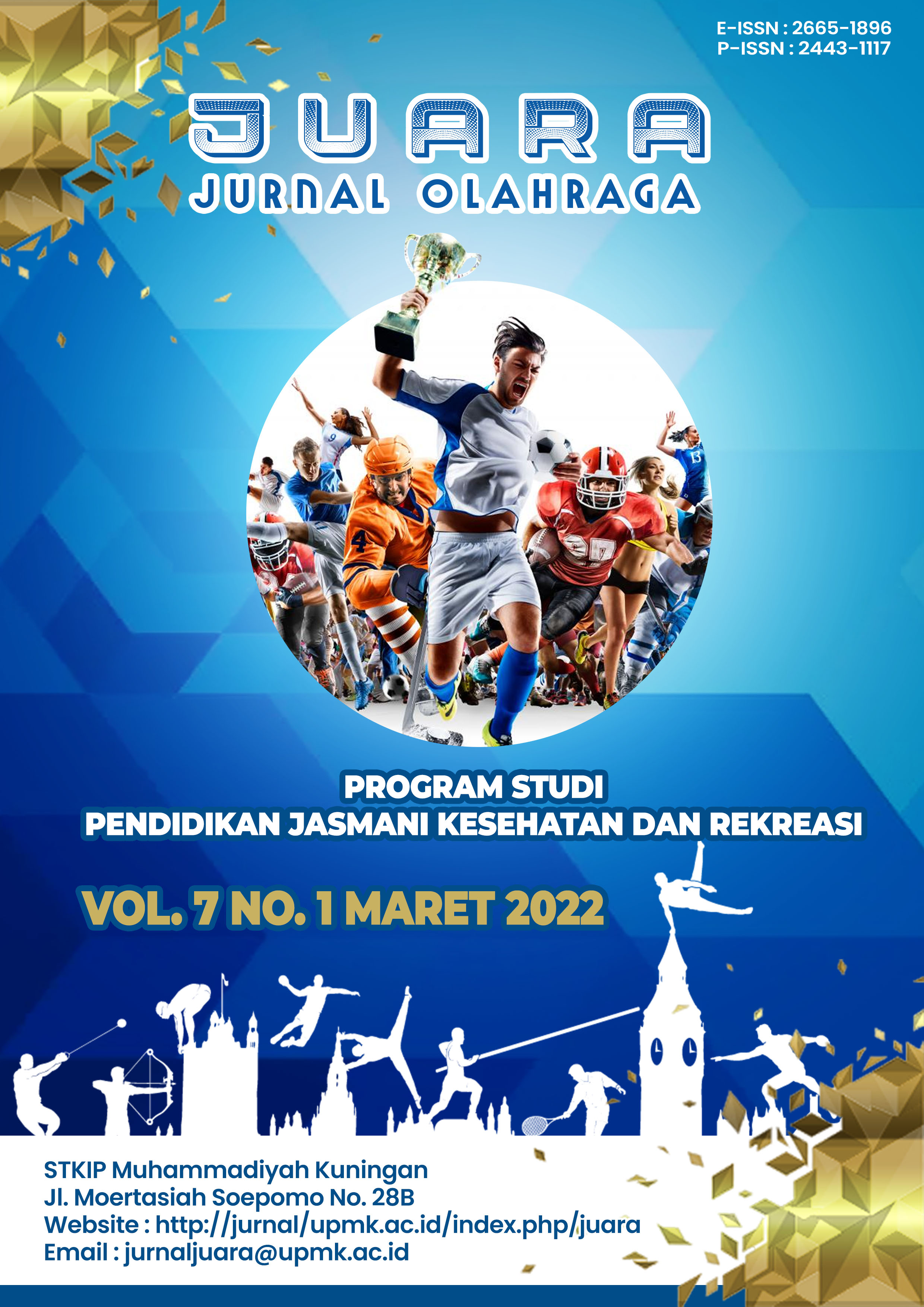 How to Cite
Aini, K., & Kemala, A. (2021). Development Of Physical Fitness Teaching Materials E-Book Using Flipbook Maker. JUARA : Jurnal Olahraga, 7(1), 71-81. https://doi.org/10.33222/juara.v7i1.1375
Copyright (c) 2021 Khurotul Aini, Aisya Kemala
This work is licensed under a Creative Commons Attribution-ShareAlike 4.0 International License.

Abstract viewed = 302 times PDF downloaded = 0 times