MINAT DAN BAKAT SISWA PADA EKSTRAKURIKULER OLAHRAGA DI SMP NEGERI 2 TONJONG
indonesia
Szalsa Shabrina

STKIP Muhammadiyah Kuningan

Ramdhani Rahman

STKIP Muhammadiyah Kuningan

Dani Nurdiansyah

STKIP Muhammadiyah Kuningan

Didi Muhtarom

STKIP Muhammadiyah Kuningan
Abstract
Students' Interests and Talents in Extracurricular Sports at SMP Negeri 2 Tonjong, Health and Recreation Physical Education Study Program, 2018, 57 pages. There are 3 extracurricular sports at SMP Negeri 2 Tonjong, Tonjong District, namely: 1). Futsal, 2). Volleyball and 3). Basketball, with a total of 120 students. It is not yet known whether the student's talent matches the student's interest in the sport they are participating in. One way to identify talent is using Sport Search software. This study aims to determine the suitability of students' interests and talents in extracurricular sports at SMP Negeri 2 Tonjong, Brebes Regency in 2022. This study uses a quantitative type and uses descriptive survey methods and tests. The sample used in this study is sample Random Sampling. The sample in this population was taken from participants in extracurricular sports at SMP Negeri 2 Tonjong, Brebes Regency, which amounted to 120 people to 30 students. Data were collected through observation and tests. The results of this study are 11 students or 36.7% have criteria according to talent in sports, 19 students or 63.3% .
Downloads
Download data is not yet available.
References
Adi, Sasmito. 2011. Minat Siswa dalam Mengikuti Kegiatan Ekstrakurikuler Olahraga di SMP N 2 Tuntang Kabupaten Semarang. Fakultas Ilmu Keolahragaan UNNES.
Amrozi Khamidi. 2011. Kemampuan Awal, Minat Olahraga, dan Prestasi Belajar Olahraga. jurnal ilmu pendidikan Vol 17, No 4. 2011.
Aprilyanto, B. & Hastuti, T. A. 2018. Minat Peserta Ekstrakurikuler Bolabasket Terhadap Aktivitas Ekstrakurikuler Bolabasket Di SMK Negeri 5 Yogyakarta. Pendidikan Jasmani Kesehatan dan Rekreasi, 7(2).
Arikunto, S. 2014. Prosedur Penelitian. Jakarta: Rineka Cipta.
Nur Faizin. 2015. Identifikasi Bakat Olahraga Cabang Bola Basket dengan Menggunakan Metode Sport Search pada siswa KU 11-15 tahun Asrama Marsudirini Kecamatan Muntilan Kabupaten Magelang. Skripsi. Yogyakarta. Fakultas Ilmu Keolahragaan UNY
Enung Fatimah. 2008. Psikologi perkembangan (perkembangan peserta didik). CV Pustaka Setia.
Fiantono, M. D. 2019. Kesesuaian minat dan bakat olahraga sepakbola dan bolavoli peserta ekstrakurikuler smpn 1 lasem kabupaten rembang.
Husdarta, J.S. 2010. Sejarah dan Filsafat Olahraga. Alfabeta.
M. Furqon Hidayatullah dan Muchsin Doewes. 2008. Pemanduan Bakat Olahraga Model Sport Search. Surakata: PUSLITANG-OR Universitas Sebelas Maret Surakarta.
M Furqon Hidayatullah dan Sapta Kunta Purnama. 2008. Olahraga Usia Dini dan Pemanduan Bakat.
Surakarta: Kemenpora.
Pangestu, K. D. 2020. Bolabasket Pada Atlet Popda Tingkat Smp Kabupaten Jepara Tahun 2019 Universitas Negeri Semarang Tahun 2020.
Pipit Pratiwi. 2015. Pemanduan Bakat dan Minat Cabang Olahraga Melalui Metode Sport Search Pada Siswa SMP Negeri Se-Kecamatan Karanganyar Kabupaten Demak Tahun 2013/2014. Journal of Physical Education, Sport, Healt and Recreations. Volume 4. Nomor 3. Edisi Maret 2015.
Ramadhan, Irsyad. F. 2018. Minat Siswa Dalam Mengikuti Ekstrakurikuler Olahraga di SMP Negeri 2 Berbah. Pendidikan Jasmani Kesehatan dan Rekreasi, 7(10).
Sadewa, Faza. G. 2013. Faktor Yang Mempengaruhi Minat Siswa Memilih Ekstrakurikuler Bolavoli Di Smp N 1 Sleman. Fik Uny.
Soetardji dan Eri Pratiknyo Dwikusworo. 2013. Potensi Bakat Olahraga Siswa Sekolah Dasar Negeri 01 Kerangdowo Kecamatan Weleri Kabupaten Kendal". Journal of Sport Sciences and Fitness ISSN 2252-6528. Fakultas Ilmu Keolahragaan UNNES.
Sri Haryono. 2014. Buku Pedoman Praktek Mata Kuliah Evaluasi Olahraga 1. : Prodi Pendidikan Kepelatihan Olahraga FIK UNNES.
Sudadi. 2017. Hubungan antara minat belajar dengan hasil belajar IPS siswa kelas V SD Negeri 065011 Medan Tahun Ajaran 2018/2019. Convention Center Di Kota Tegal, 4(80), 4.
Suharsimi, Arikunto. 2013. "Prosedur Penelitian Suatu Pendekatan Praktek". Rineka Cipta. Suharsono. 2015. Kepelatihan Olahraga Teori dan Metodologi. Bandung: PT Remaja Rosdakarya. Sungkowo dan Sri Haryano. 2013. Minat dan Bakat Olahraga Siswa SD dan SMP di Kabupaten Demak
Tahun 2014. Jurnal Media Ilmu Keolahragaan Indonesia Volume 3. Nomor 2. Edisi Desember 2013. Fakultas Ilmu Keolahragaan UNNES.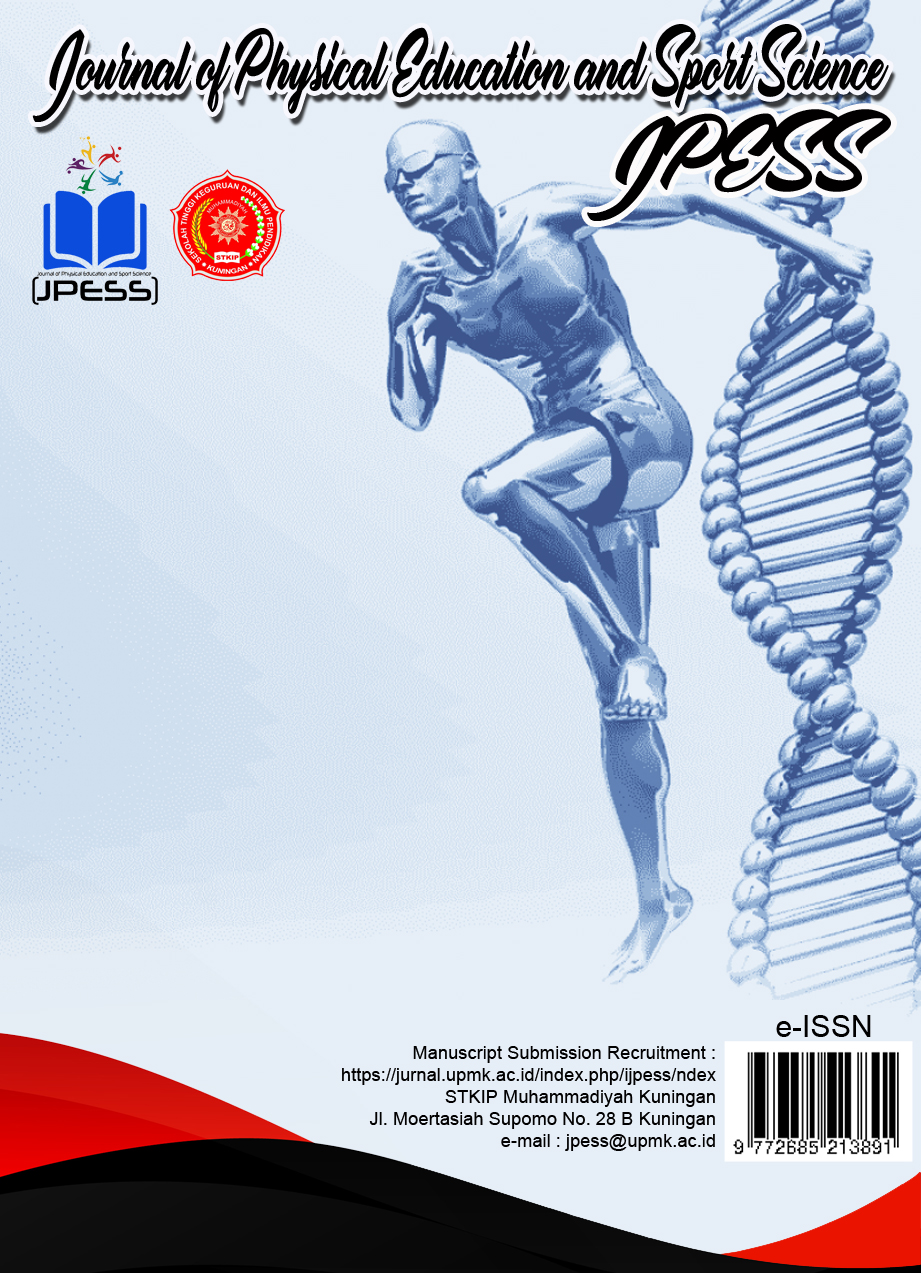 How to Cite
Shabrina, S., Rahman, R., Nurdiansyah, D., & Muhtarom, D. (2023). MINAT DAN BAKAT SISWA PADA EKSTRAKURIKULER OLAHRAGA DI SMP NEGERI 2 TONJONG. Journal of Physical Education and Sport Science, 4(3), 1-7. https://doi.org/10.33222/jpess.v4i3.2768
Copyright (c) 2023 Szalsa Shabrina, Ramdhani Rahman, Dani Nurdiansyah
This work is licensed under a Creative Commons Attribution-ShareAlike 4.0 International License.

Abstract viewed = 143 times PDF downloaded = 80 times