PENGARUH LATIHAN CIRCUIT TRAINING TERHADAP DAYA TAHAN TUBUH
Aldi Septia

STKIP Muhammadiyah Kuningan
Abstract
The Effect of Circuit Training on Body Endurance of Football Extracurricular Players at SMA Negeri 1 Cibingbin, Kuningan Regency". The purpose of this study was to determine: The Effect of Circuit Training on the Endurance Ability of Soccer Players at SMA Negeri 1 Cibingbin, Kuningan Regency. This study uses experimental research methods. The population and sample in this study were football extracurricular players totaling 17 players. With the sampling technique using saturated samples, in order to obtain a sample of 17 players. The research instrument used in this study was the Body Endurance test. The data analysis technique in this study used normality test, homogeneity test and hypothesis testing.The results of the analysis and processing of pre-test data obtained the lowest time of 14.04, the highest time of 15.39. While the post-test data obtained the lowest time is 13.13, the highest time is 15.29. This shows an increase in the endurance ability of football players. Based on the test, it shows that the two tests have a normal distribution. Therefore, to test the hypothesis using the paired sample t-test, the pre-test and post-test values ​​showed a sig. (2-tailed) value of 0.000 <0.05, so there was a significant difference. So H0 is rejected and Ha is accepted. This means that the Effect of Circuit Training on the Body Endurance of Football Extracurricular Players at SMA Negeri 1 Cibingbin, Kuningan Regency
Keywords:
Daya tahan, circuit training
Downloads
Download data is not yet available.
References
Agus, A. (2019). Skripsi PENGARUH LATIHAN CROSS COUNTRY TERHADAP DAYA TAHAN AEROBIK ATLET SEKOLAH SEPAKBOLA (SSB) PAGARUYUNG FC KECAMATAN TANJUNG EMAS KABUPATEN TANAH DATAR. JURNAL STAMINA, 2(1), 437-450.
Al-Haliq, Mahmoud. (2015)."Using..The Circuit..Training..Method..To.Promote Physical..Fitness..Components.Of..The Hashemite….University……Student". Journal Acta Kinesiologica 9. Suppl. 1:35-38.
Anam, Khoiril. (2013)."Pengembangan Latihan Ketepatan Tendangan Dalam Sepakbola Untuk Anak Kelompok Umur 13-14 Tahun". Jurnal Media Ilmu Keolahragaan Indonesia, Volume 3 Nomor 2 Tahun 2013.
Anisah, A. (2014). pengaruh pembelajaran kooperatif tipe giving question and answer untuk meningkatkan tingkat kemampuan analisis siswa pada mata ekonomi (studi pada siswa kelas XI IPS 4 SMAN 1 Tukdana). LOGIKA Jurnal Ilmiah Lemlit Unswagati Cirebon, 12(3), 82-94.
Anitha, J., Kumaravelu, P., Lakshmanan, C., Govindasamy, K. (2018). "Effect..of Plyometric…Training….and….CircuitTraining..on..Selected…Physical…and Physiological..Variables.Among..Male Volleyball……Players". International Journa of Yoga, Physiotherapy and Physical Education, Volume 3, (26-32).
Arikunto, Suharsimi. 2006. Prosedur Penelitian Suatu Pendekatan. Rineka Cipta. Jakarta.
Chan, Faizal. (2012)."Strength Training(Latihan Kekuatan)". Jurnal Cerdas Sifa, Edisi No.1. Mei-Agustus 2012.
Diputra, Rahman. (2015)."Pengaruh Latihan Three Cone Drill, Four Cone Drill dan Five Cone Drill Terhadap Kelincahan (Agility) dan Kecepatan (Speed)". Jurnal Sportif, Volume 1 Nomor 1, (41-59).
Deoledi, D., Ramadi, R., & Juita, A. J. A. Pengaruh Latihan Circuit Training Terhadap Daya Tahan Atlet Sepakbola Ssb Rumbai Junior (Doctoral dissertation, Riau University).
ISMAIL, R. (2017). PENGARUH LATIHAN CIRCUIT TRAINING TERHADAP DAYA TAHAN PEMAIN SEPAK BOLA SISWA PUTERA KELAS VIII SMP NEGERI 13 GORONTALO. Skripsi, 1(832413054).
Ismaryati, (2016).Power menyangkut kekuatan dan kecepatan. Jakarta: Gramedia Pustaka
JASMANI, P. G. S. D. P. (2015). Keterampilan Shooting Dalam Permainan Sepakbola Siswa Kelas IV Dan V SD Muhammadiyah Kragan Kecamatan Tempel Kabupaten Sleman.
Suharjana. 2013. Kebugaran Jasmani. Yogyakarta: Jogja Global Media
Sugiyono.(2015). Statistik Untuk Penelitian.Bandung:Alfabeta.
PRADANA, K. A. (2013). PENGARUH LATIHAN CIRCUIT TRAINING TERHADAP PENINGKATAN KONDISI FISIK SISWA PESERTA EKSTRAKULIKULER SEPAKBOLA DI SMP NEGERI 1 SUMBANG KECAMATAN SUMBANG KABUPATEN BANYUMAS.
Pradana, M., & Reventiary, A. (2016).Pengaruh atribut produk terhadap keputusan pembelian sepatu merek Customade (studi di merek dagang Customade Indonesia). Jurnal Manajemen, 6(1).
Yola, F., & Rifki, M. S. (2020). PENGARUH LATIHAN SIRKUIT (CIRCUIT TRAINING) TERHADAPVOLUME OKSIGEN MAKSIMAL (VO2MAX) PEMAIN SEKOLAH SEPAK BOLA (SSB). JURNAL STAMINA, 3(6), 509-526.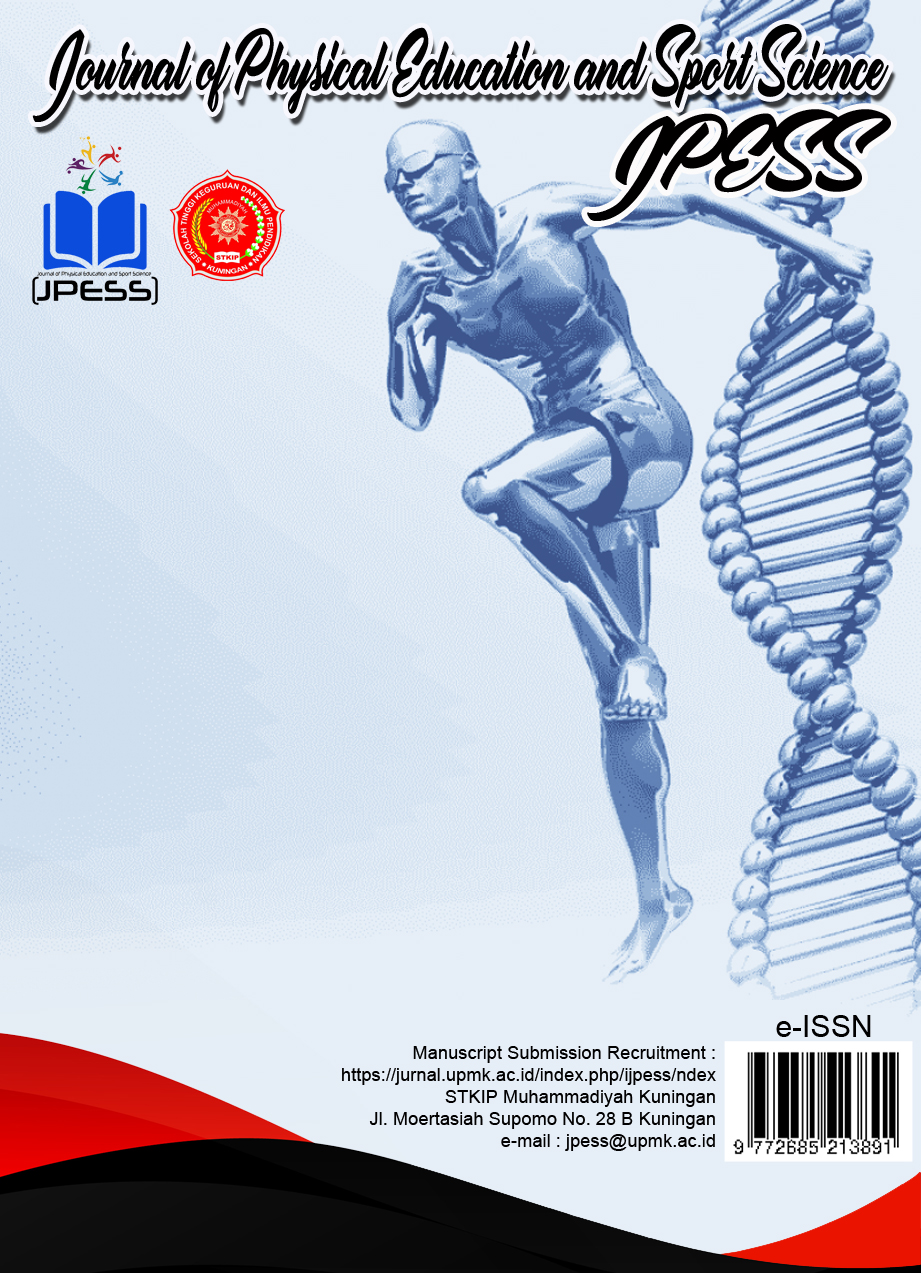 How to Cite

Septia, A. (2022). PENGARUH LATIHAN CIRCUIT TRAINING TERHADAP DAYA TAHAN TUBUH . Journal of Physical Education and Sport Science, 4(1), 27-37. Retrieved from http://jurnal.upmk.ac.id/index.php/jpess/article/view/1967

Abstract viewed = 14 times PDF (Bahasa Indonesia) downloaded = 18 times