PENGARUH METODE LATIHAN SMALL-SIDED GAMES TERHADAP KETEPATAN UMPAN (PASSING) PADA PEMAIN SSB GERHANA JALAKSANA KABUPATEN KUNINGAN
Muhammad Ade Haerudin

STKIP Muhammadiyah Kuningan
Abstract
The background of this research problem is that there are still many students who are not precise in passing in a soccer game, the students' passing has not been directed to the specified target. This study aims to determine the effect of the small sided games training method on the accuracy of passing on SSB GERHANA players. The subjects of this study were students who took part in SSB GERHANA. The population in this study were all soccer players of the SSB GERHANA club. The sampling technique used is total sampling, which amounts to 20 people. This study was conducted with the aim of knowing how much influence the practice of small-sided games has on the accuracy of the bait on SSB GERHANA players. The research method that the author uses to test the truth of the hypothesis that has been proposed is the experimental method. This method is in accordance with the nature of the problem to be studied by the author, namely the effect of small-sided games training on the accuracy of passing on soccer players SSB Eclipse. Based on the results of research that has been obtained by analyzing data and testing hypotheses, it can be concluded that "There is an influence of the Small-sided games training method on the accuracy of the bait on the Gerhana Jalaksana ssb players, Kuningan Regency by 30.45%".
Downloads
Download data is not yet available.
References
Abdoellah, Arma. 1981. Olahraga Untuk Perguruan Tinggi. Yogyakarta: P.T.Sastra Husada.
Djoko Pekik Irianto. (2002). Dasar Kepelatihan. Yogyakarta: FIK UNY.
Ganesha Putera (2004). Mengelola Organisasi Small-Sided Games. Yogyakarta: Kickoff. (April 2004).
Iwan Setiawan. (2004). Latihan Usia Muda Penuh Gairah. Yogyakarta: Kickoff (Februari 2004)
Luxbacher, Joe. (1999). Sepakbola: Taktik dan Teknik Bermain. Jakarta: PT.Raja Grafindo Persada
Muhajir. (2007). Pendidikan jasmani olahraga dan kesehatan. Jakarta: Erlangga
Soedjono. (1985). Sepakbola, Taktik, dan Kerjasama. Yogyakarta: PT. Badan Penerbit KR.
Sudjarwo dan Basrowi. (2009). Manajemen Penelitian Sosial. Bandung: CV.Mandar Maju.
Sugiyono. (2005). Statistik Untuk Penelitian Bandung. CV. ALPABETA.
Sugiyono. (2010). Metode Penelitian Pendidikan Pendekatan Kuantitatif, Kualitatif dan RDD. Bandung: Alfabeta.
Suharso & Ana Retnoningsih. (2009). Kamus Besar Bahasa Indonesia Edisi Lux. Semarang : CV. Widya Karya
Sukadiyanto. (2005). Pengantar Teori dan Metodologi Melatih Fisik. Yogyakarta: FIK UNY.
Sukardi. (2014). "Metodologi Pendidikan Pendidikan Kompetensi", Jakarta: Bumi Aksara.
Suparjo.(2009). "Efektivitas Latihan Umpan Lurus Berhadapan Dan Latihan Umpan Bervariasi Terhadap Ketepatan Umpan Di SSB MAS Yogyakarta." Skripsi. Yogyakarta: Fakultas Ilmu Keolahragaan Universitas Negeri Yogyakarta.
WCCYSL. (2003). U6 Small Side Game for 2003/2004. Contra costa. www.wccysl.com
Widdow, R & Buckle, P. (1982). Sepakbola Ketrampilan, Taktik dan Fakta. Jakarta: Mertju Buana Football Club.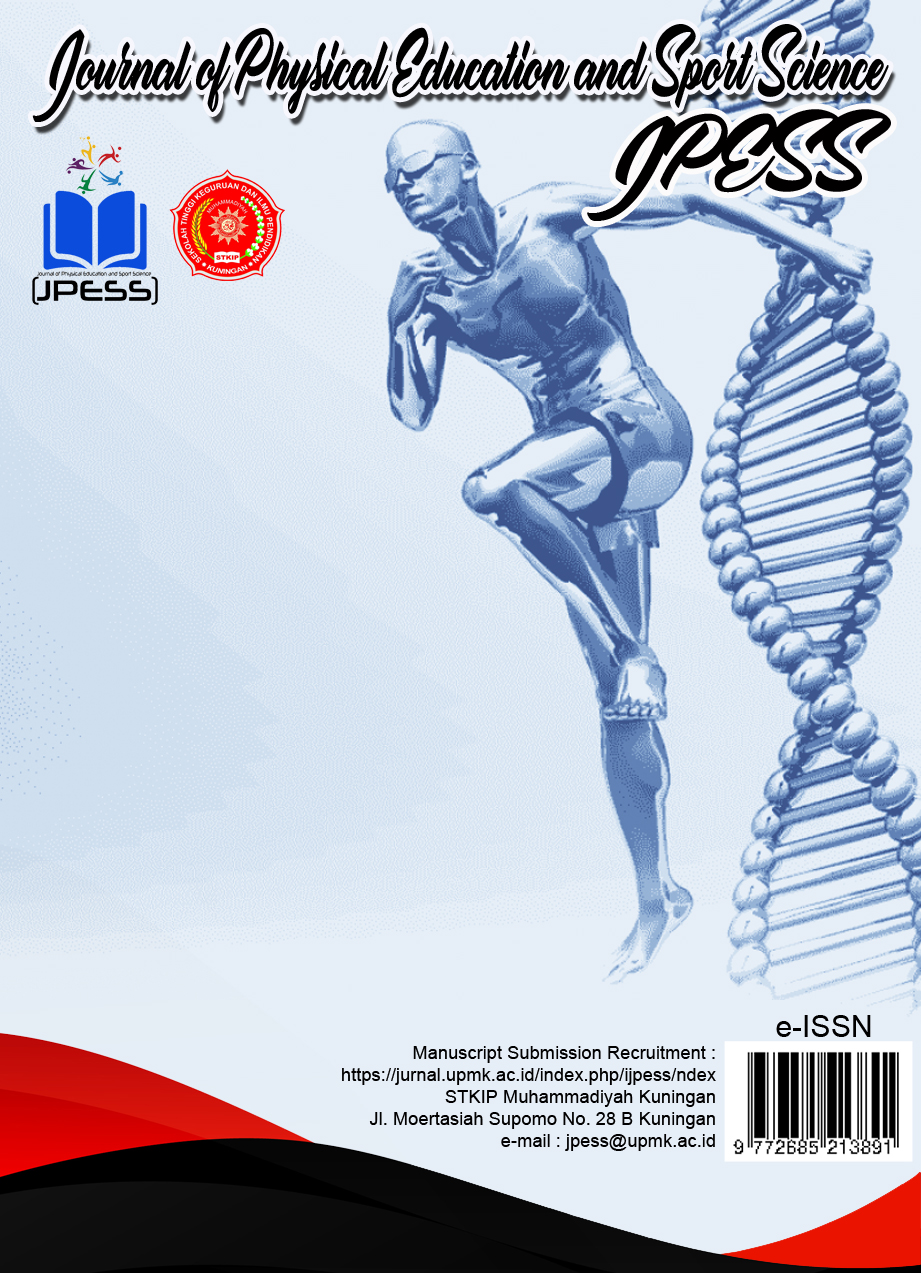 How to Cite

Ade Haerudin, M. (2022). PENGARUH METODE LATIHAN SMALL-SIDED GAMES TERHADAP KETEPATAN UMPAN (PASSING) PADA PEMAIN SSB GERHANA JALAKSANA KABUPATEN KUNINGAN. Journal of Physical Education and Sport Science, 4(1), 10-18. Retrieved from http://jurnal.upmk.ac.id/index.php/jpess/article/view/1964

Abstract viewed = 4 times PDF downloaded = 7 times