Effectiveness Of Shakehand Grip And Penhold Grip On Accuracy Of Backhand Services In Table Tennis Games
Efektivitas Shakehand Grip Dan Penhold Grip Terhadap Ketepatsasaran Servis Backhand Dalam Permainan Tenis Meja
Rani Nopriati

Stkip Muhammadiyah Kuningan

Dedi Iskandar

Stkip Muhammadiyah Kuningan
Abstract
The research focuses on the effectiveness of using shakehand grip's style
and penhold grip's style on target accuracy in backhand service in Junior
High School 2 Cigugur. The aim of this research is to find out the
effecitiveness of using shakehand grip's style and penhold grip's style on
target accuracy in backhand service in table tennis games. The researcher
used the instrument about skill of table tennis test Tes Service to find out
the effectiveness of using shakehand grip's style and penhold grip's style
on target accuracy in backhand service. The research method is using
quantitative. One of the quantitative method which used in this reseacrch
is expreiment method with using research design The One Group PretestPosttest
Design. The researcher has been found that shakehand grip's
style is more effective than penhold grip's style on target accuracy in
backhand service in table tennis games.it proved with significant score
(increase) after giving some treatment. Shakehand grip's style has been
increased 12,04 while penhold grip's style has been increased 5,48.
Hypothesis test showed that score


>


was 3,99 > 1,743
which means the hypothesis accepted
.
© 2019 STKIP
Keywords:
Shakehand Grip's Style, Penhold Grip's Style, Target Accuracy In Backhand Service
Downloads
Download data is not yet available.
References
Alex, K. (2015). Teknik dan Taktik Permainan Tenis Meja. Bandung: PT Remaja Rosdakarya.
Bebbi, O. (2010). Cabang Olahraga Populer. Permainan Bola Kecil. Depok: CV Binamuda
Ciptakreasi.
Irwansyah. (2018). Pengembangan Buku Ajar Teori Bagi Mahasiswa Kelas A 2016 Jurusan PJKR
IKIP Budi Utomo Malang. PJKR Fakultas Pendidikan Ilmu Eksakta dan Keolahragaan
IKIP Budi Utomo. Diambil
dari:http://ejurnal.budiutomomalang.ac.id/index.php/jpjok/article/download/166/98/
Katsikadelis, M., Pilianidis, T., & Mantzoura, N. (2013). The interaction between serves and match
winning in table tennis players in the London 2012 Olympic Games. In The 13th ITTF
Sports Science Congress. Paris: ITTF Sport Science congress. Diambil dari:
https://www.researchgate.net/publication/281165704_The_interaction_between_serves_an
d_match_winning_in_table_tennis_players_in_the_London_2012_Olympic_Games
Santosa, T. (2016). Pengembangan Alat Banti Return Board Untuk Forehand Topspin Tenis Meja.
Disertasi Program studi Olahraga, Pascasarjana Universitas Negeri Semarang. Diambil
dari: https://jurnal.unimed.ac.id/2012/index.php/jpor/article/view/4513
Sugiyono. (2015). Metode Penelitian Pendidikan. Bandung: ALFABETA.
Roland(2012).TesMengukurTenisMeja.Diambildari
https://www.scribd.com/document/80222404/Tes-Mengukur-Tenis-Meja (diakses tanggal
26 Februari 2020).
Gangsar, R.P. (2015). Evaluasi Teknik Dan Fisik Atlet Terhadap Prestasi Atlet Tenis Meja di PTMSI
Kabupaten Brebes Tahun 2014. Skripsi Program Studi Ilmu Keolahragaan, Sarjana
Universitas Negeri Semarang. Diambil dari: https://lib.unnes.ac.id/212.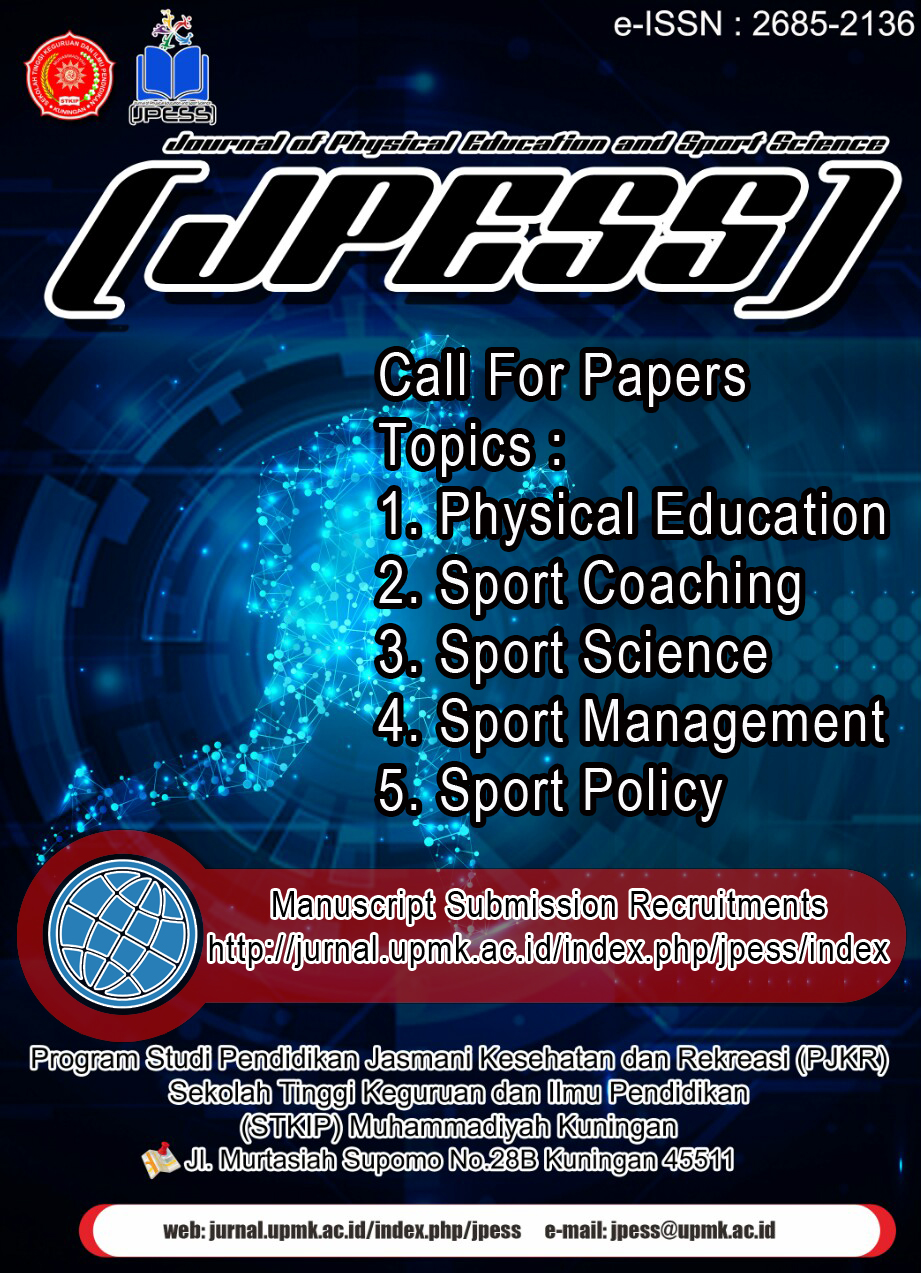 How to Cite

Nopriati, R., & Iskandar, D. (2019). Effectiveness Of Shakehand Grip And Penhold Grip On Accuracy Of Backhand Services In Table Tennis Games. Journal of Physical Education and Sport Science, 1(2), 14-18. https://doi.org/10.33222/jpess.v1i2.1113

Abstract viewed = 56 times PDF downloaded = 118 times