The Effect Of Use Audio Visual Media On Passing Ability In Futsal
Pengaruh Penggunaan Media Audio Visual Terhadap Kemampuan Passing Dalam Permainan Olahraga Futsal
Agus Nugraha

Stkip Muhammadiyah Kuningan

Ribut Wahidi

Stkip Muhammadiyah Kuningan
Abstract
The purpose of this study was to determine the different effects of using audio-visual media on the passing ability of futsal sports, to find out how much influence the use of audio-visual media has on the passing ability of futsal sports. This research method is an experimental method with the research design of One-Group Pretest-Postest Design. The sample used was 25 grade VII students at MTs Darussalam Japara. The research results obtained by researchers from the results of the calculation of the T test paired sample test explained that there is an effect of the use of audio visual media on the ability to pass in futsal sports.
Downloads
Download data is not yet available.
References
Cangara, Hafied. 2006. Pengantar ilmu komunikasi. Jakarta: PT Raja Grafindo.
Dalmaji, 2017. Pengembangan Media Video Tutorial Teknik Dasar Bermain Futsal Untuk MTs Ali Maksum Universitas Negeri Yogyakarta.
Daryanto. 2013. Media Pembelajaran. Yogyakarta: Gava Media.
Dwi, D. R. A. S. (2018). Pengaruh Latihan Lari Sprint Di Tanjakan Dan Lompat Tali Terhadap Peningkatan Hasil Lompat Jauh Pada Siswa SMA Negeri 1 Ciwaru. EDUCATOR, 4(1), 36-44.
Hadiana, O. (2020). Implementasi Pendekatan Taktis dalam meningkatkan Motivasi Belajar Futsal. Jurnal Sains Indonesia, 1(1), 38-44.
Justinus Lhaksana. 2011. Taktik dan Strategi Futsal Modern. Jakarta: Be Champion (Penebar Swadaya Group).
Kurniawan, Feri. 2011. Buku Pintar Olahraga. Jakarta: Laskar Aksara.
Muri Yusuf 2014. Metode Penelitian :kuantitatif, kualitatif, penelitian gabungan. Jakarta 13220 : PRENADAMEDIA GROUP.
Nurhasan 2007. Pengembangan Sistem Pembelajaran Modul Mata Kuliah Tes dan Pengukuran Pendidikan Olahraga. Universitas Pendidikan Indonesia
Sugiyono 2015. Metode penelitian kuantitatif, kualitatif, dan R&D.Bandung:
ALFABETA.
Tarju, T., & Wahidi, R. (2017). Pengaruh Metode Latihan Terhadap Peningkatan Passing Dalam Permainan Sepak Bola. JUARA: Jurnal Olahraga, 2(2), 66-72.
Wina Sanjaya 2011. Perencanaan dan Desain System Pembelajaran. Cetakan 4. Jakarta : Kencana.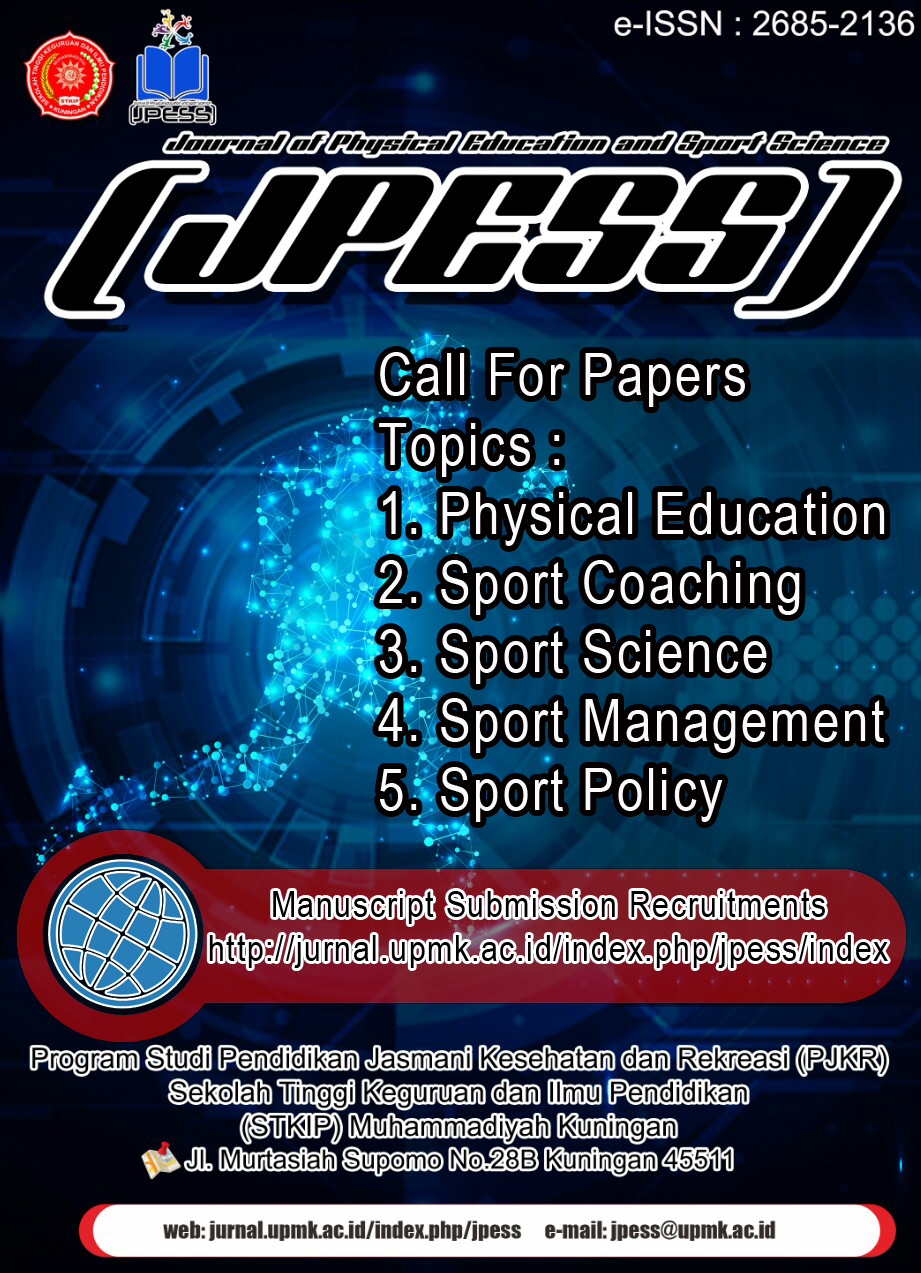 How to Cite

Nugraha, A., & Wahidi, R. (2019). The Effect Of Use Audio Visual Media On Passing Ability In Futsal. Journal of Physical Education and Sport Science, 1(2), 1-6. https://doi.org/10.33222/jpess.v1i2.1111

Abstract viewed = 83 times PDF downloaded = 105 times